Alston & Bird Issues Advisory on COVID-19 Vaccines: Seven Questions for Employers
As COVID-19 vaccines authorized by the Food and Drug Administration (FDA) for emergency use become more widely available, employers face the question of how to address their employees' vaccination status. Alston & Bird has issued a Labor & Employment Advisory on COVID-19 Vaccines: Seven Questions for Employers. In it, they review emerging legal and practical issues that all employers should consider as they make decisions about how to address this important matter.
The Mechanical Contractors Association of America (MCAA), National Electrical Contractors Association (NECA), and Sheet Metal and Air Conditioning Contractors' National Association (SMACNA) have aligned the MEP trades in a collaborative effort to bring to you and the construction industry the attached white paper, "Project-Specific Loss of Productivity Analysis Methodologies".
H.R. 133 Offers Relief, Opportunities and Challenges Going into 2021
The $2.3 trillion Consolidated Appropriations Act, 2021 (H.R. 133) provides badly needed COVID economic relief, construction market stimulus and a forward-looking prospect for market recovery in public sector infrastructure investments as the pandemic recedes. In a memo to the MCAA Government Affairs Committee, Chair Jim Gaffney provided a summary digest of the items most likely to impact MCAA members and the MCAA policy agenda. The President is seeking greater individual stimulus checks, so there may be an amendment or veto, but this summary will stand for most of what will be the final result. Correction: The latest COVID relief measure signed into law Sunday does not extend the requirement that employers offer paid sick and family leave as required under the Families First Coronavirus Relief Act passed last March as erroneously reported in the MCAA summary published in the Weekly Update on December 28, 2020. The latest COVID bill extends only the availability of the refundable tax credit as under the FFCRA until the end of March 2021 for those employers voluntarily providing such paid leave after December 31, 2020. MCAA regrets the error.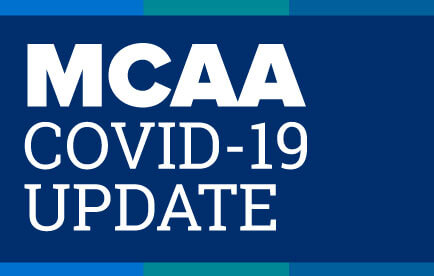 Join experts from Withum's SBA Financial Services and Tax Services Teams as they navigate through the myriad of provisions included in the more than 5,000 page legislative package finalized early this week. Withum's webinar will be held on Wednesday, December 23rd from 1:00 PM – 2:30 PM EST.

Sorry, but you do not have permission to view this content.
This year has certainly challenged us all. COVID-19 has forced us all to change and adapt, to re-invent the way we provide services and resources and change the way we learn. Thanks to your MCAA Officers, Board of Directors and dedicated national staff, MCAA has not skipped a beat. Considering the safety of MCAA members, the association and our industry partners, it was decided that the MCAA 2021 Annual Convention will be cancelled due to the impacts of COVID-19. Instead, MCAA will hold the first MCAA Virtual Education Conference.