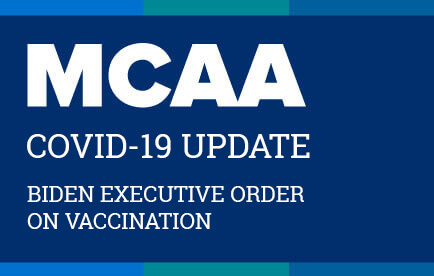 Below are two items relevant to the Biden Administration's recent COVID vaccination mandates.
---
The General Services Administration and the Civilian Agency Acquisition Council (CAAC) issued a broad Federal Acquisition Regulation Class Deviation for direct Federal Government Civilian Agency Contracting Officers to implement President Biden's Executive Order 14042.
The executive order is for direct Federal prime contracts and subcontracts above the Simplified Acquisition (SAT) dollar threshold of $250,000. The CAAC letter reiterates that Federal agencies are required to include the clause – Far Part 52.223-99 Ensuring Adequate COVID-19 Safety Protocols For Federal Contractors, to be included in:
all contracts awarded on or after November 14, 2021 (based on solicitations issued before October 15, 2021) (including new orders issued on or after 10/14 under existing indefinite-delivery contracts based on solicitations issued before October 15th);
new solicitation issued on or after October 15, 2021, and new contracts (and indefinite delivery pacts) entered into based on those solicitations;
extensions or renewals or options on existing contracts exercised on or after October 15, 2021.
The CAAC Letter also "strongly encourages" (but does not require) Federal agencies to include the COVID-19 vaccination requirement clause in contracts that will be awarded before November 14th on solicitations issued before October 15th  and to include the requirements on prime and subcontracts under the $250,000 SAT.
The clause itself requires covered prime contractors and subcontractors to comply with all guidance, including guidance conveyed through Frequently Asked Questions, as amended during the performance of this contract, for contractor and subcontractor workplace locations published by the Safer Federal Workforce Task Force Guidance at https:www.safefederal workforce.gov/contractors/.
The clause incorporates automatic adoption of yet-to-be issued requirements published by the Federal SFW Task Force.
The clause also clarified that the prime contract flow-down of the requirements applies only to subcontracts above the SAT of $250,000, with the caveat of the strong suggestion of broader application noted above.
It remains to be determined what, if any, further guidance may be issued by the full Federal Acquisition Regulatory Council.
---
Frequently Asked Questions About Affordable Care Act Implementation Part 50, Health Insurance Portability and Accountability Act and Coronavirus Aid, Relief and Economic Security Act Implementation. (CCIIO OG MMRD 1808, October 4, 2021) The Department of labor, Health and Human Services Administration and Department of Treasury revised and updated their FAQs on the ACA, HIPAA, and CARES Act implementation guidance to address health plan coverage of COVID vaccination expenses, the permissibility of allowing health plan wellness incentives for vaccinations, and the impermissibility of denying health plan eligibility and coverage to unvaccinated participants.
Related Articles