Tool and Equipment Rental Guide
MCAA has joined forces with the National Electrical Contractors Association (NECA) and the Sheet Metal and Air Conditioning Contractors' National Association (SMACNA) to create an even more robust guide to equipment recovery costs for mechanical, electrical, line and other construction contractors. The guide offers insights on contractor-owned equipment to ensure industry professionals have the most updated costs to inform internal estimating, project proposals for new and potential customers, and cost accounting efforts.
To go to the web portal, click the blue button below!
The Tool and Equipment Rental Guide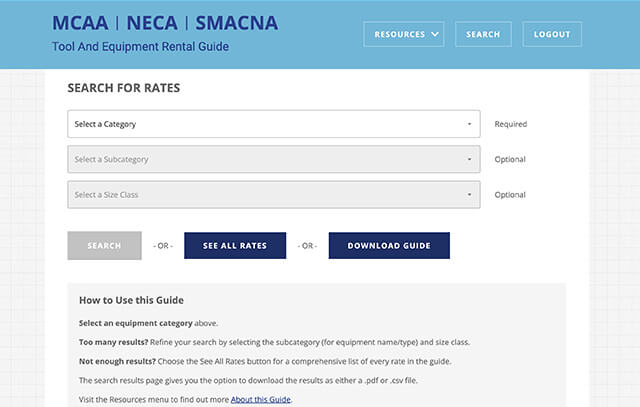 An Easier Way to Search for Rates
Search for rates using the enhanced web portal. Narrow your search results using various filters, or see a comprehensive list of every rate in the guide - the choice is yours! Results can be downloaded as either a .pdf or .csv file.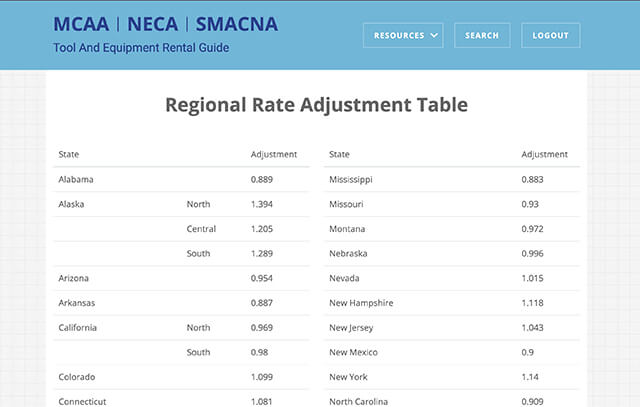 Tools to Help You Adjust the Rates for Your Region
Need to adjust the rates for your region or to account for rising fuel prices? No problem! The portal's Resources menu includes tools to help you do this, plus lists of typical tools and expendable items.