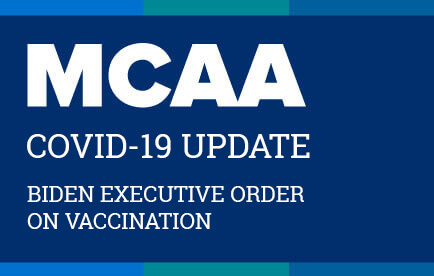 The Safer Federal Workforce (SFW) Task Force issued updated Frequently Asked Questions based on Office of Management and Budget (OMB) guidance on non-enforcement of vaccination on Federal contracts and subcontracts. The guidance, which applies to those that had been governed by the vaccination mandates in EO 14042, comes after recent court decisions stayed the effectiveness of those rules pending further legal challenges.
Below is the updated guidance from the OMB and the SWF:
Regarding Applicable Court Orders and Injunctions: The Office of Management and Budget has issued guidance on implementing requirements of Executive Order 14042 while ensuring compliance with applicable court orders and injunctions, including those that are preliminary and may be supplemented, modified, or vacated, depending on the course of ongoing litigation.
For existing contracts or contract-like instruments (hereinafter "contracts") that contain a clause implementing requirements of Executive Order 14042: The Government will take no action to enforce the clause implementing requirements of Executive Order 14042, absent further written notice from the agency, where the place of performance identified in the contract is in a U.S. state or outlying area subject to a court order prohibiting the application of requirements pursuant to the Executive Order (hereinafter, "Excluded State or Outlying Area"). In all other circumstances, the Government will enforce the clause, except for contractor employees who perform substantial work on or in connection with a covered contract in an Excluded State or Outlying Area, or in a covered contractor workplace located in an Excluded State or Outlying Area.
Currently Excluded States and Outlying Areas: All of the United States and its outlying areas, including:

The fifty States;
The District of Columbia;
The commonwealths of Puerto Rico and the Northern Mariana Islands;
The territories of American Samoa, Guam, and the United States Virgin Islands; and
The minor outlying islands of Baker Island, Howland Island, Jarvis Island, Johnston Atoll, Kingman Reef, Midway Islands, Navassa Island, Palmyra Atoll, and Wake Atoll.

NOTE: Federal agency COVID-19 workplace safety protocols for Federal buildings and Federally controlled facilities still apply in all locations. Contractor employees working onsite in those buildings and facilities must still follow Federal agency workplace safety protocols when working onsite.
Related Articles