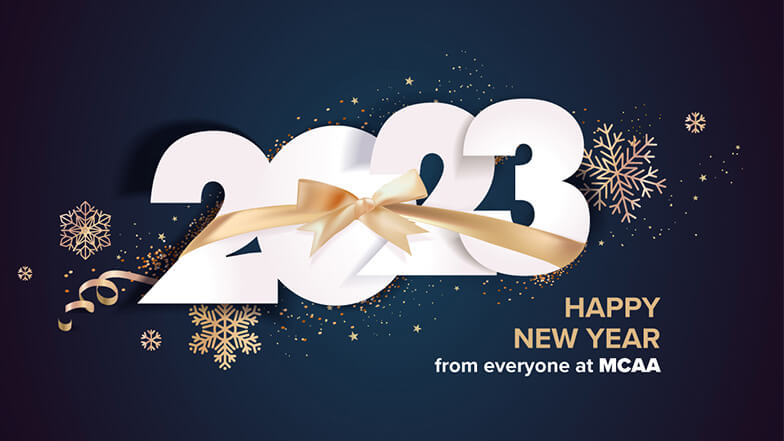 We hope that you enjoyed the holidays with your families. Together, we made it through 2022 and the challenges it presented. As we jump into 2023, let's look at all we accomplished together in 2022.
Together we:
Hosted the first in-person Safety Directors' Conference in two years thanks to the Safety & Health Committee and our conference sponsors, CNA and MILWAUKEE TOOL.
Collaborated and shared experiences with the latest technologies at the annual MEP Innovation Conference with our Innovative Technologies Committee, our partners at NECA and SMACNA, our title sponsor, Trimble, and our event sponsors: Procore and MILWAUKEE TOOL.
Congratulated the first-ever MEP Innovator of the Year Award winners, including Jeff Elwell, Director of Innovation and Technology at E.M. Duggan Company in Boston, MA.
Partnered with CPWR – The Center for Construction Research and Training and the National Institute for Occupational Safety and Health's (NIOSH) National Occupational Research Agenda (NORA) Work Group on Preventing Struck-By Injuries to research factors that contribute to struck-by incidents and ways to prevent them.
Welcomed the Greater Boston PCA as our 92nd local affiliate and Executive Director Andrew DeAngelo and President John Marani to the MCAA family.
Refreshed the Advanced Leadership Institute (ALI) curriculum to dynamically respond to the ever-changing challenges facing today's mechanical industry leaders in partnership with the ALI Committee and the faculty and instructional designers from our new partners at Kenan-Flagler School of Business, The University of North Carolina at Chapel Hill.
Introduced two new John R. Gentille Foundation scholarships at the MCAA22 Convention: the Thomas J. Wanner Scholarship, in honor of our beloved and recently retired MCA of Cleveland exec, Tom Wanner, and the DeWalt Patriot Scholarship recognizing veterans of the United States military who have valiantly served their country and have chosen to enter a career in the trades.
Donated $93,750 to Ukranian relief efforts through a combination of $68,750 in member contributions to The MCAA Charitable Fund and MCAA's $25,000 donation. All donations support the work of the International Committee of the Red Cross, which is actively saving and protecting the lives of victims of armed conflict and violence in Ukraine.
Provided comments supporting the proposed modernization of Davis Bacon and related acts thanks to MCAA Government Affairs Committee Chairman Jim Gaffney and the members of the task force that reviewed and analyzed the 105-page regulatory proposal: Chuck Daniel, MCA of Maryland; Chip Mitchell, KDB, LLC.; Carl Neimeyer, Bernward Mechanical & Construction Solutions; Jason Rogers, J.C. Cannistraro, LLC; Bill Schatzman, Modern Controls, Inc.; Adam Snavely, EMCOR Services Poole and Kent Corporation; and Charlie Usher, Ideal Heating Company.
Joined forces with NECA and SMACNA to create an even more robust Tool and Equipment Rental Guide to equipment recovery costs for mechanical, electrical, line and other construction contractors with help from EquipmentWatch, the industry leader in equipment data.
Welcomed new staff members Noreen Cournoyer, Carlos Arias and Vincent Sarubbi Jr. They and the entire MCAA staff are here to help you.
Partnered with industry leaders to bring you daily trainings and education events across the country during National Safety Stand-Down to Prevent Falls in Construction. Thank you to MILWAUKEE TOOL, TYFOOM, Little Giant Ladders, CLICKSAFETY and CNA.
Presented a Clean Energy: Geothermal Energy Exchange Webinar to educate members about the next evolution of infrastructure thanks to MCAA President Robert M. Bolton and subject matter expert on geothermal HVACR technologies, Jay Egg.
Partnered with The Association of Union Constructors (TAUC), the National Electrical Contractors Association (NECA), and the Sheet Metal and Air Conditioning Contractors' National Association (SMACNA) to investigate how third-party pre-qualification requirements affect members' businesses. An article in The Constructor User reports the findings.
Hosted another successful AEC Best Practices Conference for our association executives on best practices to help their local associations succeed. Thanks to the Association Executives Council for your leadership, and to all the execs who shared ideas and experiences.
Gave 65 attendees an inside look at Lexington Plumbing's operations at the 2022 Plumbing Service Conference thanks to the Plumbing Contractors of America Board of Directors and to Lexington Plumbing of Kansas City for hosting the event.
Collaborated with the Center for Construction Research and Training and the Arizona State University's Ira Fulton Schools of Engineering to conduct a survey designed to help industry stakeholders better understand some potential welding risks. We hope the data gathered can further the implementation and usage of safety measures to reduce workers' exposure to welding-related harm.
Produced a video series on the Cybersecurity Maturity Model Certification (CMMC), which will ensure accountability for companies to implement cybersecurity standards to protect sensitive data during the design, build and operations of Department of Defense facilities. Thanks to MCAA's Chief Security Fanatic, Nick Espinosa, for his work on the videos and to the John R. Gentille Foundation and Electri Foundation for the research grants that funded the project.
Introduced a series of articles highlighting women in the industry. The first two articles feature Renee Fiorelli and Wendy Glauber, both members of the Women in the Mechanical Industry Committee.
Produced a New Worker Safety Orientation video and several accompanying resources. This package of resources is meant to train new workers on how to identify common hazards in the mechanical industry, and how to protect themselves from those hazards. Topics covered include: stop work authority, pre-task planning, PPE, working at heights, fall protection, fall prevention, power tool safety, hazard communication, housekeeping, and emergency procedures.
Received The American Society of Heating, Refrigerating and Air-Conditioning Engineers (ASHRAE)'s full endorsement of the 2020 edition of MCAA's Change Orders, Productivity, Overtime—A Primer for the Construction Industry. ASHRAE's endorsement joins those of the Sheet Metal and Air Conditioning Contractors' National Association (SMACNA), the National Electrical Contractors Association (NECA), and the American Subcontractors Association (ASA), making the guide an industry standard for the mechanical, electrical, and plumbing (MEP) industries.
Partnered with the Occupational Safety and Health Administration (OSHA) for Safe + Sound Week, which recognizes the successes of workplace health and safety programs and offers information and ideas on how to keep America's workers safe.
Worked to help understand how the industry is currently using rainwater catchment on projects through the MCAA's membership in the Plumbing Industry Leadership Council and specifically the American Rainwater Catchment Systems Association.
Revamped MCAA's GreatFutures Job Board to help those looking for entry-level interns or full-time new hires thanks to input from the Career Development Committee. A student from Ball State University was recently hired by U.S. Engineering after using the new GreatFutures Job Board to find a summer internship. Congratulations to Reece Manning and U.S. Engineering! Read the article.
Produced five new Plumbing Service 101 resources to highlight the benefits of offering plumbing service and investment challenges to consider before taking the leap. Tips and resources that may be of interest to those with existing plumbing service operations are also included. The new resource, which made its debut at MSCA22, was developed in partnership with ATP Learning Solutions (ATP), a member of the Manufacturer/Supplier Council.
Produced a detailed report on construction contracting best practices through a partnership between the John R. Gentille Foundation (JRGF), ELECTRI International (NECA) and the New Horizons Foundation (SMACNA). Our collaboration is meant to provide industry-wide data that supports our members' contract negotiations and guidance on better contract language to reduce liability. With better practices in place, risk can be shifted away from trade contractors to the appropriate party, leading to a more profitable industry overall.
Showcased how mechanical contractors are adopting and innovating in the built environment during MCAA's 2022 Fabrication Conference. Thanks to McKinstry Company for hosting the tour and demonstrating how integrated digital design, collaboration and fabrication are creating a path for contractors that leverages combined productivity into profitability.
Connected with industry improvement fund trustees and local association executives at the Industry Funds Conference thanks to the Industry Improvement Funds Committee.
Partnered with Nickolas Optis and the Mechanical Contractors Association of Rochester, Chris Quinn and the Mechanical Contractors Association of Indiana and Bob Looman and the Mechanical Contractors Association of Kansas City to present the Field Leaders Conference to a total of 474 field personnel. Thank you to our conference speakers and exhibitors for your passionate participation in our 2022 programs.
Congratulated the graduates of the Institute for Project Management (IPM) Classes Wrapped up classes 79-82. More than 2,600 project managers have completed this two-week program designed specifically for the mechanical industry.
Developed new Advanced Institute for Project Management (AIPM) sessions on leadership and finance and rolled them out the first-ever double-class of AIPM graduates with help from the Project Managers Education Committee.
Received 23 submissions for the MCAA Annual Student Chapter Competition.
MCAA's volunteer leaders, led by President Bob Bolton and the Executive Committee, remain laser-focused on helping the industry advance and adapt to change. Thanks to the vision, talent and expertise of the MCAA Board of Directors, our contractor members, our manufacturer/supplier members and partners, local affiliates, volunteers who sit on our committees and Foundation and the national staff worked together in 2022 to ensure your businesses remain competitive. As we reflect on the last year, we hope that you – the members of the MCAA family – find value in these resources and achievements.
We look forward to a new year full of challenges and opportunities to help you!
Related Articles