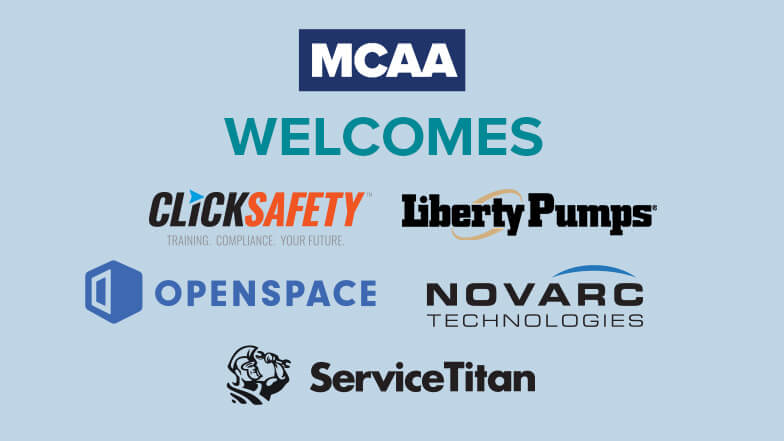 Enhance your strategic supply chain with the five newest members of MCAA's Manufacturer/Supplier Council.
Allow them to introduce themselves:
ClickSafety is a supplier of online safety training. Our online learning management, compliance and documentation solutions help organizations execute their training objectives and build world-class safety cultures. Our parent company is Ascend Learning. Ascend Learning is the leading provider of technology-based educational, curriculum and assessment solutions for healthcare and other vocational industries, and specializes in delivering higher-performance results for students and professionals.
Liberty Pumps is a leading U.S. manufacturer of pumping products for ground water and wastewater removal in residential and commercial applications. We are a family and employee owned company, proudly producing over 90% of our products in the U.S.A. utilizing US and globally sourced components.
OpenSpace provides next-generation 360º construction photo documentation and mapping software. We are the fastest, simplest, and most advanced tool out there, and we can prove it.
Novarc Technologies is a Vancouver-based full-stack robotics company specializing in the design and commercialization of cobots and AI systems for robotic welding applications. Novarc's Spool Welding Robot (SWR) is the world's first-of-its-kind in pipe welding applications. As a proven pioneer in the field, Novarc has dedicated a team of engineers and scientists to solve challenging welding automation problems that improve customers' bottom line.
ServiceTitan is the operating system that powers the trades. Trusted by over 12,000 of the most successful contractors in the industry, our platform's comprehensive capabilities CRM, ERP, FSM, Fintech, Accounting Integrations, and more) enable complete control of your entire business from one place. By optimizing workflows, improving cash flow, and maximizing profits, we empower commercial contractors to modernize and elevate their businesses.
The members of MCAA's Manufacturer/Supplier Council stand ready to help you enhance your productivity and profitability and retain your competitive edge. Meet them in person during many MCAA events and virtually through Smart Solutions, Manufacturer/Supplier Training, and the Virtual Trade Show.
Related Articles