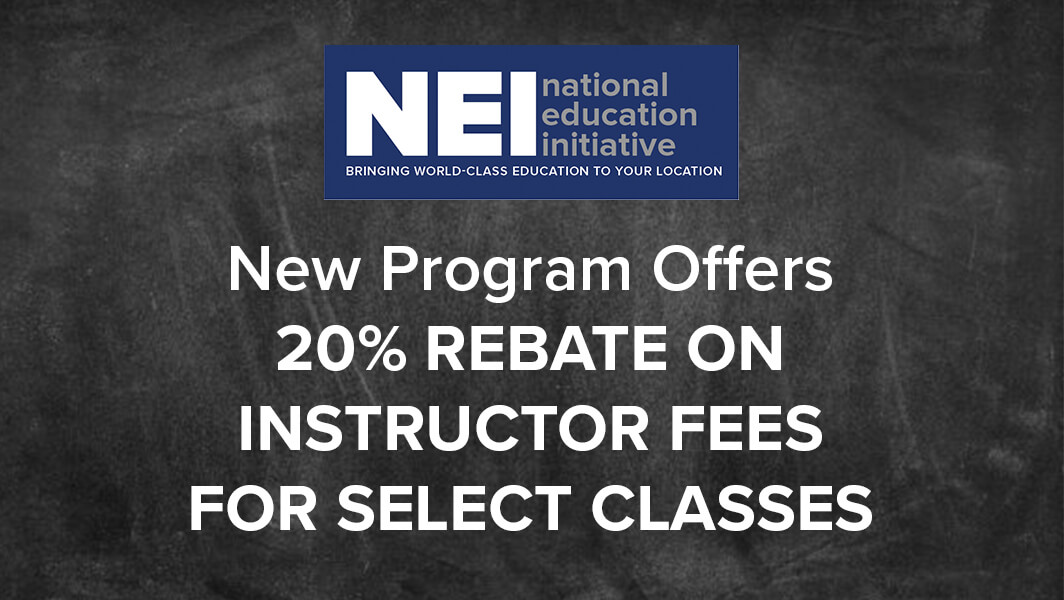 The education MCAA members and local affiliates depend on just got a little less expensive thanks to a new program that offers a 20% rebate on instructor fees for select National Education Initiative (NEI) classes, up to $5,000 per class. This benefit is available only to MCAA members and local affiliates in good standing who book courses via the NEI Initiative portal.
Which Courses are Eligible?
The 20% rebate applies to all NEI classes except those offered by John Koontz, which are already subsidized by MCAA. Courses must be booked using the NEI portal on the MCAA website.
Does the Rebate Cover Expenses?
The rebate covers eligible instructor fees only. It does not cover expenses, which, as always, are the responsibility of the member company or local affiliate that books the course.
How Do I Make Fee Arrangements?
You will work out fee arrangements directly with the NEI instructor.
Sounds Great! What's Next?
Go to the NEI portal.

Find the course that meets your needs and click the "Schedule A Course" button. The instructor will contact you to make schedule and fee arrangements.

Pay the invoice you receive from the instructor after the course.

Send a copy of the paid invoice to Priya Nirmal at the MCAA office.
How Does the Rebate Work?
Each month, you will receive a check from MCAA for 20% of the instructor fees paid for eligible courses, up to $5,000 per class. Here's what a rebate may look like in a given month:
| | | | | |
| --- | --- | --- | --- | --- |
| Course | Instructor | Booked via NEI Portal | Instructor Fee | Rebate (Fee x 20%, Up to $5,000 per Class) |
| Mechanical 101 | Cordell Strong | Y | $3,000 | $600 |
| Mechanical 201 | Suzy Smith | Y | $5,000 | $1,000 |
| PM Boot Camp | Robert Gutierrez | Y | $30,000 | $5,000 |
| Customer Care | Mary Jones | N | $5,000 | $0 |
| | | | Total Rebate | $6,600 |
Remember, MCAA is only offering rebates for select courses scheduled via the NEI portal. By not using the portal to schedule the Mary Jones course in this example, the contractor or local affiliate missed out on a $1,000 rebate.
Have Questions or Need Personal Assistance?
Contact MCAA's Frank Wall or call him at 301-990-2215.
Related Articles