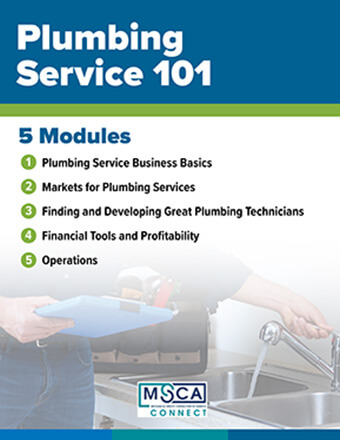 HVACR service companies that are thinking about adding plumbing to their company's service offerings will benefit from MSCA's new Plumbing Service 101 resource. In a series of five modules, Plumbing Service 101 highlights the benefits of offering plumbing service and investment challenges to consider before taking the leap. It also provides tips and resources that may be of interest to those with existing plumbing service operations.
The new resource, which made its debut at MSCA22, was developed in partnership with ATP Learning Solutions (ATP), an MCAA member that is part of the association's Manufacturer/Supplier Council. It includes:
Plumbing Service 101 Workbook Module 1 – Plumbing Service Business Basics
This module reviews the pros and cons of plumbing service, how to make a sound business decision regarding starting plumbing services, and types of services that can be offered based on commitment level.
Plumbing Service 101 Workbook Module 2 – Markets for Plumbing Services
This module provides a closer look at the type of research that is needed before making a final business decision along with presenting ten specific target markets that create possibilities for the HVACR contractor looking to add plumbing services.
Plumbing Service 101 Workbook Module 3 – Finding and Developing Great Plumbing Technicians
This module addresses the difficult and challenging task of finding suitable plumbing service technicians. It identifies possible recruitment sources, outlines recommended training, and offers suggestions on how to fit new technicians into an existing work environment.
Plumbing Service 101 Workbook Module 4 – Financial Tools and Profitability
This module is designed to give service contractors an understanding of key financial concepts and factors in planning a successful startup of a plumbing service operation and methods to ensure profitable business.
Plumbing Service 101 Workbook Module 5 – Operations
This module covers many factors that must be considered, such as determining which existing HVACR service department resources might be utilized in an effective organizational structure with key personnel roles defined. Moreover, information is presented on establishing an operating philosophy which integrates plumbing service into the existing company's corporate culture, including effectively communicating plumbing service details to employees, vendors, and customers.
Find other service-related resources in the Resource Center. Learn more about the WebBook Library, which is also home to the HVACR 101 Workbooks and videos, on the MSCA WebBook Library page.
Related Articles