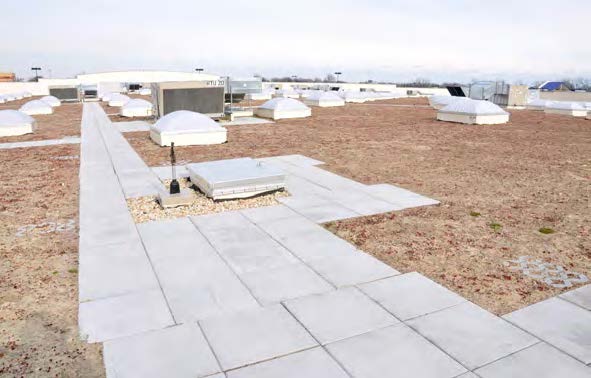 Using Wade's HydroMax® siphonic roof drainage system, a Wal-Mart in Chatham, IL, reduced the number of large pipes needed from 14 to three, thus saving installation time and material costs. Mercy Hospital in Des Moines, IA, turned to Wade's HydroMax siphonic system to solve a space conflict—there was no room left in the ceiling space for the drainage pipes needed.
Siphonic roof drainage systems operate under the principle of negative pressures. A siphonic roof drain contains a baffle plate instead of the traditional dome. The baffle plate, when covered by a small amount of water ponding on the roof, prevents air from entering the piping system, which allows the storm water to flow at high velocity, using the entire diameter of the pipe to remove water from the roof.
Water ponding levels on a siphonic system are significantly less than ponding levels of a gravity drain for equal GPM (gallons-per-minute) discharges. A gravity system requires larger-diameter pipe because it only uses approximately one third of the pipe diameter to evacuate water from a roof. The remaining two thirds is dedicated to allowing the air necessary for a gravity system to function. Smaller-diameter siphonic pipes translate into smaller hangers and couplings and less insulation.
With a siphonic system, pipe can be installed with no pitch. With storm piping being the only system in today's crowded ceiling chase installed with a pitch, the no-pitch feature allows for storm drainage designs that historically were impossible. The technology also reduces the client's storm drainage costs up to 40 percent.
Working with Wal-Mart
When Wade first started work with Wal-Mart, the store used 14 12" or 15" gravity pipe systems dropping through the store rooms, interfering with the desired racking configuration and eliminating valuable racking space. The Wade HydroMax siphonic system used only three 12" rainwater pipes located in corners to allow continuity and increase racking space. As a result, Wal-Mart saved money on materials. Installation was quicker because there were fewer pipes, and the ponding depths on the roof were lower. Moreover, because the system required fewer connections, the job required less below-grade pipework.
Solving Hospital Headaches
Mercy Hospital faced major coordination problems in the heavily-serviced ceiling space, which was congested with ductwork, fire sprinklers, electrical, and plumbing components as well as hospital gas lines and other specialty services. It needed to route a sloping gravity rainwater pipe from the roof drain locations to the service cores, but no space was available.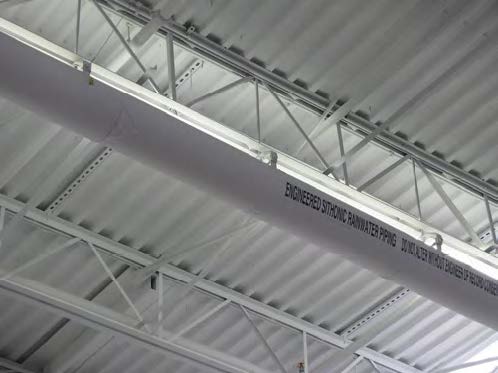 Mercy used the Wade HydroMax siphonic roof drainage system where the pipework (approximately half the diameter of the gravity-designed system) ran completely flat. This solution meant the pipework could be zoned for coordination and find a winding route to the services core, where the pipe could then drop to below grade. Not only did the system solve the problem, but cost of the storm drainage system to Mercy was reduced, and the hospital realized all the technical benefits, such as self-scouring and lower ponding on the roof.
Saving with Siphonics
In addition to cost savings, contractors can save time and money and provide solutions for complex situations by using siphonic drainage systems:
Smaller-diameter pipework (approximately half that of gravity systems) means lower materials costs.
Horizontal pipes can be installed flat, without grading.
Pipes self-scour by running fullbore with higher velocities.
Below-grade drainage is significantly reduced (the common range is from 20 to 60 percent).
Rainwater down pipes can be routed to the engineer's preferred locations, freeing up valuable building space.
Routing rainwater down pipes to the perimeter of buildings eliminates below-grade drainage under the building floor.
Services can be easily coordinated because pipework runs flat.
Fewer pipes means reduced construction time and cost.
Rainwater pipes can be routed to pond retention or used in rainwater harvesting.
Efficient water flow reduces ponding on the roof.
Wade HydroMax has also been used successfully for rainwater harvesting schemes where the pipes can be routed directly to rainwater harvesting tanks. The architectural benefit of no-pitch piping allows water from all areas of the roof to be routed to the collection tank location. Other uses include green roofs.
Siphonic roof drainage systems are an engineered solution. Any siphonic roof drain used in the United States must be tested in accordance with ASME 112.6.9:2005. All siphonic roof drain designs require the engineer of record to design the system in accordance with ASPE Plumbing Engineering & Design Standard 45:2007 – Siphonic Roof Drainage. IPC 2012 requires siphonic roof drains to be in compliance with ASME 112.6.9:2005 and the designs in accordance with ASPE Plumbing Engineering & Design Standard 45:2007.
Wade HydroMax offers design assistance to ensure a smooth progression from concept to the engineer sign-off. Communications between the manufacturer to the engineer of record and then to the mechanical contractor are important to ensure proper installation at the jobsite. The cost savings and simplified installation of siphonic roof drainage create a win-win for the contractor and the building owner.
For more information, visit www.wadedrains.com.