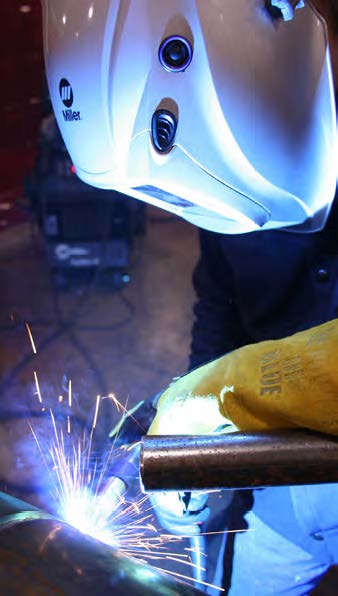 To meet growing demand, Michigan based De-Cal, Inc., opened its own fabrication shop with four multiprocess pipe welding systems (the PipeWorx Welding System from Miller Electric Mfg. Co.), along with a series of weld positioners. The speed and ease of use of the PipeWorx welding process has helped De-Cal refine its pipe welding processes to significantly improve productivity by as much as 30–40 percent and grow business.
Located in Warren, MI, De-Cal has worked since 1992 to establish itself as one of the premier mechanical contractors in the Mid-Atlantic states. With additional locations in Youngstown, OH, and Pittsburgh, PA, De-Cal finds itself in the heart of steel country, as well as the region's burgeoning oil and gas industry.
The company added a new element to its business in 2011 when it built a fully functional fabrication shop at its Youngstown location. The expansion was designed initially to support the needs of their own mechanical contracting business but quickly grew to take in work from other companies as their capabilities fit a regional demand for welding and fabrication services.
When the fabrication shop opened, most of the local welding talent had been certified to the ASME codes using only the stick and TIG welding processes in fixed positions. De-Cal worked with UA Local 396 (plumbers, pipefitters, steamfitters, HVAC) to begin certifying welders in MIG and flux-cored processes to UA and ASME codes.
"The guys have bought into that real well," said Ray Montgomery, manufacturing project manager for De-Cal. "Once I got one guy qualified, and I could have him work a job right next to a guy welding stick, I could show that he's doing twice as much welding."
The great bulk of material that comes through the De-Cal fab shop is carbon steel and stainless steel. One recent project—an extensive piping system for coke production—featured both. The first phase involved schedule-80 carbon steel pipe from 6" to 16" in diameter, while the second phase involved 10" to 16" schedule-80 stainless steel pipe. De-Cal has standardized, for the most part, on .035" solid wire for the root pass and .045" flux-cored wire for the hot and cover passes in both applications.
A few customers still prefer TIG and stick and are reluctant to consider change, but De-Cal has achieved numerous certifications under ASME Section 9 that included extensive radiographic and bend testing to prove the quality of these processes.
"We've had instances where a customer has given us a job to quote and given us a spec that says, 'no MIG, no flux-cored,' and I've been able to go back to them and say, 'We want to perform welding using the same procedures that are approved under our ASME code program,'" said Montgomery. "And just about in every instance, I've got approval to do that."
One of the primary contributors to this success has been the conversion of most root pass applications to the regulated metal deposition (RMD®) process. RMD is a modified short-circuit MIG process in which the welding system anticipates and controls the short circuit, then reduces available welding current to create a consistent metal transfer. Precisely controlled metal transfer provides uniform droplet deposition, making it easier for the welder to control the puddle. The smooth metal transfer also compensates for high-low misalignment between pipe sections and creates more consistent root reinforcement on the inside of the pipe than other short-circuit MIG processes. The process also maintains a consistent arc length regardless of electrode stick-out. It compensates for operators that have problems holding a constant stickout, and it enables a better view of the weld puddle—making the process much easier to learn than TIG welding.
"The RMD process is by far the biggest advancement that I see," said Montgomery. "Being able to easily do a root weld, get full penetration, have a nice appearance on either side without the welder having to struggle is, to me, the biggest thing."
Similar improvements in productivity occurred as the shop transitioned over from stick to flux-cored welding for the fill and cap passes. Fluxcored welding provides a number of benefits over stick welding that help improve productivity and quality, including faster travel speeds, increased deposition rates, and increased deposition efficiency— which ultimately means that less filler metal is wasted in the process.
"By using this process and utilizing weld positioners, a welder can routinely weld a continuous pass without stopping," said Montgomery. "It's much more efficient, the welders like doing it, and the weld appearance is very uniform."
For more information, visit www.millerwelds.com.