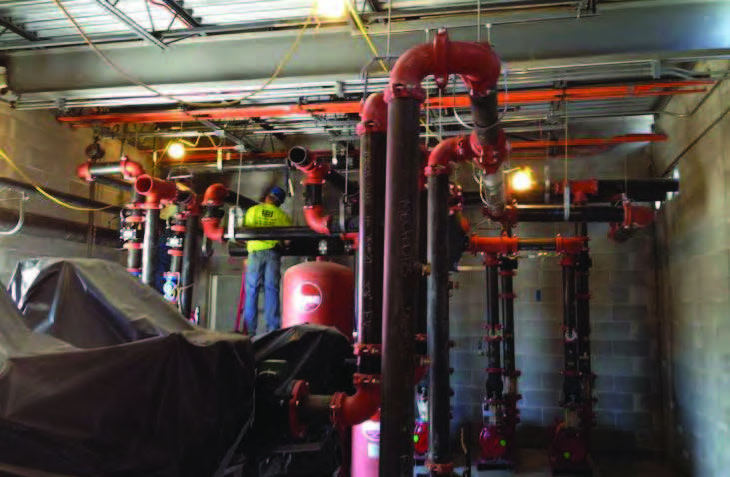 Prefabrication Helps Small Firm Thrive in a Tight Market
To win the bid for a new Early Childhood Learning Center in Dayton, OH, Starco, Inc., proposed using GRINNELL products to speed installation time and GRINNELL Mechanical Services (GMS) to plan ahead for maximum efficiency. Northmont City Schools, based on the outskirts of Dayton, broke ground on the Early Childhood Learning Center in 2012, and Starco was awarded the hot and chilled water services for the project in 2013.
The new structure brings together the district's entire kindergarten, first-grade, and special needs pre-kindergarten students in one, standalone building. It enables the district to consolidate resources and improve focus on supporting those pivotal educational years. The new facility will also relieve overcrowding of the district's existing elementary schools, which will now support fewer grades.
During the bid process, Starco, a small mechanical firm of approximately 20 employees, knew they would have to deliver a solution that was both efficient and effective. Project leads considered various options when designing the system for the Learning Center. The facility had to connect multiple air handling unit hook-ups, as well as VAV connections. To speed up the installations, Starco planned the hot and chilled water systems throughout the building using GRINNELL grooved steel piping, 2-1/2" through 6" in the mechanical room, and up to 2" GRINNELL G-Press Copper press in the distribution piping.
"Communication is 100 percent of why we're so successful. … Upfront attention to detail is a big thing, and you have to work together as a team to manage projects effectively."

— Tony Johnson, Project Manager, Starco
Communication Is Key
To further reduce time on the job and maximize the effectiveness of their limited staff, Starco project leaders turned to GMS to create the drawing package and lay out the project ahead of time. Starco provided on-site measurements and communicated their overall plan to the GMS team, which then provided 3D isometric drawings. The drawing package listed the elevations and pipe lengths and labeled the fittings and components in the mechanical room and distribution piping in the building. Throughout the project, Starco resources handled the coordination with other trades, discussing construction site changes and options with the GMS team.
Tony Johnson, project manager for Starco, said, "Communication is 100 percent of why we're so successful. If all the participating parties don't work together, something can go wrong at any or all stages of your measurements, drawings, fabrication, or installation. Then it doesn't matter what you quoted or how fast your installers are. Upfront attention to detail is a big thing, and you have to work together as a team to manage projects effectively."
Planning and cooperation were key for Starco. Johnson noted, "If we show up in the field with a huge trailer of prefabricated materials that don't work, it would have an impact on our bottom line. That's why we had near daily conversations and e-mail exchanges with the GMS team about what they thought would work best and what we thought needed to change."
Johnson appreciated the close relationship between GMS and Starco. "The GMS designer was very flexible and supportive of incorporating our ideas. Services like this allow us to do what we do best—focus on our service and quality installations," he said.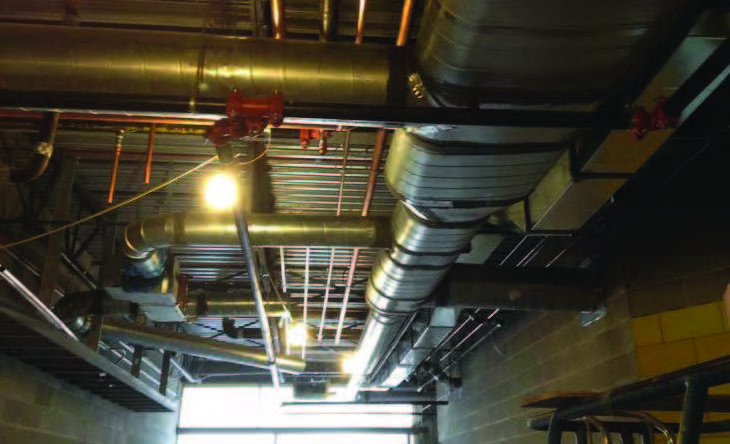 Prefab Pays Off
Once the drawings were complete and materials such as grooved and press pipe were tagged, Starco's experienced team assembled most of the large lengths offsite and later transported them to the construction site for installation. Although their prefab shop has been up and running for several years now, Johnson admitted not everyone was always on board with the idea of prefab.
"Lots of us were skeptical in the beginning," he said. "Prefabricating takes a lot of the manpower and information upfront, and you only get out what you put in. You spend a lot of time in the beginning making sure what you're drawing, ordering, and engineering is right." Again, Johnson pointed to good communication. "The coordination between the field, the office, and GMS services can seem daunting, but the GMS team worked with us along the way. At the end, we had better control of all the project variables, a solid materials list and tracking, and now everyone loves it. Prefab reduces our waste, and the GMS drawing package gives us one plan that brings our team together," said Johnson.
Johnson also shared, "I think Starco has a really open mind. We all know that we don't do things the same way we did 25 years ago—projects are more complex today and vary with the ups and downs of the economy. You have to be willing to discuss different technologies with new people like we did with the GRINNELL Mechanical Services team. When a company stops entertaining new ideas, they get rolled over."
For more information, visit www.grinnell.com.
MCAA thanks GRINNELL for being a major sponsor of MCAA 2014.