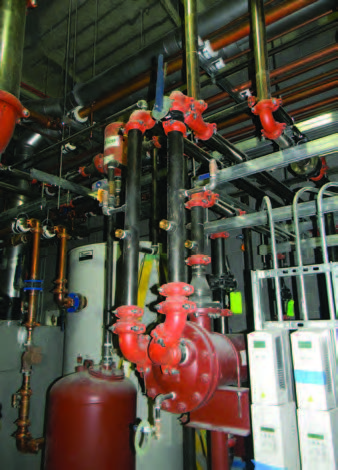 With 24 months to install 130,800' of pipe, Palmer Christiansen Company relied on Victaulic for high-quality systems that reduce labor costs and installation time. As a result, the new federal courthousein Salt Lake City, UT, is expected to open in March 2014, with the mechanical system coming in on budget and ahead of schedule.
The building, located in downtown Salt Lake City on the same site as the former Frank E. Moss Courthouse, was designed to be a noticeable presence in the city's skyline. The 10-story building has a glass façade and stands an impressive 200' tall. The facility was built to achieve LEED Gold certification, and the interior flaunts 21' ceilings to give the feeling of grand courtroom spaces.
Mechanical System Poses Challenges
As a result of the design, the 375,000-square-foot building needed to accommodate high loads, and the central plant had to be sized to provide service to an adjacent federal courthouse. Palmer Christiansen, which specializes in installing large, complex mechanical systems often associated with hospitals, semiconductors, clean rooms, and research laboratories, was selected for the project.
"The boiler room and chiller room in the federal courthouse were two of the largest mechanical rooms that we've ever done," said Brett Christiansen, the third-generation president of Palmer Christiansen, whose grandfather founded the firm in 1946. "The size of the building and size of the load were huge and the downtown site provided us with very little space to lay materials."
"As partners, [Victaulic] help[s] us work smarter and more efficiently, and we knew Victaulic products would deliver labor savings on this particular application."

— Brett Christiansen, President, Palmer Christiansen
In addition to the 3,500-square-foot boiler room and 3,200-square-foot chiller room located in the basement, 30 air handlers were housed in the additional 28 mechanical rooms, with two located on every floor, including the roof and basement. Knowing that the project was specified to include large amounts of grooved end fittings, the contractors turned to Victaulic for support. Palmer Christiansen has been partnering with the manufacturer of grooved mechanical systems for about 40 years and knew Victaulic could deliver high-quality systems that reduce labor costs and reduce installation time.
"We were an early adopter of Victaulic technologies, and we see them as the leader in developing grooved mechanical systems," said Christiansen. "As partners, they help us work smarter and more efficiently, and we knew Victaulic products would deliver labor savings on this particular application."
Planning and Prefab Address Space, Time Constraints
To increase efficiencies on the job, the contractors used 3D renderings and prefabricated the HVAC piping offsite using automated Victaulic roll grooving equipment for standard and large-diameter piping. To address the tight working conditions, Palmer Christiansen shipped the piping just in time and assembled it onsite. The piping included sizes up to 20" for the condenser water, chilled and hot water, a glycol snowmelt system, and domestic water system. For the 20" condenser water line, Palmer Christiansen relied on Victaulic Advanced Groove Systems (AGS) to join the large-diameter piping. The domestic water system used Victaulic copper grooved systems and dielectric waterway fittings for transitioning between materials. Victaulic flexible couplings helped to reduce motor vibration off the pumps, cooling towers, and air handlers, minimizing the transfer of vibration into the building.
"In comparison to other grooved systems, Victaulic AGS couplings are about 15 percent faster to install because they use only two bolts in comparison to four," said Kevin Rasmussen, project superintendent at Palmer Christiansen. "The QuickVic style couplings also give us a huge labor savings because they don't have to be disassembled to install, so we don't lose parts and can reduce warehousing."
Rasmussen added that the mechanical contractors at Palmer Christiansen pride themselves on being craftsmen, and Victaulic represents top quality in grooved systems that help the firm uphold its reputation.
"In the 30 years that I've worked with Victaulic, I have never been called back to the jobsite to fix a problem," said Rasmussen. "Because of that, my preference is to work with Victaulic every opportunity I get."
Christiansen echoed the sentiment. "Victaulic has the best engineering group that we deal with," he said. "They are exceptional problem-solvers, so we're big believers in Victaulic and grooved piping to help us be more competitive on jobs. We've done a lot of our high-profile projects with Victaulic, and they delivered again on the federal courthouse project in helping us increase efficiencies and achieve labor savings."
For more information, visit www.victaulic.com.
MCAA thanks Victaulic for being a major sponsor of MCAA 2014.