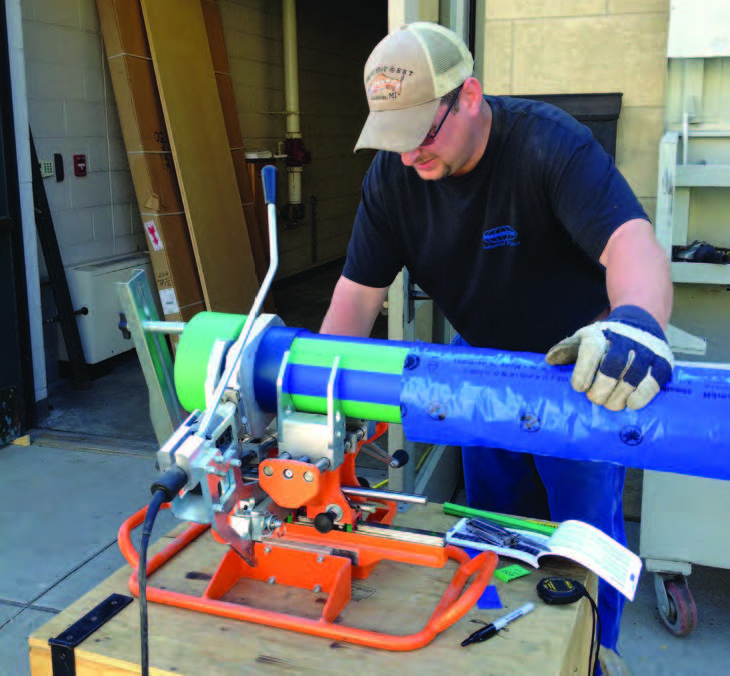 To install a central air conditioning system in a high school campus' main residence building during the short summer break, John E. Green Company called on Aquatherm for an easy-to-install, in-ground piping solution that allowed them to meet the rush deadline. The Aquatherm piping also proved to be an environmentally friendly solution for the University of Detroit Jesuit High School and Academy (U of D), addressing concerns about the potential problems of burying pipe.
The highly respected U of D was founded in inner-city Detroit in 1877. Most of the campus was built in 1930 and renovated in the mid-1990s. The 50,000-square-foot residence building originally housed the school's priests but now serves as counseling, meeting, and administration space. A boiler house located 120' from the residence building originally contained a coal-fired boiler that served radiators in the school. In recent decades, the boiler house was upgraded with modern equipment, including water source heat pumps, and configured for future expansion.
Summer Rush Job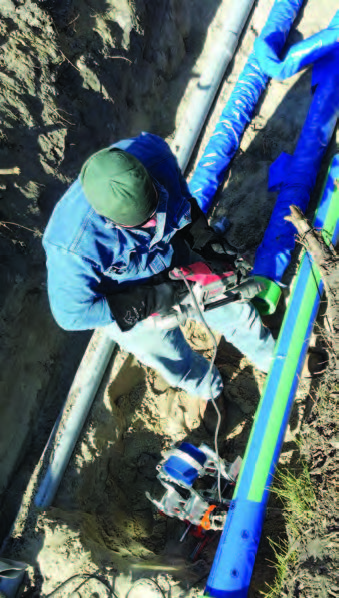 The project's design was fairly straightforward. Three new Daikin two-ton water source heat pumps were installed in the residence building and tied in with existing valves in the boiler house. This arrangement would supply the main residence building with heat pump water and provide extra capacity for up to 20 new heat pumps in the residence building that will be adjoined to a new Science Wing addition scheduled for construction in 2014.
However, the 4" supply and return lines running roughly 120' between the boiler house and the residence building had to be buried. Neither Bob Williams, director of plant operations at U of D, nor Mark Bobrowski, senior mechanical engineer for preconstruction services with John E. Green, was enthusiastic about traditional pipe options for this application because of insulation and lifecycle concerns.
Bobrowski (a U of D alumnus) said Aquatherm's polypropylene-random (PP-R) pipe system "seemed like a great fit" for this job. "You wouldn't put normal plastic pipe in the ground for this application—and I don't like putting pipe in the ground at all—but with this product I'm not worried about it."
One of the reasons Bobrowski and Williams were comfortable direct-burying Aquatherm Blue Pipe® was the heat fusion connection method, which heats pipe and fitting on a 400–500° F iron during the connection. This approach bonds the pipe at the molecular level without chemicals or mechanical connections and eliminates systematic weaknesses.
Once the trench was dug, the building penetrations completed, the proper fusion welding equipment rented, and the Aquatherm training course completed, the crew fused 4" Aquatherm Blue Pipe. "We just basically threw it in the ground—I watched the guys do the installation and it was pretty slick," said Williams. "The guys … were brand new to the system themselves, but once they got a few fusion connections done, it went pretty good and quick, and I think we took several hours out of the job, because the installation went so well," he added.
Savings on Multiple Levels
Quick installation was important because the 6'-wide, 5'-deep trench was exposed for part of the project. The team budgeted for an excavator operator to remain onsite for eight or nine days, but the work only took six days. "If we had put steel or welded pipe in, it would have taken a lot longer. It went fast, faster than we were expecting," Bobrowski noted.
Using Aquatherm instead of steel pipe delivered insulation savings. "Since it's heat pump water, it's not too hot or too cold and the [Aquatherm] pipe has some insulating value so we didn't need to insulate it in the ground," Bobrowski explained.
A Good Green Choice
Williams liked that PP-R is environmentally friendly. "We always look to use green products, but … that isn't our main concern because when you 'do green' oftentimes it costs you a lot of 'green' and we can't kill a project because of that. But we always look at ways of doing things green, and obviously Aquatherm is a green product."
As the new four-story Science Wing will be a showcase of cutting-edge, environmentally friendly products, U of D is considering Aquatherm for the domestic water supply and HVAC pipe systems in that building. Aquatherm pipe's 10-year multimillion-dollar warranty and the fact that PP-R is not targeted by scrap thieves are other benefits that might impact the decision.
With one successful job complete, John E. Green plans to use Aquatherm on other jobs. "I put this product in the ground and I'm not going to have to worry about it deteriorating or leaking. We even looked into whether we would be able to drive heavy equipment over it and that checked out okay too. I'm not a fan of putting pipe underground, but this was a good option," concluded Bobrowski.
For more information, visit www.aquatherm.com.