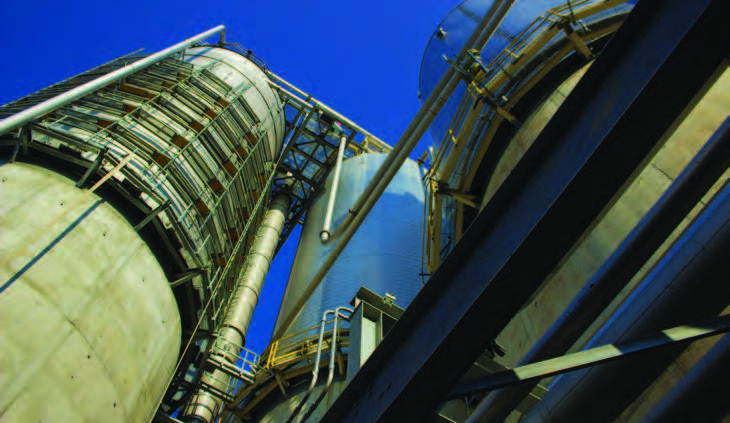 Modern Piping Inc. put the PipeWorx 350 FieldPro™ System from Miller Electric Mfg. Co. to work to save time and enhance safety for a job where some welding took place hundreds of feet in the air, far away from the power source. International food and agricultural producer Cargill had purchased an unfinished corn wet-mill ethanol plant in Fort Dodge, IA, in 2011 and contracted with Modern Piping of Cedar Rapids to complete the construction on an aggressive schedule.
The facility has the capacity to grind 150,000 bushels of corn each day and produce 115 million gallons of ethanol per year. Before production could start, however, Cargill needed to finish construction on the facility and bring it up to Cargill standards for quality and safety.
Remote Control Saves Time, Increases Safety
Modern Piping used the PipeWorx 350 FieldPro system at the Cargill site for stick and TIG welding. The FieldPro machine can also be used for MIG and flux-cored welding, as well as the advanced technologies of pulsed MIG and regulated metal deposition (RMD), a modified short-circuit process. The optimized welding performance offered by the system specifically meets the needs of open-root pipe welding and helps reduce training time.
Modern Piping was tasked with laying out, fabricating, and installing the ethanol plant's piping systems, including multiple process piping systems, compressed air lines, vacuum piping, chemical lines, cooling water supply, and return and steam. Much of the welding involved schedule-10 stainless steel pipe that had to be welded in elevated areas, requiring the use of scaffolds and manlifts. The remote control capabilities of the FieldPro System saved time by allowing process and parameter changes at the weld. The feature also increased jobsite safety by reducing trips up and down stairs and ladders to change welding processes and parameters at the machine.
"It's good for us because it increases productivity, improves value to the end-user, as well as reduces safety concerns. There is great value to have a system that is very safe," Modern Piping President Ken Brown said.
Made for the Field
Constructed to withstand the rigors of field use, the simplified cable management of the PipeWorx FieldPro saved Modern Piping journeyman pipefitters time by eliminating the communication cables that cause clutter on jobsites. Journeyman pipefitters using stick and TIG processes were able to change process selection, amperage adjustment, and stick electrode selection remotely, and the push-button process changeover eliminated the need for swapping cables.
In addition, workers were able to reduce the likelihood of weld defects because the correct polarity is automatically set for each welding process. The FieldPro System alerted Modern Piping journeyman pipefitters if the weld cables were connected incorrectly. The machine's ability to set optimal parameters automatically improved quality control by helping ensure a consistent bead profile and by minimizing defects caused by incorrect welding parameters, such as porosity or lack of fusion. Each setup of a new weld process is done with the touch of a button, so the streamlined system helped avoid downtime and focus on the weld.
"It's nice to have it within arm's reach," said Tony Hensley, a journeyman pipefitter with UA Local 125 in Cedar Rapids who worked on the project. "Every time you have to go up and down on that ladder, that's another possibility that you could get injured, that you could drop something, and that causes problems. That's something you don't want."
These capabilities are important because many jobsites, like the Cargill plant, are expansive. Modern Piping workers sometimes were 200 feet in the air.
PipeWorx Saves Time, Money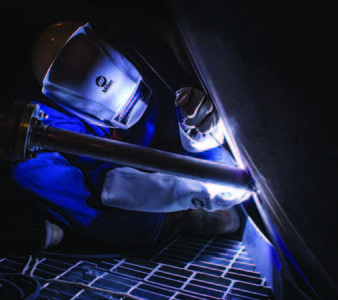 With the PipeWorx 350 FieldPro, the ability to make adjustments quickly from the weld site also helped save time and money. "It's speed more than anything else—the efficiency that you get from this machine and this equipment, especially the FieldPro Remote, being able to turn up and down your amperage when you need that done," said Hensley. "It's right there, it's right next to you. It's a tool in your toolbox that makes you that much better."
That ability to make finite adjustments at a rapid pace without interrupting the work for long stretches resulted in improved job quality and productivity. "It does give us the ability to provide a higher quality weld because we can make those adjustments when we need to, in the right location," Brown says.
According to Brown, the PipeWorx 350 FieldPro System provided many benefits for Modern Piping. "One of the goals of Modern Piping is to be so good that we don't have competition, and the FieldPro System is another step in that direction," Brown said.
Thanks to the system, Modern Piping more efficiently completed several months of work to ready the Cargill plant for grinding corn to produce ethanol and other bio-based products. The PipeWorx 350 FieldPro kept Cargill on schedule to open the facility, and continues to make Modern Piping more competitive.
For more information, visit www.millerwelds.com.