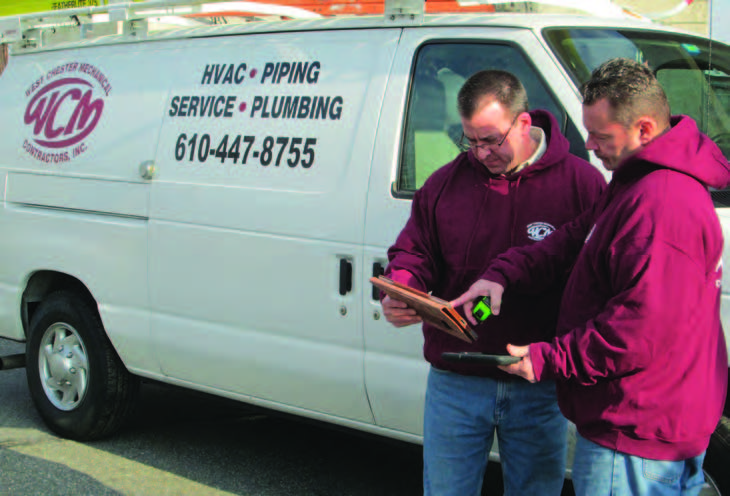 Apple iPads Replace Mountains of Paperwork
To streamline the large amount of paperwork generated by each project and jobsite and to make it easier for key project team members to access, share, and update information, West Chester Mechanical Contractors, Inc., partnered with iBusiness Technologies to convert their processes and project documents to mobile, digital formats. The move was prompted by recommendations from both the MCA of Eastern Pennsylvania and Apple®.
The iBusiness Technologies team worked closely with West Chester Mechanical staff to understand current processes and design digital workflows to leverage the powerful, affordable MobiliData and MobiliForms platforms. "Our employees report that having instant access to critical data on iPads saves a tremendous amount of time and allows them to resolve important project and customer issues quickly," said Mark Rogers, chief operating officer of West Chester Mechanical.
Focus on Customer Satisfaction
West Chester Mechanical has an ambitious, yet straightforward, mission: Satisfy all customers, all of the time. Rogers credits the West Chester Mechanical staff, from sales estimators and project managers to on-site technicians and subcontractors, for the company's success since its founding in 1996. "Our staff is our most important asset and the cornerstone of our customer satisfaction strategy. We believe that a staff dedicated tirelessly to serving our customers is the best sales and marketing tool there is," he said.
West Chester Mechanical management offers their commercial clients a full range of services, including air conditioning and refrigeration, mechanical and industrial construction, energy, fire protection, renovations, and more. West Chester Mechanical generally works on large-scale projects, such as hospitals, universities, corporations, and laboratories, which require a sizable team of employees in the field at any given time.
"Our employees report that having instant access to critical data on iPads saves a tremendous amount of time and allows them to resolve important project and customer issues quickly."

—Mark Rogers, COO, West Chester Mechanical
Because of the variety and number of services performed at each jobsite, the ability of the West Chester Mechanical team to access data instantly while in the field is crucial. Historically, all job-related paperwork— including time sheets, daily logs, submittals, change orders, estimates, materials lists, drawings, schedules, and contracts—was kept in a paperwork folder for employees to borrow and access. This method was time-consuming, requiring employees to halt their work to seek out and update paperwork and notify other team members of changes and updates. This process was also cumbersome and costly. The company was concerned that critical, constantly-changing information might not reach team members in a timely manner and that important documents for multi-site jobs could be lost even with the most diligent and conscientious staff.
A Simple, Complete Solution
West Chester Mechanical management wanted a solution that was highly customizable, easy to deploy, and reliable and that required minimal maintenance. MobiliData provides instant access to critical project files from any Apple device. Files can be stored on the cloud or on company servers. Secure, two-way file exchange between office and field ensures all stakeholders have access to up-to-the-minute information. Flexible permissioning controls file access by job function. MobiliForms is a simple, complete iPad forms solution that enables companies to use their existing forms and checklists on Apple devices. MobiliForms returns field data instantly for immediate billing and streamlined operations.
iBusiness Technologies deployed two Apple servers and 35 customized iPads to tiered user groups who perform various job functions and need immediate access to project-specific content. The iBusiness team trained the West Chester Mechanical staff and provides ongoing mobile device management services.
"We are extremely pleased with the iPad solutions deployed by iBusiness Technologies," said Rogers. "Our workflow and internal communication process has been significantly streamlined."
For more information, visit www.iBusiness-Tech.com. You are invited to attend the MCAA 2014 technology session Demystifying Mobile Technologies, where Steve Metzman of iBusiness Technologies will be a panelist.