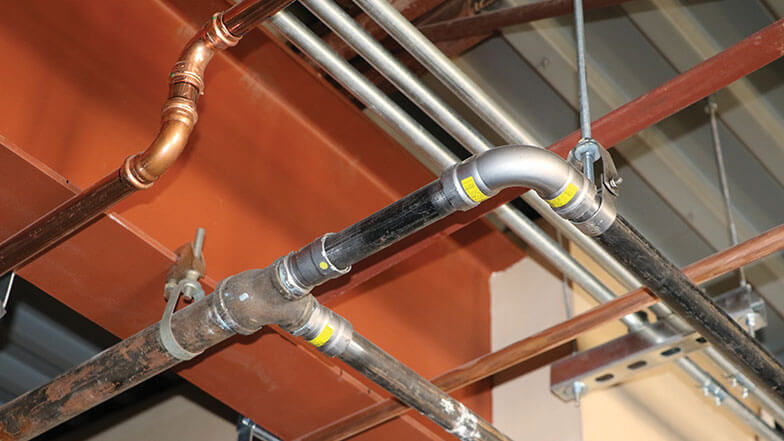 Pressing Cuts Installation Time, Keeps Braconier Competitive
Faced with the possibility of losing money on a building expansion project, Braconier Mechanical and Plumbing found that using Viega products was an easy way to trim costs. The ease of installation with the Viega press approach cut installation time dramatically, bringing costs back under control. In addition, Viega turned out to be a better choice for a job where the original specs called for threading pipe.
Braconier was among the crews working on a large expansion at Aims Community College in Greeley, CO, that had a maximum guaranteed price. It involved remodeling the existing 15,000-square-foot welding building at the college, plus adding on a 60,000' three-story building. When the project went over budget, everyone was looking for ways to cut costs. The original specs called for threading the pipe, and Braconier Project Manager Todd Self saw that as an opening for Viega MegaPress.
"When it was over budget, I looked at what we could substitute. Originally the only [Viega product] called for was potable water, but we got other Viega items in. It was value-engineering with the budget," Self said. Braconier purchased two sets of MegaPress jaws for the project.
Pressing Saves Time
Ricky Maynard, the plumbing foreman on the job, echoed that Viega was the best way to go for both ProPress and MegaPress. "It's faster because no hot work permits are needed. And running the water pipe in a three-story building—we would have needed two or three times as long to do it," he said. "I've been pressing since I came to Braconier six years ago, and if the specs allow it, [Viega] is what we do."
Time saved adds up, and it was crucial to the budget. Maynard also noted that original plans in the building called for threading oxygen pipe, which would not have worked. Lines cannot be used for oxygen if they have had threading oil on them—offering yet another reason to call on Viega.
"Viega evens the playing field for us," Self said. "We can drop our labor costs and be more competitive. Labor savings are huge, so we do what we can to decrease them. When I started [with Braconier] four-and-a-half years ago, I always pushed for ProPress and the labor savings it brings. The prep time to press versus weld a joint is so much less."
Strong System Holds Up
Dan Guidry, pipefitter foreman for Braconier, said that with so many workers constantly flowing through the building, at times some of his pipe was pushed around or shuffled out of the way. Still, there was not a single failure on any Viega fitting, a testament to the strength of the system. ProPress lines run throughout the newly revamped building for hot and cold domestic water. In the remodeled welding lab, MegaPress and MegaPressG lines run a variety of things, including natural gas, compressed air, and welding gases, such as argon and acetylene.
The original welding lab, built in 1983, was gutted to a shell, with just the welding booths remaining. All the piping—nearly 5,000' of it—was newly run. It was estimated that pressing with Viega cut at least a week off the installation time in the lab alone.
The addition to the building is a huge boost for the Aims campus and, with all the offerings available, will bring in lots of new students. Students can study construction management, CAD, materials testing, robotics, 3D printing, alternative energy, and more.
The entire building is meant to be a teaching vehicle. For example, the back of the elevator is exposed so that students can see all the working elements that make it run. Exposed pipes throughout the building serve as examples of top- notch workmanship to which students can aspire.
For more information, visit www.viega.us. MCAA thanks Viega for being a benefactor of MCAA18 and sponsoring the student chapter activities.