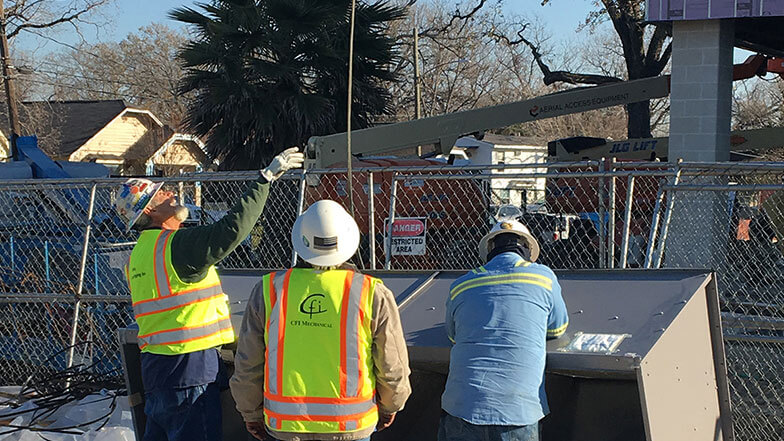 Carrier Equipment Expected to Deliver High Efficiency with Low Maintenance for Houston's Northside High School
Close coordination with Carrier on a "just-in-time" delivery schedule is helping CFI Mechanical keep a Houston school renovation project on track while saving the contractor installation time and costs. By using Carrier HVAC systems, CFI mechanical is also meeting the school's energy-efficiency goals.
Growing Student Body
The Houston Independent School District (ISD) is the largest school district in Texas, and the seventh largest in the United States. The population of Houston has increased significantly in recent years. In 2012, Houston voters approved a $1.89-billion bond to repair or replace 44 schools, including Northside High School. Houston-based CFI Mechanical was selected to deliver a high-efficiency, low-maintenance HVAC system solution for Northside.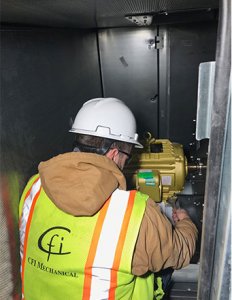 The approximately $66-million renovation is extending the footprint of the original 1926 school building and its 1978 addition to provide much-needed space for 1,500 to 1,700 students in grades 9–12. In addition to its general education curriculum, the school provides a magnet program for culinary arts and hotel management. CFI Mechanical chose Carrier equipment to provide Northside High School with reliable and precise comfort for its students, faculty, and staff, with a minimum of time and effort invested by the school's maintenance staff. They also recognized that Carrier products would contribute to the Houston ISD's goal of building to LEED® standards.
Tried and True
Given Houston's warm and humid climate, the HVAC system for Northside must address temperature, humidity, and indoor air quality in every space within the facility. Houston ISD had previously chosen Carrier equipment for other projects, so district leaders were familiar with Carrier quality and reliability. When the HVAC system was being selected for the Northside High School expansion project, Carrier became the basis of design.
However, Carrier did not rest on their laurels. Ron Dauzat, senior project manager at CFI Mechanical, said, "Carrier was very competitive at bid time." CFI Mechanical has completed successful installations in diverse sectors of the private, public, and government markets. They recognize that each project is unique, so they perform a complete analysis of individual job conditions prior to installation.
With school fully in session, meeting the HVAC equipment delivery needs of the Northside High School project required a coordinated effort between Carrier and CFI Mechanical. As the full project will take approximately 18 months to complete, multiple releases and delivery of Carrier's equipment was essential. Precise just-in-time delivery of the necessary HVAC components to the project's lay-down areas facilitated CFI Mechanical's project schedule—saving the contractor both time and related installation costs. Required delivery times that range between 48 and 72 hours entail ongoing communication between Carrier and CFI.
A Carrier AquaEdge® 23XRV screw chiller and AERO® 39MW and 39S series air handling units were specified to serve the main areas of the building, including a facility for the culinary arts students, along with several Comfort™ 24ACC air conditioning units to serve ancillary spaces not on the chilled water loop.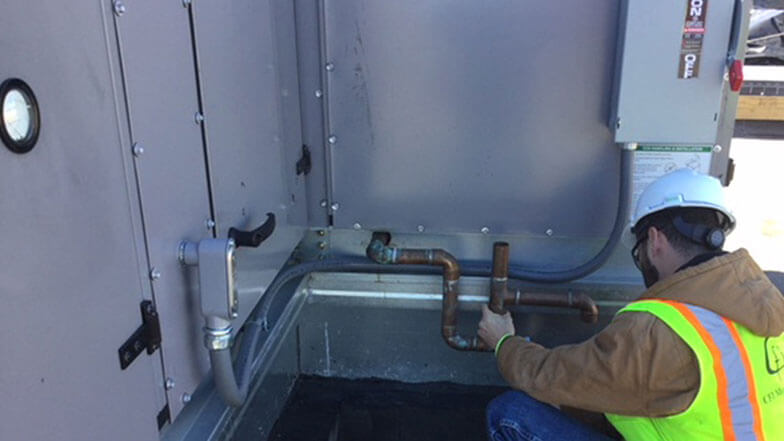 High Efficiency, Low Maintenance
During the planning stages, project engineers visited Carrier's Green Done Easy event at their factory in Charlotte, NC, where they saw the Carrier 23XRV screw chiller in action and realized the benefits it would bring to the school. The Carrier AquaEdge 23XRV screw chiller is a high-efficiency, variable-speed, water cooled chiller that uses non-ozone-depleting R-134a refrigerant. It provides integrated part-load values as low as 0.299 and is designed for both long-term reliability and minimal maintenance. The AERO 39MW air handling units offer variable frequency drives for excellent part-load efficiencies and include features such as double-wall casing for ease of cleaning.
To give the school's staff precise comfort control in real time, the new HVAC system at Northside High School will have digital controls to integrate all its new and legacy HVAC equipment components. Rusty Bell, project manager at CFI Mechanical, said, "The BACnet® controls will enable us to integrate both the new and existing HVAC equipment into one network that we can optimize for efficiency. The digital controls will also make it easier to expand the system in the future if that becomes necessary."
Back to School in 2018
Fortunately, Northside High School was not damaged by Hurricane Harvey when it struck Houston in August of 2017, and construction is on schedule. "We're piping up the chiller right now and will be phasing in the new equipment with the existing system," said Bell.
The Northside High School project represents the successful combination of a quality-oriented contractor and Carrier products. CFI Mechanical's demand for high quality in all phases of their operation, coupled with ongoing communication and coordination with Carrier, will translate into a productive educational environment for Northside's students, faculty, and staff. Additionally, CFI Mechanical will deliver an efficient, energy-saving, and precise system solution that will help positively impact the school's bottom line.
The finished building is expected to be ready for students by next fall, providing spacious, modern facilities for all the students of Northside and enabling the Houston ISD to continue pursuing their goal of providing top-quality education to their diverse and growing student body.
For more information, visit www.carrier.com/carrier/en/us/.  MCAA thanks Carrier Corporation for being a major sponsor of MCAA18 and co-sponsoring the Golf Tournament.