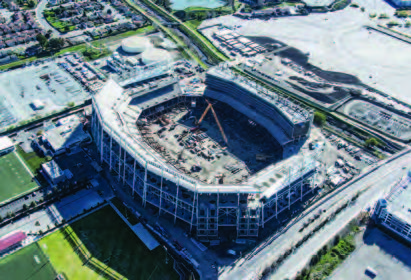 Prefabricating Plumbing for San Francisco 49ers' New Stadium Cuts Costs in Half
Prefabricating plumbing systems offsite can save time and money, but getting those systems to the jobsite poses its own challenges. For Levi's Stadium in Santa Clara, CA—future home of the NFL's San Francisco 49ers—FW Spencer and Son, Inc., had to transport the high-capacity, back-to-back gang toilet systems that it had fabricated at its facility to the jobsite while maintaining a strong joint with a rigid seal. They chose Husky couplings from Anaco because they are designed to withstand joint movement while maintaining full joint integrity.
The Promise of Prefab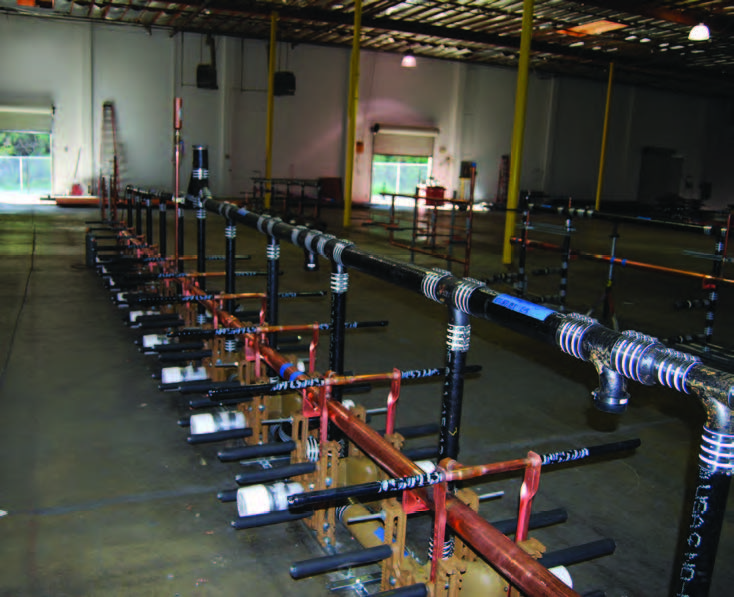 Offsite prefabrication for plumbing reduces overall project costs by cutting labor costs and increasing efficiency. In addition, it allows multiple trades to coordinate. By prefabricating plumbing systems, contractors can identify any potential problems before the field work begins, saving time and cutting costs as much as 50 percent.
"One of the driving factors in the rise of prefabricated plumbing systems is the ability to improve productivity," said Kevin Coyne, vice president and chief estimator at FW Spencer. "Productivity is an important factor. By having the ability to control multiple elements of productivity, including project schedule, cost, safety, quality, and waste, it gives us a competitive edge in the marketplace."
When joints fail on a jobsite, testing can be expensive and waste a lot of time in manhours. FW Spencer found that the Husky couplings all but eliminate the risk of a leak in the system and costly retesting.
Levi's Stadium will have the capacity for 68,500 spectators and provide over 1,000 toilets and urinals. FW Spencer chose the Husky HD2000 and Husky SD4000 heavy-duty high-performance couplings by Anaco for the project because of their prefabricated plumbing trees. The rigidity and solid sealing qualities of Husky couplings allow them to withstand joint movement and maintain integrity. Their gaskets are molded from virgin Neoprene and have a unique rib design that provides multiple lines of defense against leakage. Their band-and-shield design is made from high-quality 304 stainless steel for maximum corrosion resistance and strength.
"By using the Husky Couplings by Anaco, we are able to air test the system at our manufacturing facility and then transport the complete plumbing systems to the building site without the worry that there would be joint failure. The Husky product is able to withstand the vigorous transportation movement from our factory to the installation site," said Coyne. "It was a clear choice to use Husky that has had a reputation of producing high-performance couplings for over 30 years."
Designed for Durability
Husky couplings are engineered to last through the lifetime of a building. They are able to withstand deflection caused by normal factors as well as extraordinary influences such as earthquakes. Husky high-performance, heavy-duty couplings are designed to withstand extreme forces, from the extended shield width to the additional stainless steel clamps, making them the ideal solution for critical projects, such as hospitals. Because of their design, they can tolerate movement and deflection far in excess of that anticipated in virtually any building application.
For more information, visit www.anaco-husky.com.
MCAA thanks The Wade Group, which includes Anaco, for being a benefactor of MCAA 2014.