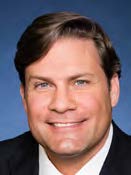 From preserving historic landmarks to completing cutting-edge projects, contractors rely on suppliers to meet the challenges they face every day. In this issue of Smart Solutions, read about Henson Robinson's upgrade of the HVAC system in Abraham Lincoln's home using Carrier products. To modernize a 93-year-old building in downtown Fresno, CA, New England Sheet Metal Works, Inc. installed a compact Daikin chiller that fit the tight spaces, swapping out the old system through an underground garage with a 15° ramp.
Join me in welcoming our
newest supplier partners:
Automated Integration
Bes-Tech, Inc.
Conex Universal Limited
LG Electronics USA, Inc.
Lincoln Electric
Powers Fasteners
YANMAR America Corporation
Other stories highlight new building challenges, such as those posed by the SolarCity solar panel manufacturing plant in Buffalo, NY. The "design-on-the-fly" approach to building the plant means Mollenberg-Betz, Inc. does not always know which products it will need and when, so they partnered with F.W. Webb Company to provide engineered process piping solutions as they need them. To meet tight timelines, John W. Danforth Co. employed Erickson Incorporated's aerial services to place 44 sections of rooftop HVAC units on top of the plant in less than seven hours.
Learn how contractors managed difficult design specs. When Humphrey Company Ltd. saw that the sleek design of a new medical research building specified "no downspout nozzles," they called on Jay R. Smith Mfg. Co. for a custom drainage solution to get the job done. Because hospital systems often have limited storage space and complex plumbing and electrical systems, Dynamic Systems, Inc. counts on engineered secondary pipe support and alignment bracket systems from HOLDRITE® to reduce costs, save time, and increase storage space. Facing space constraints, design restrictions, and a one-week schedule, EMCOR Services Northeast, Inc. replaced three failing cooling towers using SPX Cooling Technologies products specially configured and manufactured to fit the tight space and meet the client's requirements.
Be inspired by examples of contractors coming to the rescue. With careful planning and support from Lifting Gear Hire, Hayes Mechanical rapidly installed new ductwork required by the Environmental Protection Agency for a Midwest power plant facing closure. The Stroh Corporation overcame an unexpected roadblock during an urgent sump pump installation but stayed on schedule, thanks to the ease of installing Blue Angel Pumps from Wayne Water Systems. With a school renovation well behind schedule, General Temperature Control shaved months off its timeline by using Anvil International's Gruvlok® products and support, so the school could open on time.
These are just some of the stories in this issue that highlight how MCAA Supplier Partners are helping contractors stay profitable while meeting new and changing challenges. Learn more by visiting them in person at MCAA 2016.
Jim Allen, Chairman