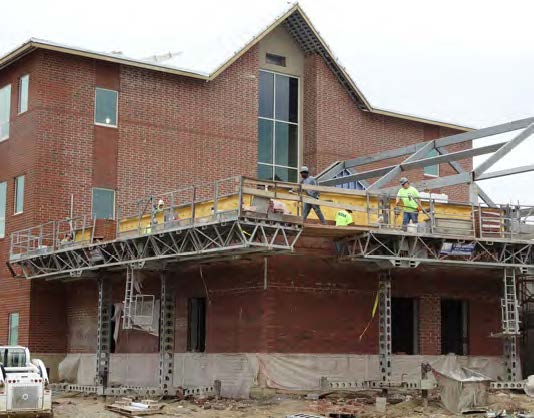 GTC Completes Work Months Ahead, Behind-Schedule School Project Finishes on Time
With Anvil International's Gruvlok® products and support, General Temperature Control (GTC) shaved months off its timeline for a school building project that had been behind schedule. Thanks to the swift installation time, the school opened on time. From GTC's point of view, Anvil's Gruvlok products and the company's continuing support through field visits and behind-the-scenes logistics planning were critical to the project's success. "So many vendors today are poor at supporting products after the sale," said GTC's project manager, Bob Billings, adding that Anvil's help was "critical to contractors."
Starting Out Behind Schedule
The renovation of Franklin Heights High School in Columbus, OH, was one of the larger new construction projects ever attempted by the South-Western School City School District. In July 2014, the approximately $45-million project was facing schedule issues. Bad weather and other complications had put the project behind by three to four months—enough that the new 250,000-square-foot, three-story building would not be ready when students arrived on August 18, 2015.
HVAC installer GTC of Canal Winchester, OH, was one of the last trade contractors to enter the project. On July 1, 2014, Billings watched his first trucks enter the campus and wondered how he could shave two to three months from his 13-to-14-month schedule. That would give painters, flooring contractors, and ceiling installers the time they needed to get the school ready for occupancy.
New Approach Needed
For 25 years, GTC had relied almost exclusively on welded pipe, using grooved pipe only occasionally for specialized, boutique-type undertakings. But this project, with a budget of around $5 million, called for approximately 2,000 feet of pipe to be jammed into a mechanical room only 30′ x 40′ in diameter, with an 18′ ceiling.
The Columbus area is an active geothermal zone. In an innovative use of natural resources, two multistack chillers would produce both hot and cold water from 128 wells in a geothermal field under the school's parking lot and softball field. But the water source also complicated the piping design because of an intricate balancing act in which bypass pumps would prevent excess cold water from being sent back into the geothermal field, which would have cooled the water there. All in all, Billings described the mechanical room as "intense," and the piping as "enormous."
With the relatively small space and large volume of equipment and pipe, working conditions were so cramped that welding—although possible—would have been highly difficult. Even so, it was mainly the economics that sold Billings and GTC estimator Bill Detillion on grooved pipe. Along with its associated fittings, the grooved product was about 5 to 10 percent more expensive than welded pipe. But as he punched through the numbers, Detillion found it would create a labor savings of around 25 to 30 percent—more than enough to offset the grooved system's higher cost.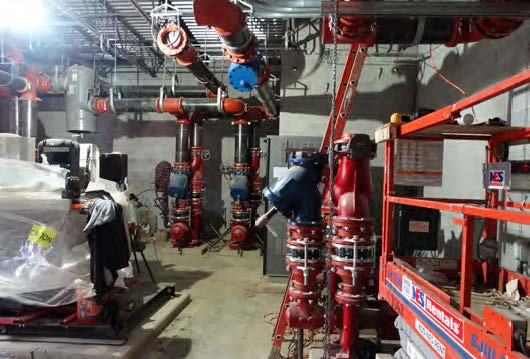 The savings came from 1) reallocating a worker who otherwise would have been needed as a fire watch on a welding project and 2) the ability to quickly and easily prefabricate and assemble grooved pipe and couplings from Anvil International in Exeter, NH, in much less time than it would have taken to weld pipes together. Anvil's grooved pipe and durable, easy-to-install grooved couplings are well suited to tight spaces such as the high school's new mechanical room. Together, they require less space for installation than welded pipe. Moreover, Gruvlok couplings, fittings, and flanges bring together grooved-end pipes with a specialized gasket and two-bolt design that makes connections fast and easy.
Because GTC had relied so much on welding in the past, its craft professionals were inexperienced in working with grooved pipe. Anvil provided training on how to use the Gruvlok products safely and effectively and checked in with workers every couple of weeks once the project was underway.
Faster Installation Saves Costs
The lower labor cost had helped GTC win the contract from the school district, and the company was excited to prove its skills on such a large project. But would the anticipated labor savings actually come about? Billings and Detillion knew things that looked good on paper did not always work out on the jobsite. As the days ticked by, however, a two-person crew was installing as much grooved pipe in one shift as two shifts of welders could have accomplished. The cost savings were holding firm, and more importantly, the project was inching ahead of schedule.
Beating the Clock
The overall reconstruction project was not without its disruptions to the school and students. The marching band and athletic teams had to relocate, and temporary walkways were built around the jobsite to protect students. Truck traffic increased, and the safety of students, faculty, and staff was a priority throughout the project. The two-year schedule may have seemed like a short timetable to the professionals involved, but to students and school personnel, the question was, "When will this ever end?"
The answer that was now emerging was, "Maybe on time." Month by month, GTC's crews, led by UA Local 24 Sheet Metal Foreman Ted Taylor, UA Local 189 Pipefitting Foreman John Johnston, and Plumbing Foreman Matt Egginger, were eating into the schedule deficit. As the winter snow melted and leaves appeared on the trees, Billings cautiously predicted the project might finish two to three months ahead of schedule.
And that it did. On June 1, 2015, GTC's crew switched on the air conditioning, just 11 months after the project began, and well ahead of the originally allocated 13 to 14 months. Along with the painters, flooring and ceiling installers got to work. In perhaps nothing short of a miracle, the new building opened for students on August 18, as originally planned.
As for his first big experience with grooved pipe and couplings, Billings laughed, "Maybe someday I'll just get rid of all my welding equipment."
For more information, call Anvil's corporate offices at 603-418-2800 or visit anvilintl.com. MCAA thanks Anvil International for being a major sponsor of MCAA 2016 and sponsoring the Annual Fun Run/Walk.