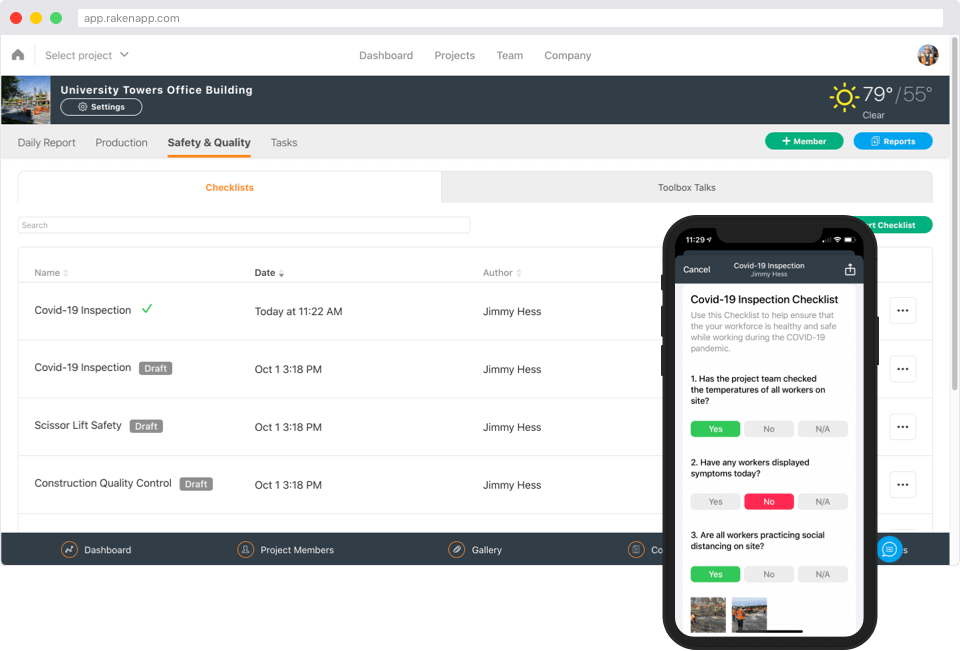 COVID-19 has changed the way we work—in construction and beyond. From implementing new safety protocols to navigating delays, contractors have more processes to learn and more variables to consider. Here are three ways you can use digital technology to maximize your efficiency during the pandemic.
1. Invest in Real-Time Production Tracking
Safety guidelines that require social distancing and extra cleaning are affecting jobsite productivity everywhere. Tracking software makes it easier to know exactly when and how productivity is affected.
Invest in software that lets your teams quickly record materials, equipment, and time cards. By digitally documenting how much time and manpower a job takes, you will have real-time data that can help you make better, more profitable decisions for your projects. You will also have powerful evidence and protection in case of a dispute, all without manual entry and cross-checking.
2. Digitize Daily Reports
Comprehensive daily reports ensure that any delays or liabilities do not slip through the cracks. The more detailed your reports are, the faster you can spot any potential issues and address them.
Software lets you store all completed daily reports in one place on the cloud. That way, you can easily access your data whenever you need it. Plus, you can minimize physical contact by keeping everyone in the loop without having to be onsite.
Don't forget: The best software is easy to use in the field. After all, your crews will be the ones sending you the information you need. Give them a tool they can use as they walk the jobsite—so their focus is on the work, not on figuring out the new tech you provided.
3. Streamline Your Safety Training and Processes
Safety has always been a priority in construction, but now more so than ever. Now is the time to take all your safety training and documentation online. With online talks and safety checklists only a few taps away, your crews can stay informed of the latest safety protocols and the resources they need to stay compliant.
For even more visibility, consider options like digital sign-in sheets and bulk scheduling talks. Because everything is stored in one central place, you will not have to go digging for proof that you followed all safety requirements.
Keep your employees (and your business) safe. Proper, complete documentation is key during the pandemic. Maintain everyone's safety, health, and efficiency by developing your tech stack.
For more information, visit www.rakenapp.com.