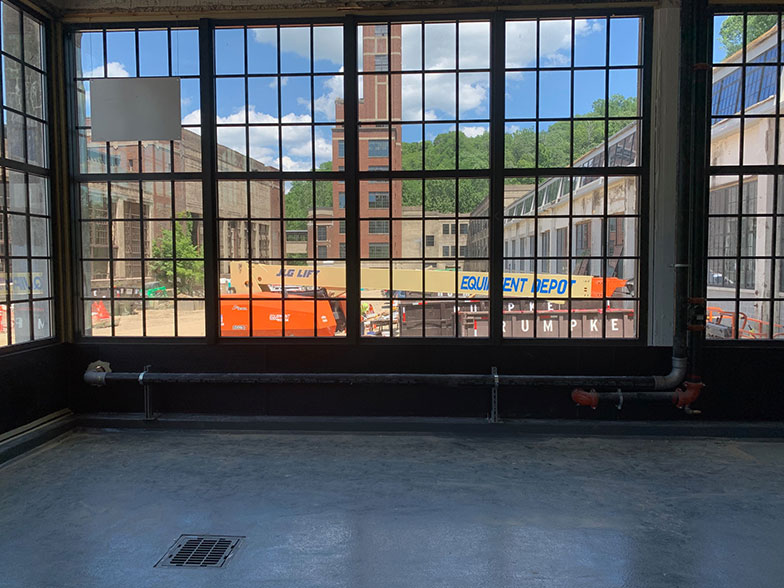 Putting Viega products to work allowed Nelson Stark Company to overcome the slew of challenges that came with repurposing a dilapidated factory into a mixed-use development. The contractor knew that Viega's flameless press technology was the clear choice for renovating the historic building safely and for installing piping much faster than other pipe-joining methods. Viega is a sponsor of MCAA's 2021 Virtual Education Conference.
A century ago, the Peters Cartridge Company in Kings Mills, OH, produced munitions for the U.S. military through the end of World War II. However, the factory was in shambles for years. It was designated as a Superfund site, abandoned and covered in graffiti, littered with feral cats, and running rampant with ghost stories.
Then, the Environmental Protection Agency cleaned up the area, and developers got excited about what could be. Business partners Kyle Hackbarth and Anthony Cook saw the potential and started up Cartridge Brewing. The upscale brewpub is now an anchor of the mixed-use redevelopment, which includes apartments, a banquet hall, and retail stores.
Nelson Stark employed Viega's ProPress and MegaPressG to get the old building into shape for the brewery. Because the building is on the National Register of Historic Places, developers could not simply scrape the building and start again. Contractors had to be extremely careful in the aging building. Flames from welding or soldering could have posed danger and risk. Viega's press technology was ideal.
Floors were opened to place underground plumbing for the kitchen and bathrooms. Drains were installed for the brew deck. Nelson Stark also piped overhead water mains and gas lines for the brewpub. They installed the lines for the kitchen equipment, furnaces, boiler, and two domestic water heaters.
For the natural gas lines, Nelson Stark used Viega MegaPressG across the board, from 1/2″ to 4″ fittings. It was the first project Nelson Stark did with the larger-diameter MegaPressG fittings. "It saved a lot of time," said Russell Hill, plumbing superintendent with Nelson Stark, who has been on the project since day one. "Pressing gas instead of welding or cutting and threading—it's nice, and I really like that. Much faster." On average, contractors can realize from 60 percent up to 90 percent time savings over other pipe joining methods.
As with many renovation projects, the building posed challenges, such as getting onto the pitched concrete roof. The speed and simplicity of the Viega connections made installing the necessary plumbing on the roof simpler. And although much of the plumbing is hidden, the 3″ and 4″ gas main lines in the brew area and service corridor are exposed, so the pressed joints look clean and uniform.
"Viega is a quality product. It saves us time and labor," Hill noted. "We use it all the time."
For more information, visit www.viega.us.
MCAA thanks Viega for being a sponsor of MCAA's 2021 Virtual Education Conference.