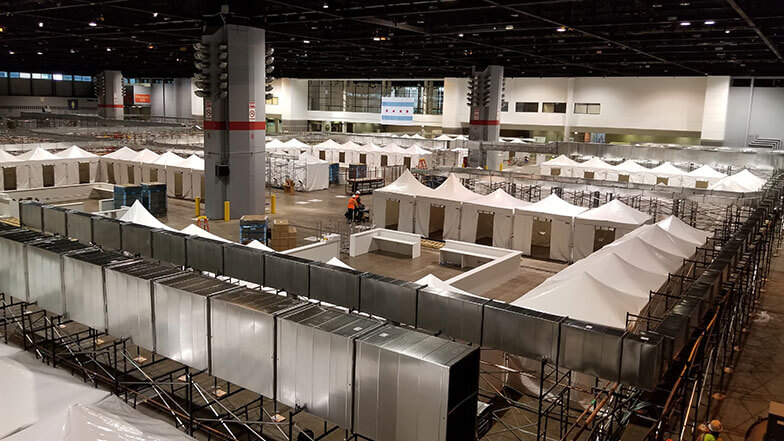 As the coronavirus pandemic flared up around the country, the U.S. Army Corps of Engineers rapidly built alternative care facilities to alleviate strain on local hospitals—and MCAA member contractors and manufacturer/supplier partners were there to help. In Chicago, Ferguson, Bradford White, Laars, and Sloan all provided needed materials in record time, and Helm Group (formerly Mechanical, Inc.) was among those working on the ground nonstop as the HVAC and plumbing contractor for the job. Ferguson; LAARS, a Bradford White Company; and SLOAN are all benefactor sponsors.
While most of the Army Corps facilities were designed to handle non-COVID-19 patients, Chicago's McCormick Place convention center was planned to care for up to 3,000 people with mild or moderate coronavirus infection, freeing up hospital beds for more severe cases. Patients would be separated in the convention center halls by the level of care they required, spread throughout the facility's 2.6 million square feet of exhibit space. Construction for the first 500 beds was completed April 3. (As the pandemic spread, the project was scaled back to 1,000 beds, because the state lockdown "flattened the curve"—or slowed the pace of infection—and area hospitals were able to keep up with the cases.)
Plumbing Industry Responds
As construction got underway, a plumbing contractor reached out to Ferguson Enterprises for help sourcing 17 Bradford White, 120-gallon, 54 kW, 208-volt water heaters and five LAARS Heating Systems 200-gallon jacketed and insulated vertical storage tanks to generate and store sufficient hot water for the facility. The first treatment area, with 500 beds, needed water heaters and a storage tank for the staff showers and another heater for showers that met Americans with Disabilities Act standards—all within four days.
"We didn't know what to expect, when we got the call to help on the COVID-19 Care Center project at McCormick Place," said Jim Kuenn, director of commercial—Central Midwest, Ferguson Enterprises. "We got involved midday on March 31 and needed to turn around a huge amount of product in just a few days. We reviewed the mechanical schedule and specifications provided to us. It was a daunting task that most of our associates had not seen before. We said 'yes' because we wanted to not only help our customer but also the community during this time of need."
While the factory could not supply the heaters in the timeframe required, one of Bradford White's consigned inventory warehouses in Atlanta, GA, had a sufficient number in stock. The heaters were delivered within 17 hours of ordering. The plumbing contractor and sales representatives credit their long history and experience with Bradford White, along with a vast local and national distribution network, as crucial to overcoming the logistical challenges.
In addition to the water heaters themselves, conversion kits were flown by next-day air from Bradford White's Middleville, MI, manufacturing facility.
A Team Effort
Those on the scene were impressed to see representatives from every trade working side by side with representatives from the Federal Emergency Management Agency (FEMA) and construction managers coordinating efforts. They would gather together throughout the day to reassess, resulting in constant coordination with FEMA.
"It was impressive to see everyone working together to get this project done quickly," said Brian Helm, Helm Group (formerly Mechanical, Inc.) CEO and MCAA president. "You need to remember that this was the earliest stages of COVID-19 in the U.S., when we really didn't know how the virus spread and what the mortality rate was. The trades saw it as their mission to get this facility built, and that's exactly what they did."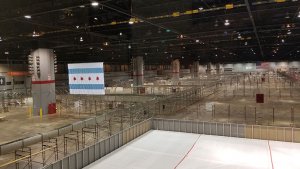 Helm pointed out that the 500 people working in the space had to remember to stay at least 6′ apart at all times. "The biggest challenge was that all the trades were learning how to do their jobs while staying apart," noted Helm. "For people's entire careers, it was always the opposite—help someone out, watch out for the other guy, lift with a buddy, etc."
As each stage of work was completed, FEMA required testing to make sure that everything worked, so the contractors coordinated with the International Brotherhood of Electrical Workers (IBEW) and others. Challenges arose, but the plumbing crews succeeded in providing enough hot water to service 3,000 beds. Some described themselves as proud to be able to respond during a time of crisis and noted that plumbing is essential to public health.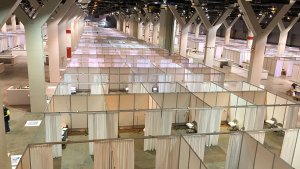 "The Ferguson team in Chicago stepped up to the challenge, rolled up their sleeves, and worked 24/7 to make it happen," Kuenn stated. The tight deadlines were met because, Kuenn said, "everyone—from contractors like Helm Group (formerly Mechanical, Inc.) to various vendors—found a way to say 'yes.' I get prideful chills from what was accomplished."
Bradford White supplied water heaters for several major field hospitals, including Javits Convention Center in New York City and McCormick Place, according to Mark Taylor, executive vice president and general manager at Bradford White.
"We are extremely proud of the work being done by our reps, as well as our wholesaler and contractor customers, who are making sure that medical facilities have the hot water they need to combat the COVID-19 pandemic," said Taylor. "Hot water is critical for cleaning, sanitizing, and hygienic purposes, and it's important for us to do our part to support the health care workers on the front lines.
"In Michigan, where our water heaters are produced, we reached out to Gov. Gretchen Whitmer and offered to provide products for any temporary field hospitals in the state of Michigan that need water heaters to help address the pandemic. Michigan is one of the states hit particularly hard by COVID-19," Taylor noted.
Todd Young, vice president of commercial, Ferguson Enterprises, noted the crisis has undoubtedly changed the way everyone lives and works. "We've implemented new processes in order to help our customers and communities during this time," he said.
"To support local hospitals and pop-up facilities across the country, we've organized a new response and product procurement system to handle the many inquiries coming in—because it's the right thing to do," Young explained. "From delivering jobsite trailers and emergency water heaters to providing products for field hospitals at facilities like CenturyLink Field and Sleep Train Arena, we're working with a variety of essential businesses in different industries to help our communities push forward … and we're happy to do it."
Hygiene Is High Priority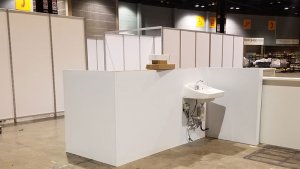 Sloan also joined the effort, providing its touch-free commercial restroom products to the McCormick Place convention center to facilitate hygiene-friendly handwashing without the risk of cross-contamination.
"At Sloan, we understand that the touch-free products we manufacture across the entire commercial restroom play an essential role in the fight against the COVID-19 pandemic," said Graham Allen, Sloan co-president and CEO. "We are proud to support those in our backyard of Chicago … and anyone in need across the country, and we will continue to do everything in our power to supply sensor-operated products."
Plumbing requirements at McCormick Place called for over 200 Sloan sensor faucets in handwashing stations, and Sloan partnered with local suppliers to deliver these hygiene-friendly solutions.
Sloan Outfits Yale Gym with Touch-Free Fixtures
In New Haven, CT, Yale's Payne Whitney Gym was also converted to a temporary field hospital and needed to retrofit its existing manual faucets and flushometers to provide a more sanitary environment for the influx of patients. The facility removed its existing faucets and replaced them with Sloan sensor-operated faucets, while also installing new Sloan sensor flushometers to provide a touch-free experience.
For more information, visit www.bradfordwhite.com; www.ferguson.com; and www.sloan.com. MCAA thanks Ferguson; LAARS, a Bradford White Company; and SLOAN for being benefactor sponsors.
Portions of this feature were adapted from a story in Plumbing & Mechanical magazine.