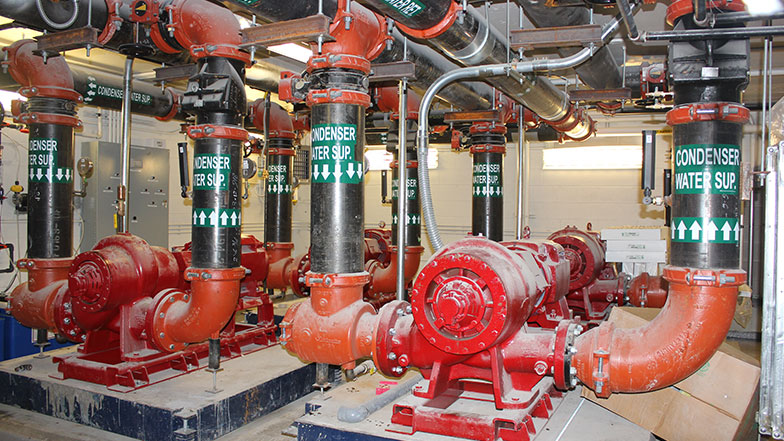 Using Victaulic grooved mechanical solutions and Construction Piping Services (CPS) for a cramped mechanical room in a new luxury apartment building, Martin Associates streamlined its drawing and installation processes, reduced waste, and cut overall project costs by three to four percent. Martin successfully installed, tested, and completed the HVAC system at 525 West 52nd Street in New York City's Hell's Kitchen neighborhood in a week and a half, staying on budget and ahead of schedule.
Home to several celebrities and a constant wave of newcomers, Hell's Kitchen is rapidly building out its living accommodations to keep up with its population growth. One of the neighborhood's newest luxury rental residences, commonly referred to as 525, is a 445,000-square-foot, mixed-use space that includes 392 high-end rental units and over 35,000 square feet of lifestyle and recreational amenities.
Tight Fit
In 2016, Martin Associates was contracted to design and install the building's HVAC system. With more than 35 years' experience working in the New York area, the Martin team is accustomed to working in tight spaces. Anthony Cicchetti, Martin's project manager, immediately recognized the unique complexities of 525, including a smaller-than-normal mechanical room, even by New York City standards.
"This job was pretty typical for us except that the mechanical room was smaller and more compact than normal," recalled Cicchetti. "This made our approach to the drawings and installation that much more important. The system had to be designed and assembled efficiently."
With the resources of his in-house design team focused on several other projects and a deadline quickly approaching, Cicchetti started to feel the heat from Hell's Kitchen.
Counting on Coordination
Having used Victaulic's grooved mechanical solutions on multiple projects in the past, Cicchetti knew Victaulic was the most logical pipe-joining method for the job. Using grooved products reduces installation times, and they can be easily installed within the tight space Martin had to work with.
The size of the mechanical room, however, presented a bigger challenge and required extremely accurate drawings. Victaulic reached out to Martin Associates to discuss its CPS and to offer assistance to Cicchetti and his crew. The timing was opportune, as the contractor's in-house drawing team had multiple projects already underway.
"I'm glad we were able to make it work on this one," explained Cicchetti. "Victaulic's drawing team knows the measurements and the nuances of design, which ended up making this project incredibly easy and efficient."
As revisions or changes were made, updated drawings were sent to Cicchetti within hours, significantly speeding up the preconstruction phase. Victaulic sales and CPS teams worked alongside Martin Associates to fine-tune the building's piping system designs, utilizing every available inch of the tight mechanical space.
"Victaulic's drawing team knows the measurements and the nuances of design, which ended up making this project incredibly easy and efficient."

—Anthony Cicchetti, Project Manager, Martin Associates
"Our CPS team coordinated all aspects of the design, working to ensure all critical components were successfully integrated into the drawings," said Danny McNamara, Victaulic's sales manager. "And as with all of our projects, we offered Cicchetti and his team best practices, advice, and recommendations where we could."
Cicchetti recalled how combining Victaulic's grooved mechanical couplings with its CPS solutions exponentially sped up the installation phase of the project. Product was delivered to the jobsite on schedule, bagged and tagged so it could be installed in the right place and in the right order, which allowed the project foreman and the rest of the Martin team to focus on other important details.
"Just as the materials would arrive onsite from the fabrication shop, the couplings would show up, ready to install," said Cicchetti. "In just a week and a half, we had the boiler landed, piping up in the air, and the system connected and tested."
Victaulic QuickVic™ Style 107N rigid couplings and QuickVic™ Style 177N flexible couplings were used to make the 2 1/2" to 10" connections on the condenser and chilled water lines, along with Series 732 Wye-Type Vic Strainers®, Series 761 Vic™‑300 MasterSeal™ butterfly valves, corresponding fittings, and IMI TA balancing valves.
"Being able to count the number of conflicts we had on one hand was a huge win," said Cicchetti. "Additionally, we saw waste significantly reduced during the project. Depending on the job, we can sometimes have as much as 15- to 20 percent waste. Both of the factors helped make this job one of the more successful drafting projects I have had in the last five years."
In addition to streamlining the drawing and installation processes and eliminating waste, Victaulic's solutions played a large factor in the overall savings of the project, reducing overall costs by three to four percent, and providing invaluable customer service throughout the job.
"To be honest, I was a little hesitant at first, since Victaulic's CPS team is located in Pennsylvania, which could make coordination a nightmare," said Cicchetti. "It ended up being extremely well done and very seamless. The CPS team physically came to visit the site, returned phone calls almost immediately, and were some of the most pleasant people I've worked with.
"Grooved couplings definitely reduce installation times," said Cicchetti. "But I choose Victaulic because Danny and his team are always one call away. That one on-one connection is the difference-maker for me and will keep me coming back."
For more information, visit www.victaulic.com. MCAA thanks Victaulic for being a major sponsor of MCAA18 and for co-sponsoring the Golf Tournament.