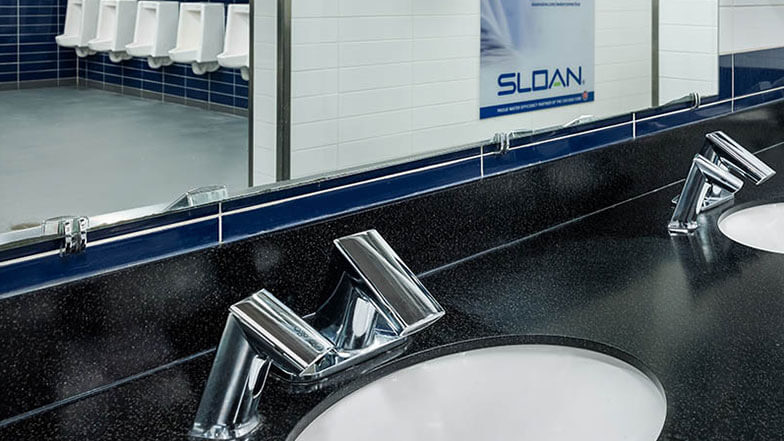 Sloan Products Increase Hygiene, Efficiency
Restoring Wrigley Field was an opportunity for Advance Mechanical to install sleek Sloan products that allow fans to experience an efficient, hygienic trip to the restroom and get back to their seats to enjoy the game. Sloan was named the official Water Efficiency Partner for the Chicago Cubs baseball team in 2015.
The legendary ballpark is undergoing extensive restoration, known as the 1060 Project, that began in 2015 and continues through 2018. It was outfitted with faucets, flushometers, and other Sloan products in all of the restrooms. The restrooms are designed for high-traffic use on game day to provide Cubs fans with a hygiene-friendly experience across all restroom fixtures. The largest public restroom in Wrigley Field is located 50 yards from the main entrance on the third base line.
The large restroom has two identical rooms with a corridor of Sloan products, built to funnel high volumes of people. Fans will appreciate the increased hygiene offered by concealed flushometers on Sloan's hybrid urinals.
Everything in the ballpark's restrooms is sensor-activated and operated hands-free, perfect for hygienic use by thousands of Cubs fans. Recognizing that the emphasis placed on hygiene and hands-free operation is bigger than ever, both flushometers and faucets utilize sensors to limit the spread of germs in the iconic ballpark's high-traffic restroom.
The bathrooms feature Sloan's innovative BASYS® faucet and soap dispenser line, which provide hands-free operation ideal for high-traffic restrooms. The sleek and modern faucet is both durable and versatile enough to meet the demands of Wrigley Field's busy restroom.
Cubs Manager Tom Ricketts said, "Teaming up with Sloan is an important move for the Chicago Cubs. Sloan brings more than a century of experience and success in creating cutting-edge water solutions for a wide variety of venues all around the world. We are pleased to work with and learn from Sloan as we enhance our facilities and build for the future."
For more information, visit www.sloan.com. MCAA thanks Sloan Valve Company for being a benefactor of MCAA18 and sponsoring the Tuesday Luncheon featuring Mark Gungor.
See the faucets and Sloan's partnership with the Chicago Cubs in action!