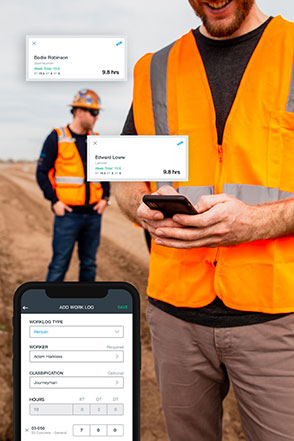 Tracking Unplanned Costs Daily Ensures Contractor Gets Paid
John W. Danforth—a founding member of MCAA—is using Raken's digital time cards and daily reporting to keep a record of all the impacts the pandemic has had on their productivity—so they can demonstrate what they have done and get paid for it. Construction companies have been forced to change the way they operate to ensure safety and compliance, and jobsite data are critical for contractors to maintain a record of productivity and streamline their workflows.
Digitally Tracking Overtime
From social distancing to health verification paperwork, all the extra minutes and materials spent following new protocols can add up to substantial costs over the duration of a project, negatively affecting both your completion deadline and budgets. When faced with these impacts on planned labor and productivity, you have two choices: pay overtime to get the work done on time or delay the project. Most companies will choose overtime, but who exactly will pay for these extra hours?
Danforth uses digital time cards to track and report unplanned labor and to demonstrate loss of productivity through measured mile analysis. By importing their estimated labor codes and budgets into Raken software, they are able to measure all their labor against the estimate to see what is affected. "Everything with COVID-19 has been an unplanned cost, but we're able to show the impacts to labor and material, and we're able to report that on a daily basis to the GCs and the CMs," said Todd Follis, Danforth's vice president of Pre-Construction Planning.
This type of documentation gives Danforth reliable standardized data to know exactly how their jobs have been affected. The more accurate the information, the more powerful it is for proving the added costs and pinpointing who is responsible.
Solid Defense
Having labor productivity data and daily reports digitally stored means you have credible evidence to address the inevitable disputes over loss in productivity and improves your chances of getting compensated. No one wants to go into litigation, especially if you do not have incredibly complete documentation. By using Raken, Danforth has a reliable and repeatable method to support claims successfully and avoid litigation in most cases.
Danforth has used Raken to successfully defend contracts on both private and public projects, most recently on a major federal project. Using digital documentation, they have successfully demonstrated and won claims with indisputable proof of what happened and why.
Follis explained, "We'll continue to win because we've standardized our labor metrics and are able to produce reliable data that correlates to our estimates and credible, proven industry databases such as WebLEM. By having reliable, credible data, it's just a matter of ensuring we maintain accurate schedule data … so when delays and productivity impacts occur, it's just a matter of providing proper notification and organizing the data to present the costs that are owed."
Improving Communication
One of the biggest values Danforth sees in Raken is the ability to communicate and catch any issues early on. "If we have a bad week on a labor code, we'll see the projected productivity start to drift away from the budget," said Follis. "Most people who don't have this level of insight will just keep on doing the same thing again and again until someone sees it on a financial statement … and by then it's too late."
Strong communication is essential to overcoming challenges. The earlier you can communicate with stakeholders about added hours and potential costs, the less likely a project will come to litigation.
Good internal communication comes from empowering the crews on the job. As Follis stated, "The most important thing we have is communication with our people—they're the ones doing the work onsite. If we're not listening to them and can't react to what their needs are, we've really missed the boat. Our project managers and foremen operate as partners, and Raken allows us to respond to daily changes/issues immediately even when the project manager is not onsite."
Finding software your team will actually use is key. When Danforth implemented Raken, they were able to get all their foremen up and running in just three weeks. Follis said, "They picked it up no problem. Whether they were inexperienced, young, old, it didn't matter. It was easy for our field staff to grasp since the app was so intuitive." Giving your team a tool that is easy to use and saves time will improve the quality of data and communication from the field to the office.
For more information, visit www.rakenapp.com.
MCAA welcomes Raken as a new member.