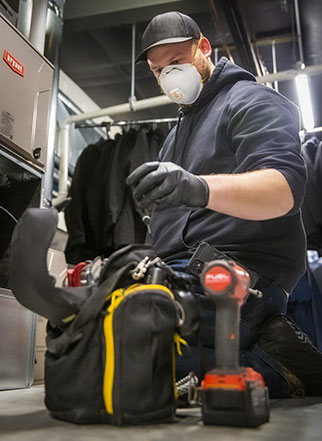 SitelogIQ, a full-service facilities solution provider in California, has proof that seeing is believing—and they are speeding up their quote approval process as a result. "We're capturing XOi content—physical video, pictures—onto quotes, which has expedited how fast those quotes are approved. We seem to get less contested quotes, less questions," said Jason Saunders, service operations manager for SitelogIQ.
"If we can show them rather than tell them, it gives them a nice verification," explained Service Manager Eric Yocum. "We've had some customers tell us right away that they want video on every future work order."
In addition, SitelogIQ found that using XOi reduced the lead time for sales follow-up on field-originated opportunities from two weeks to one or two days.
Although they initially purchased XOi to help technicians, the company realized many additional benefits, including increased customer transparency. In particular, SitelogIQ found that partnering with XOi:
improved the clients' perceived value of mechanical services;
improved workflows throughout the organization, resulting in greater efficiency;
helped property managers provide better documentation to offsite supervisors and building owners;
eliminated most of the data collection from field service calls; and
spurred creation of a video training library featuring senior journeymen.
XOi's Six Tips to Create Safe Business Practices During COVID-19
During the COVID-19 pandemic, businesses of all sizes and types are wondering how to stay active and safe given the need for social distancing. Using the XOi platform can help you protect your teams and your customers by taking advantage of video, photos, and augmented reality tools. XOi offers some techniques for using its technology to keep workers working and businesses running while ensuring safety.
1. Social Distancing
By sharing content from workflows virtually, rather than in person, Vision allows your team to connect to the home base and customers using videos, photos, and written recaps of services provided instantly and with no face-to-face interaction. XOi's Live Call functionality allows technicians to get live support from an technician, who can see what the tech in the field is seeing and use augmented reality tools for collaborative problem solving.
2. Limiting Exposure to Team Members at Risk
Protect those on your team who are at higher risk for contracting COVID-19 by utilizing them in the virtual environment. Record their expertise and create training videos that capture their years of know-how. Let them support others in the field through the augmented reality support of Live Call.
3. Maintaining Quality Work While Limiting Field Exposure
A quick and customizable review workflow will allow quality control from service managers directly in the field without requiring them to travel to a jobsite or engage in multiple diagnostic conversations. Technicians can see "what right looks like" for each step in a process through video, photo, or text instructions and know what must be completed for the job to be finished. XOi customers show an average 35-percent increase in service requests completed after implementing XOi. That means more jobs completed in less time with high quality, protecting your employees and your bottom line. XOi customers also use these workflows to institutionalize the knowledge and make it readily available to their entire teams through the XOi platform.
4. Growing and Establishing Differentiation While Social Distancing
Sharing a quality recap that includes photos and videos virtually after each service builds trust and respect among customers. Showcasing this automatic transparency not only will help reassure existing customers but also can be a positive factor when you head to the bidding table.
5. Not Over-Burdening Experienced Techs
New technology can be intimidating or seen as a burden by techs who have been operating well without it. The ease of implementation is the deciding factor in workforce adoption. Users on XOi's platform average only two minutes of use to capture meaningful information shareable with both their companies and their customers. The platform was created with simplicity in mind, with features such as automatic note dictation, electronic workflows that replace paper ones, and instant submission. Users can take a picture of a data plate and automatically generate tags for unit make, model, and serial number. They can easily access an extensive knowledge base with over 50,000 schematics, wireframes, and manuals. Users can also import their existing libraries of information into the platform, tagging all content to create a fully searchable source of relevant information to help technicians solve problems.
6. Reducing Unnecessary Jobsite Visits
Live Call can connect your techs safely to your customers virtually to put eyes on the site or on the unit before making the decision to send someone to the location. Once you know what you are looking at, you can ensure that you are sending the right technician with the right skills—and avoid sending out additional trucks and employees when they are not needed.
For more information, visit http://www.xoi.io.