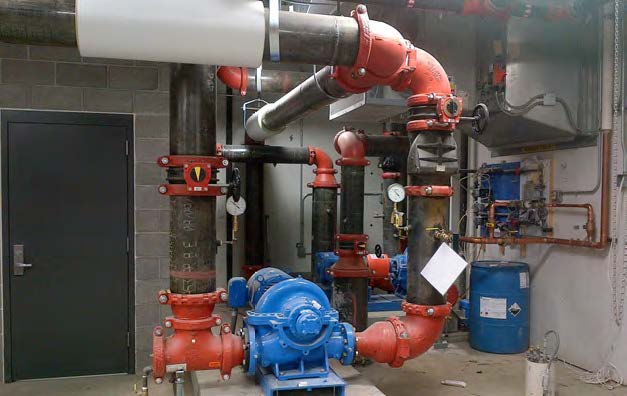 Having installed Victaulic grooved products numerous times, Environmental Mechanical Contractors, Inc. (EMC) knew Victaulic could help them meet a tight deadline for renovations at Kansas' Fort Leavenworth. Working with Victaulic's Construction Piping Services department (CPS) to create 3D renderings of the project also allowed EMC to minimize rework and identify and troubleshoot potential problems.
"We picked up a 30-percent labor savings from fabrication to install[ation] because of the isometric drawings and Victaulic Installation-Ready™ couplings," said Marcus Howell, EMC's senior project manager on the Fort Leavenworth project (now director of construction operations).
Going Deep
Renovations at Fort Leavenworth, the oldest active United States Army post west of Washington, D.C., focused on Building 120, also known as Eisenhower Hall. It includes the Combined Arms Research Library, high-tech classrooms, a conference center, and the DePuy auditorium. In operation for over 180 years, the facility required a full restoration of its three-story, 220,000-square-foot interior.
With their expertise in sustainable projects and quick-turnaround commercial/ industrial HVAC heating and cooling, sheet metal, ductwork and piping design, EMC was selected for the renovations. The most involved aspect of the project was replacing the existing HVAC system with a more energy-efficient hybrid geoexchange system featuring 240 geothermal wells drilled 500 feet into the earth. The new system would enable Building 120 to achieve a 40-percent energy savings under the ASHRAE 90.1- 2001 standards. Other renovations included a new HVAC installation within the library, complete removal and revamp of restrooms on all three floors of the building, general mechanical and maintenance repairs, and a full-building test and balance of the HVAC system.
Racing against the clock with $8 million for mechanical upgrades and a tight deadline of only 540 calendar days, EMC engaged Victaulic to overcome the challenge of not only a compressed schedule, but also configuring the piping around an existing geothermal system. Howell was familiar with CPS, Victaulic's drafting and building information modeling (BIM) services, and called on them to draw and coordinate the mechanical room. At EMC's request, the CPS team developed isometric 3D renderings to identify the pad, equipment, and overall piping layouts and provide prefabrication support.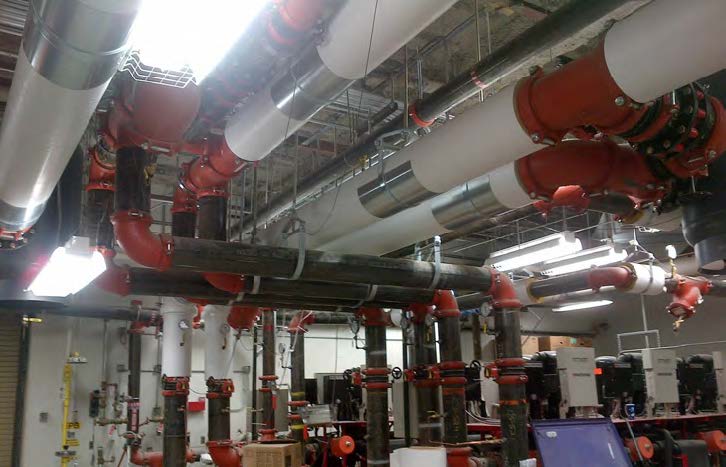 Strategic Planning
"Environmental Mechanical Contractors firmly believes that if we spend time upfront to make the right decisions prior to construction, like we did with Victaulic Construction Piping Services, it will have a direct and positive result on the project's success," said Howell. "Having this aspect under our control helps assure the project schedule. That means responsiveness, cost-effectiveness, and delivering on time to the specifications the project requires."
Using the drawings allowed for strategic planning to ensure economical, practical, and proper installation and to avoid conflict and changes at the time of implementation. For example, refining pipe routings in the drawings guaranteed there would be proper clearance for installation and maintenance, which was especially beneficial when making accommodations for the new geothermal water system.
"The isometrics changed the way EMC communicated," said Howell. "It gave our team a clear picture of how the finished job would look and allowed us to accelerate project collaboration and efficiency in real time. It also minimized the potential for miscommunication by eliminating the need to use our own imagination to interpret the plans."
Improving Safety and Savings
To help avoid delays and save time and money, EMC enacted a variety of processes, including developing accurate bills-of-material (configured from the pipe routing drawings) to ensure precise material orders and roll grooving and prefabricating the pipe at their headquarters. Using detailed pipe cut sheets provided by CPS, pipe marking, lengths, and quantity data offered a guide for crew members to match the pipe to the isometrics. Furthermore, to help increase the speed and ease of field installation, EMC shipped preassembled lengths to the jobsite for final assembly. They also labeled the additional grooved products and accessories with location and date information.

Isometric drawings solved unique challenges within the mechanical room. Space constraints were overcome by laying out the piping in 3D. Four-inch pipes connected the distribution piping and heat pumps for the 640-ton geothermal heating and cooling system, while pipes 12″ in diameter and smaller were used for connections off the chilled, hot, condenser, and geothermal waters in the mechanical room. Just as large as the other systems in the mechanical room, the geothermal water piping connected to the underground heat exchange, requiring EMC to reroute the pipes to accommodate the new system. To avoid costly specialty joints, Victaulic CPS specified tightly stacked triple-service valves, providing elasticity and vibration attenuation while avoiding flexible connectors for pumps.
At the onset of the project, EMC planned to weld the systems. But to increase productivity and safety on the job and meet compressed schedules, they chose Victaulic couplings, which feature proprietary Installation-Ready technology for piping up to 8″ in diameter. Howell stated that these couplings contributed to labor savings on the project because they can be installed in less than half the time of standard grooved couplings and up to five times faster than welding.
"We are huge fans of these new couplings," said Howell. "Victaulic standard grooved couplings are fast and easy to use, but these are even more so. We'd use them for everything if we could, and we're excited that they're available for 10″ and 12″ sizes now as well."
While cost, schedule, and a job's bottom line are important components to a project, even more so is the safety of its team. Grooved mechanical systems require no hot work, making them inherently safer than welding by minimizing the risk of arc flash and fire hazard. With no welding, EMC was able to eliminate the unproductive time associated with fire watch. Additionally, transporting complete assemblies to the construction site allowed EMC to reduce material handling, further controlling the work environment and minimizing risk.
"We use Victaulic on every project we can because we know the value they bring in helping us deliver a successful job," said Howell. "After working with the Victaulic CPS team on the Fort Leavenworth project, our people were really sold on it, so now we also use Victaulic drawing services on large mechanical rooms when we can."
For more information, visit www.victaulic.com.
MCAA thanks Victaulic for being a major sponsor of MCAA 2015.