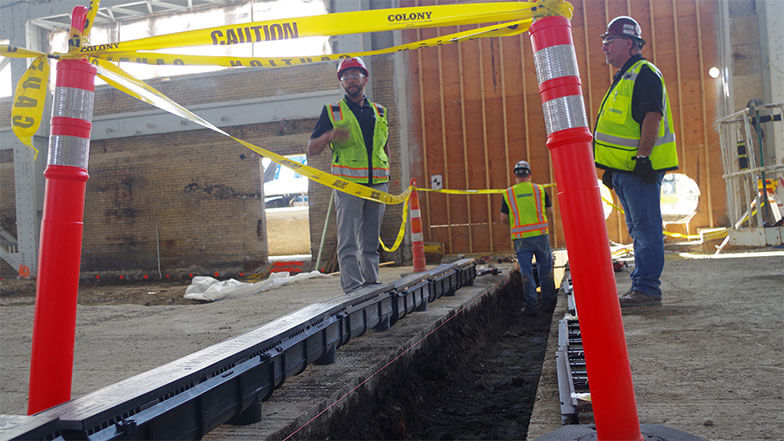 When Cannistraro, Boston's largest mechanical contractor, needed a drain system for their own new fabrication and manufacturing facility, they turned to Jay R. Smith Mfg. Co.® for a solution that was delivered on a just-in-time basis to avoid the need for storage and was easy to install quickly. The level of service Smith provided cemented Cannistraro's decision to name Smith their supplier of choice.
Building for Efficiency
Cannistraro is renovating an industrial Art Deco-style building at 25 Fid Kennedy Avenue in Boston's Seaport District. It was built in 1940 by the U.S. Navy as a multi-trade, heavy machine shop. The renovations are preserving the legacy of the architecture and its original utilitarian use. The new 157,000-square-foot building will be Cannistraro's manufacturing facility for plumbing, HVAC piping, fire protection, and sheet metal trades.
Courtney Carroll, a project manager for Cannistraro's Plumbing Group, said they do a great deal of fabrication. "We fabricate as much of our work as we can. It makes the field more efficient, and it's safer working at a table level height rather than onsite, where we're sometimes working in precarious positions."
This new facility will replace three separate shops spread out over the Boston area. Not only will each trade have its own state-of-the-art space in the single location, but there will also be collaborative space for multi-trade modular assemblies.
The extra space will also allow Cannistraro to utilize flex space within the facility for innovative modular projects in collaboration with other industry partners. "This space is not just about mechanical, plumbing, and fire protection fabrication; we have an opportunity to give back to a city that has helped build us as much as we have built it. We are dedicated to employing Boston residents and growing the community workforce," said Joseph Mierzejewski, vice president of plumbing at Cannistraro.
"Our clients used to have to rent out space for this purpose. Now they can all come to our Collaboration Space," said Carroll. "It's more efficient to send fabrication from all of our trades from one site on one truck."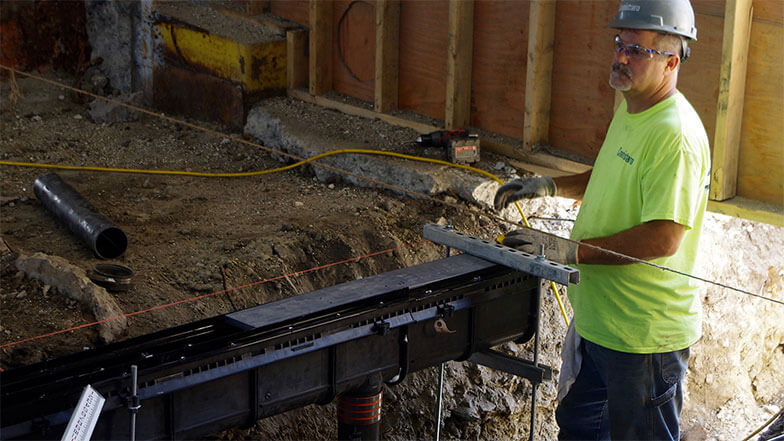 Smith Drains Speed Installation
The new building required about 250' of trench drains in total, and the longest single span was 120'. Smith supplied the Enviro-Flo® II Trench Drain System. Each section included a flow arrow and was numbered sequentially to match the drawings, which made for a smooth and efficient installation. The system was crated and shipped in batches to arrive in time for each of the four scheduled pours.
"It was nice to phase it onto the site," said Carroll. "Often, things get damaged, misplaced, or just get in the way. Storing 120' of trench would cost money just to move it around. Shipping it right when it's needed for the install saves on shifting it around the facility."
One of the features of the Enviro-Flo II that Carroll found beneficial was the removable factory insert board constructed from post-industrial recycled material that functions as a stabilizer and debris guard. She said, "Having
the insert board slide in to keep [the drain] as straight as possible is a great
feature, especially on 120' of drain, and it protects it from the pour."
The entire installation was done with one-meter (3.28') sections. Typically, in situations like this, Smith would prefabricate the system in 10' sections for the customer. However, because changes to the drawings bumped up against the pour timeline, Cannistraro decided to go with the one-meter sections instead of waiting on the prefabricated pieces.
Despite working with the shorter lengths and a system that was new to the installation team, Cannistraro was able to install 120' of Enviro-Flo® II trench in just one working day.
Watch a short, time-lapse video of the Cannistraro crew installing the system as well as real-time, step-by-step installation of one section.
Building Relationships
As part of its business strategy, Cannistraro selects "vendor partners" with whom they can build a relationship. Smith had made the short list, and they invited the  Cannistraro team to Montgomery, AL, to get to know the people they would be working with and tour Smith's manufacturing facility.
Mierzejewski was part of that visit, and he was impressed with the culture and family feel of Smith. "Cannistraro is not a small company but still retains the important family values and culture that started when the company was founded by John Cannistraro, Sr. We definitely appreciated that alignment of cultures as well as the Smith product," he said. Another point that stood out to Cannistraro was the longevity, friendliness, and happiness of the people who work at Smith. It is not unusual to meet someone who has been working at Smith for over 20 years or even come across a second- or third-generation employee. In fact, almost half of the Smith employees have been with the company for 20 years or more, and 32 percent of that group has been with Smith for over 38 years.
Mierzejewski's impressions do not come as a surprise to the employees at Smith. Al Mills, a senior engineer at Smith, said, "I think this industry is more conducive to relationships. We are all customer-driven. We like what we do, and everything we do is for the customer."
Smith's vice president of engineering, Jerry McDanal, added, "We work as a team, and we have each other's backs. People get along, and they enjoy working with one another. Many of us have worked together for many years. When I look around, I see a lot of people smiling. I see people wanting to help each other. We are a family."
As much as anyone wants to partner with and work with helpful, friendly people, that is not enough to merit being named a supplier of choice. Cannistraro was looking to build a relationship, and service was an essential part of their selection process.
"From a technical side, [Smith] has been great since we've committed to them. People are always available, quick to get back to us, and quick to help us out. They keep us out of trouble, which is something we try to do with our clients. We need vendor partners that share that same commitment with us. Between Smith and our local vendors, we're confident in the team that has been built" said Mierzejewski.
For more information, visit www.jrsmith.com. MCAA thanks Jay R. Smith Mfg. Co.® for being a supporter of MCAA18 and supplying badges and lanyards.