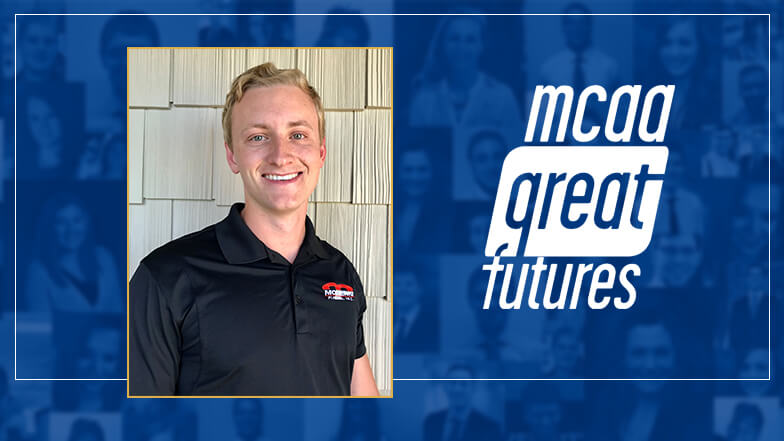 Modern Piping, Inc, an MCA of Iowa member, presented Matt HermsenWhite with an MCAA Internship Grant at the start of his 2020 summer internship. The grant is funded by the John R. Gentille Foundation. Matt says, "I would like to express my gratitude to all of the members at MCAA for the grant. I have felt great reception from the mechanical contracting community, both at Modern Piping Inc and from MCAA. I am definitely considering a career in mechanical contracting and would like to say thank you again to MCAA for supporting engineering students with their education."
Matt is currently studying Mechanical Engineering at Iowa State University with plans to graduate in December of 2020. This is Matt's second year with Modern Piping as Project Manager Intern. He previously worked on piping in the summer of 2018 and this year's focus was in HVAC work.
"I am very grateful to be with Modern Piping for a second summer. They have given me ample opportunities to participate in team meetings, bidding, productivity tracking, and project manager tasks. All of the people at Modern Piping have been friendly, welcoming, and willing to teach me practical and technical skills."
Due to the impacts of COVID-19, Matt's internship experience was completely virtual. Throughout his work, Matt has been supervised by Bob Brown, the President of Modern Sheet Metal.
Matt's main summer projects consist of the following:
Project bidding for commercial and medical buildings
Duct fabrication productivity tracking
Creating weekly report system to help Project Managers better understand costs hitting projects on a weekly basis
Project administrative tasks: startup, permits, close out documents, etc.
Matt says "although the virtual format came with challenges, it was an opportunity to learn how to collaborate with coworkers and accomplish tasks in an online setting which will be a valuable skill for a 21st century workplace."
About the MCAA Internship Grants
Having MCAA interns working at member companies is a win-win for both the students and the mechanical contracting industry. Employers get fresh talent and build a pipeline of future employees, while students gain experience, create connections, develop skills and further their interest in mechanical contracting. In paying the student instead of the employer, MCAA's goal is to increase the overall number of interns and drive the overall number of talented employees accepting full-time positions with MCAA members post-graduation.
How the Grant Application Process Works
Prospective interns must be in good standing at an accredited two- or four-year college, university or technical school. While MCAA encourages its members to give priority to students from the MCAA Student Chapter Program, this is not a requirement to receive a grant.
Each MCAA member company can submit up to two internship grant applications per year. Once an application is reviewed and accepted, MCAA will send a $500 gift card to the member company so they can present it to the student at the start of their internship.
MCAA will follow-up with each company and intern to ensure the process and overall internship experience was successful.
Start Your Search for Top Talent Today
MCAAGreatFutures.org gives members access to student profiles and resumes. The profiles are searchable by university, desired location, and even a specific skill set, like BIM or AutoCAD. A keyword filter allows users to zero in on students who fit the bill.
Not finding a match? Try reaching out to our 61 MCAA Student Chapters. The chapter advisors are a great resource to help find the right person. And, MCAA members have exclusive access to post job openings on our job board.
Help build our industry's GreatFuture – apply for a grant!
Related Articles