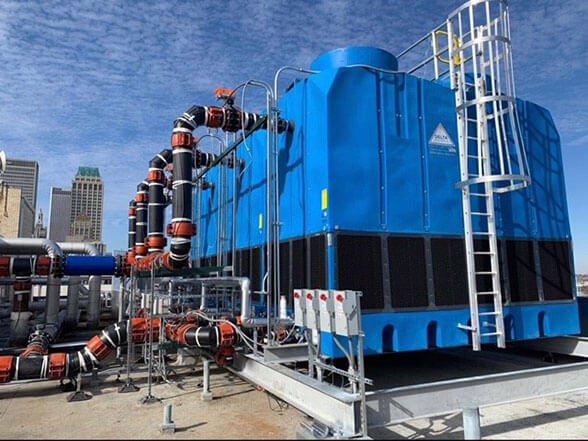 By using high-density polyethylene (HDPE) pipe rather than carbon steel and pairing it with Victaulic's HDPE pipe joining system, Shoemaker Mechanical replaced a cooling tower in less time than planned, with fewer people than expected, and avoided potential weather delays. Tulsa Community College's (TCC's) system has performed with no issues since it was installed. Victaulic is an MCAA major sponsor.
Attractive Alternative
Ranked in the top four percent of community colleges in the United States, TCC has more than 25,000 students attending four locations spread across the city of Tulsa, OK. Recently, an academic building on the college's Metro campus, located downtown, needed a new cooling tower to provide water to its HVAC system.
TCC initially favored carbon steel for the tower's piping system, but after consulting with Shoemaker Mechanical, the contractor responsible for the cooling tower and related mechanical room installation project, as well as considering various other factors, the college agreed to explore alternative pipe materials that could streamline installation without sacrificing performance.
The budget and the timeline for the cooling tower project were tight, so any change in the piping materials selected had to allow for quick and efficient installation. And since the new cooling tower would be located on the roof, the system needed to be durable and withstand the elements.
Shoemaker Mechanical ultimately proposed HDPE pipe, which matched the construction type of the new specified cooling tower and offered compelling benefits. Not only does HDPE pipe weigh less than carbon steel, making it appealing to installation crews, it can be joined with Victaulic mechanical couplings more efficiently and with fewer workers and resources than traditional methods.
"HDPE helped us beat our piping installation schedule, and with Victaulic couplings, we did it with a smaller crew."

— Richard Shoemaker III, Project Manager, Shoemaker Mechanical
"Looking at the schedule, logistics, and potential weather conditions, as well as seeing they'd previously used HDPE on the cooling tower construction, it made sense to use HDPE and keep everything consistent," said Richard Shoemaker III, project manager for Shoemaker Mechanical.
After evaluating the labor and material costs and benefits to the overall project by pairing HDPE pipe with Victaulic's new Style W907 couplings, TCC and the engineer ultimately approved the proposed plan. The TCC cooling tower replacement was the first project in the country to use Victaulic's new 14″ Style W907 couplings.
Despite Weather, Swift Completion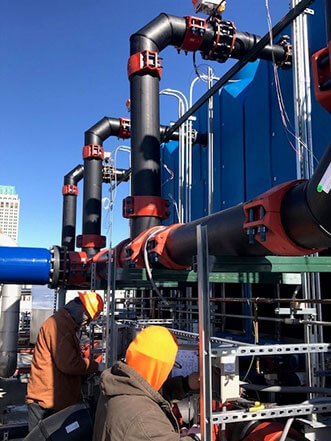 In preparation for the installation, Victaulic worked alongside Shoemaker Mechanical to review project drawings to integrate their system solution for HDPE pipe into the plan, then the project went to prefabrication. The teams collaborated to amend plans as change orders came in and adjusted accordingly when the timeline was pushed back to limit disruptions to the TCC class schedule.
Once onsite, Shoemaker Mechanical had one weekend to move materials from the street to the roof of the seven-story building without bucket hoists, pulleys, or elevators. The team used a crane to lift parts into position, while crews easily maneuvered the lighter-weight piping into place by hand. Workers then joined the HDPE pipe with hand tools and visually verified correctly installed joints by ensuring bolt-pad-to-bolt-pad contact, giving them confidence in the system's durability and longevity.
As the installation progressed, winter arrived in Tulsa. Some days were cold and wet, while others were warm and sunny. On snowy days, workers were especially grateful for Victaulic's couplings, because they did not have to lie in the snow to weld steel pipe together. If Shoemaker Mechanical had decided to fuse the pipe, the snowy conditions would have forced the crew to use tarps during their fusion process, making it even more laborious.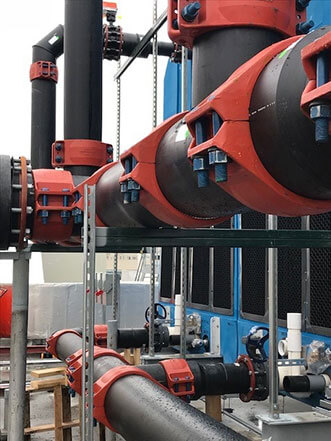 Despite the unpredictable weather conditions, Victaulic's HDPE pipe joining system allowed the crew to quickly and safely install more than 360′ of 4″, 10″, and 14″ pipe. By choosing Victaulic, Shoemaker Mechanical reduced the number of work hours by more than 50 percent and finished ahead of the original project timeline by 15 percent, all while using a smaller, four- to six-person crew.
"HDPE helped us beat our piping installation schedule," said Shoemaker. "And with Victaulic couplings, we did it with a smaller crew."
A Successful Combination
Plastic piping continues to gain ground as materials like HDPE offer greater corrosion resistance at a competitive cost when compared with materials like carbon steel pipe. Victaulic's HDPE pipe joining system allows you to install plastic piping quickly and in any weather condition compared with traditional methods like fusing.
"Victaulic made multiple visits over to us, the engineer, and the owner to make sure everyone understood Victaulic's HDPE products and ensured our team was up to date on the proper installation methods," said Shoemaker. "Their support throughout the project helped make it a success."
For more information, visit www.victaulic.com. MCAA thanks Victaulic for being a major sponsor.