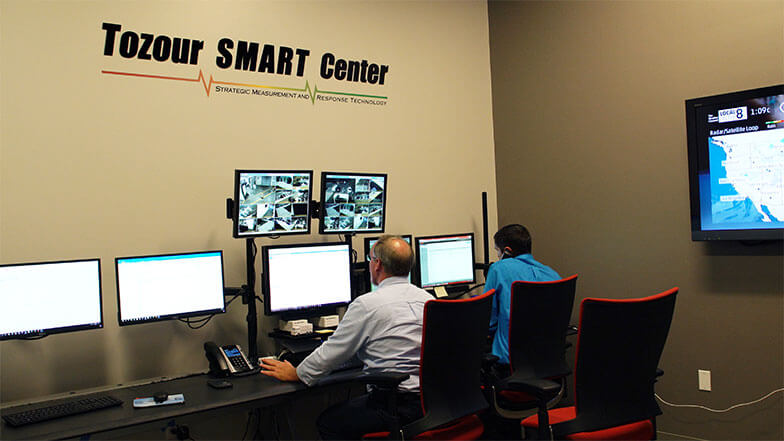 Using Connect, a data collection and analysis solution powered by KEY2ACT, Tozour Energy Systems can pinpoint and even fix customers' HVAC problems remotely, saving time and money. When Tozour's technicians go on site, Connect helps them more accurately diagnose problems so they know exactly what they are looking for when they arrive. "They're not wasting their time or the client's time and money looking around for problems that don't exist," said Tozour's Executive Vice President Frank Rhea.
"We're able to find those problems and fix them remotely, so we're saving truck rolls."

—Frank Rhea, Executive Vice President for Services, Energy, and Contracting, Tozour Energy Systems
Connect is a cloud-based solution that identifies system-level deficiencies based on data collected from building systems and equipment. The solution also integrates seamlessly with building automation systems. Service contractors can use Connect deficiency reports to focus attention on areas in a building that truly need it, providing a better service experience, creating customer loyalty, and cementing long-term relationships.
Tozour Energy Systems recognized more than a decade ago that data analytics would play a huge role in the success or failure of businesses that provide HVAC and building automation services. Rhea and Tozour President Kevin Duffy knew they would need to implement a connected services strategy built on data analytics technology to continue their success in the field.
For the past several years, Tozour has used Connect as a key component of that strategy. Connect helps Tozour collect information from every piece of equipment within its customers' buildings, then feeds that data to the Tozour SMART (Strategic Measurement and Response Technology) Center, where it is analyzed by trained technicians.
The energy savings and improved dispatch enabled by Connect have led to more satisfied customers, greater customer loyalty, and higher building retention rates. "It has been extremely important to us," said Rhea, who oversees Tozour's services, energy, and contracting divisions. "It enables us to deliver measurable results. It really keeps us on the cutting edge."
Connect: The Right Tool for the Job
Tozour has been serving the Philadelphia and southern New Jersey areas since 1979. When Tozour decided to commit to a connected services strategy 13 years ago, company tech leaders began by creating their own tools, starting with phone line-based connections and internally developed algorithms. Tozour used the data gathered by those tools to score how customers' equipment was operating, and their first connected services solution was born.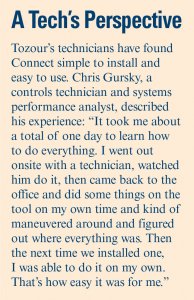 That new solution quickly showed its worth. A year after Tozour started using connected services, technicians found an issue in a customer's building that they would not have been able to discover using traditional methods. "We found the problem through our algorithms and then knew there had to be something wrong, and it was a $50,000 savings for the customer on this one building annually," Rhea said.
Soon, Tozour began looking to add value to their solution by partnering with software companies that specialized in data analytics tools. Tozour tried a number of different solutions, none of which fully met the company's needs. In 2011, they finally found success with the product that is now known as Connect.
Tozour is now rolling out the Connect solution to most of its more than 100 technicians, said Lisa Hendy, Tozour's SMART Services leader. Within the next five years, the company plans to have 80 percent of all its technicians using Connect.
A Better Customer Experience
On the wall of Tozour's corporate office in suburban Philadelphia is a quote attributed to company founder Doug Tozour: "The measure of our success today is how many of our customers say 'I want Tozour Energy Systems on my next job!'" Customer satisfaction is paramount at Tozour, and the company's connected services strategy plays a key role in that satisfaction.
It starts with the data visibility and equipment scorecarding provided by Connect, which gives contractors a holistic view of building operations. "We're seeing things in a different way today than we ever could before," Hendy said.
Better visibility means better dispatch decisions. Thanks to Connect, Tozour knows precisely where and when technicians are needed. That visibility also means better decision-making when it comes to optimizing equipment operations and helping customers use energy wisely. Connect helps find and correct problems like simultaneous heating and cooling, unnecessary operations in unoccupied areas, incorrect sequencing of equipment, and many other issues.
The bottom line for Tozour's customers? "It's saved them a lot of money," Rhea said. "We actually reduce our client's T&M [time and materials] because we're now able to fix their problems faster. We're able to find those problems and fix them remotely, so we're saving truck rolls." Customers are also better able to
retain their tenants, who renew their leases because of the much more comfortable working environment.
Connect vs. the Competition
While there are other similar connected services tools on the market, Connect has proven to be the best option for Tozour, said Hendy. Some other tools offer only specific "canned" services, with everything already set up, and others require a lot of setup and programming to work. Connect offers the best of both worlds, combining flexibility when necessary with some standard preset offerings.
Rhea said Connect has helped Tozour differentiate itself from the competition. "It's really helped us solidify delivering a value outside of just the reliability of the technician," he noted. "Anytime you can make your techs more efficient, make your techs better, then you're always going to be that person delivering a better value."
For more information, visit KEY2ACT.com.