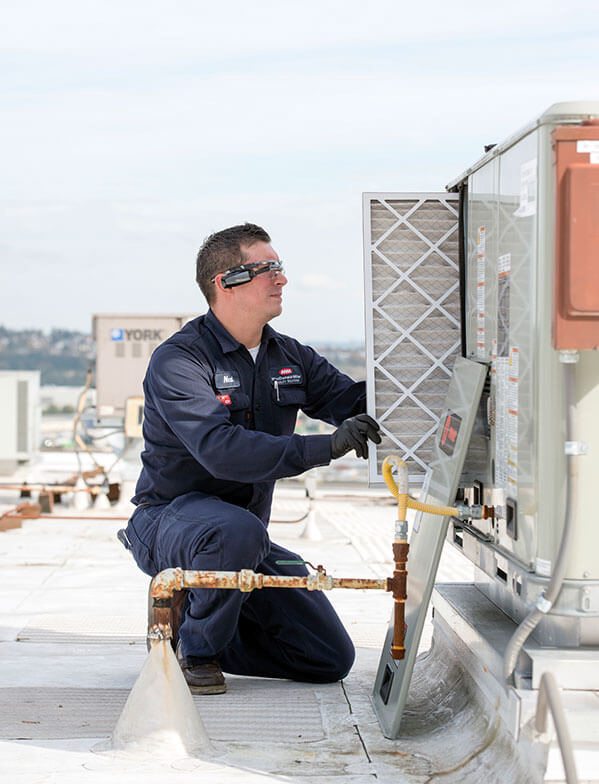 Video Technology Attracts Customers, Speeds Payment
Within 90 days of adopting the XOi Vision™ platform's field service management program See, MacDonald-Miller Facility Solutions (MacMiller) landed a huge national account, based in part on the company's use of video technology. With See, MacMiller technicians can easily link video and photos to customer accounts through mobile devices.
Growing Demand for Digital Communication
MacMiller is a full-service design-build mechanical contractor that focuses on making buildings work better. Their clients include Nike, Boeing, and Microsoft. MacMiller wanted technology to help set the company apart from competitors, improve customer engagement, and empower employees to communicate better with each other. Company executives identified mobility and collaboration technology as two key growth drivers of success.
MacMiller recognizes that strong customer engagement is vital in service-oriented trades. Trust must be earned, which is especially challenging when customers work offsite or in regional offices, affording little or no opportunity for face-to-face contact. New and younger customers demand a higher level of communication and collaboration from their field service providers. MacMiller executives worked with technology partner KEY2ACT and XOi Technologies to create KEY2ACT's See software, powered by XOi.
Seeing Is Believing
From MacMiller's perspective, one of the biggest Vision benefits is the opportunity it provides to increase customer engagement. Much of the work done by MacMiller, like pipe and duct work, is hidden behind walls. Video and photo documentation allows customers to see exactly what technicians are doing.
At the start of each job, technicians wearing smart glasses record a short video showing the equipment to be maintained or repaired, while introducing themselves and describing the work they plan to do. Photos and video are automatically streamed to the cloud, creating one central repository of visual evidence. At the end of the job, technicians record another video summing up their work. When the call summary report is emailed to the customer, it contains a link to access the visual content.
See how XOi Vision integrates into KEY2ACT to provide techs with a seamless experience:
"While there are incredible operational efficiencies that enable mobility and collaboration for our staff through telepresence and increased accountability, the real benefit of this technology is that our customers can now witness firsthand the current state of their building through a multimedia experience," said Bradd
Busick, MacMiller's chief information officer.
Service Foreman Travis Espheter added, "To me, the coolest thing is the customer's reaction when they get it. They're pretty shocked that there is this technology out there."
Video Documentation Speeds Payment
The ability to better understand the work completed helps customers pay bills faster, with fewer phone calls to MacMiller. A large site may have 20–50 service calls in a month, and when the customer reviews a bill, they often cannot remember the details associated with each charge. Access to pictures and video clarifies each job.
See improves customer engagement and delivers a service experience that differentiates MacMiller from competitors. Instead of spending customer meetings going over bills and work orders, service managers focus on future projects. See also helps attract new customers.
As MacMiller CEO Gus Simonds said, "Anytime we can get some more client engagement creates a higher level of trust. If we can help that building operator make a better decision about something, then I think he'll be more confident about what MacDonald-Miller can do for him."
For more information, visit www.xoi.io or call 800-230-7047.