High Purity Systems, Inc. (HPS) of Manassas, VA, relied on Orbitalum® high-purity tube cutting, facing, and orbital welding systems to meet the urgent infrastructure needs of a large biopharmaceutical company's COVID-19 vaccine research and production effort. The project called for thousands of high-purity welds, so HPS partnered with Orbitalum, based outside Chicago and distributed with support from E.H. Wachs.
Productivity Boost
During fabrication, HPS combined Orbitalum's OM180 SmartWelder TIG orbital welding power supply and fully enclosed, water-cooled weld heads with the Orbitwin SW switching unit. The Orbitwin offers the flexibility to control two orbital welding heads with one power supply, alternately operating one while the other is being setup. This gave HPS a huge productivity increase, because two heads with two different-sized setups can be "couponed in" concurrently.
Doug Barefoot, HPS business development manager, explained, "Because you're not removing the head from the power supply, the previously assigned program is recalled automatically when the start key on the welding head is pushed. You're not changing any of your programs—you've already made your test welds and can switch from head to head and weld either the same size/wall thicknesses or two completely different OD [outer diameter] and wall thicknesses."
Another factor in HPS' drive for efficiency was Orbitalum's OM 180 SmartWelder's standard Flow Force, a purge gas function that uses computer-controlled, modifiable flow values to reduce argon usage and the prepurge time after the weld heads are closed. Barefoot commented, "We dramatically shortened our welding cycles by using the Flow Force function, which significantly decreases the waiting time the welder typically has when waiting for ID [inner diameter] oxygen levels to get within range. The Orbitalum cutting and welding equipment has worked great for our offsite fabrication and onsite installation needs."
Preparing for Vaccine Production
The ability of U.S. biopharmaceutical companies to react to changing manufacturing requirements is vital as the COVID-19 pandemic continues to spread throughout the United States. Many biopharmaceutical companies are building expanded infrastructure designed for rapid line redeployment, anticipating the need to increase manufacturing capability for COVID vaccines. HPS was awarded contracts for multiple, simultaneous projects by a large biopharmaceutical company with clear directives: the work must be done precisely, safely, and quickly; it must be minimally invasive; and it must meet specific project deadlines.
The scope of the project included modifications and additions to infrastructure and process piping systems at facilities designated by the U.S. Department of Health and Human Services (HHS) to provide advanced development and manufacturing of medical countermeasures to support the U.S. government's national security and public health emergency needs. Part of the scope included expanding a fill/finish facility to significantly increase manufacturing capacity, redundancy, and flexibility. HHS aims to align the designated facilities to produce medical countermeasures rapidly for public health emergencies, including COVID-19 vaccines.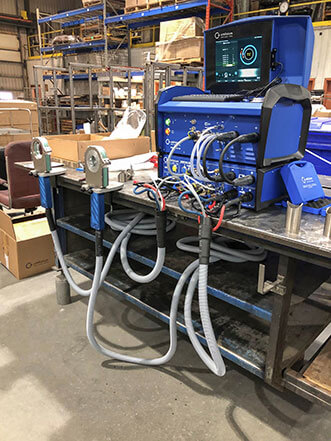 Tips for Tough Projects
Barefoot offered his thoughts on achieving success on projects like these: "First, be sure to get long-lead items identified and ordered right away, even if it involves expedited fees or priority delivery costs. Second, prebuild parts of the project that are under your control while waiting for long-lead parts. Third, use the best tools available, use technology to your advantage."
Using Orbitalum tools like the industry-standard GF line of tube saws and the RPG line of deburring and facing tools, HPS delivered the cost-effective cuts and perfect fit-ups required for ultra-high-purity welding applications. For projects that combine multiple challenges of precision, safety, strict deadlines, and jobsite health concerns—all while remaining profitable—Barefoot gave the following tips:
Make certain you identify long-lead items early, and order them ASAP.
Use the best equipment, and partner with proven suppliers that offer support.
Use the best technologies available to meet project deadlines and efficiency targets.
Fabricate everything offsite whenever possible.
Avoid rework by ensuring that the information provided to the fabrication shop is accurate.
Combine best-in-class technologies—for example, a TigerStop system with the Orbitalum cutting equipment—to save material waste and increase productivity.
HPS is bringing together the two key elements that will help defeat the COVID-19 virus: technology in the form of the best tools for the job and skilled craftsmen with the knowledge to use them. HPS, armed with Orbitalum high-purity equipment, is using both to do their part to help combat and ultimately defeat COVID-19.
For more information, visit www.ehwachs.com.