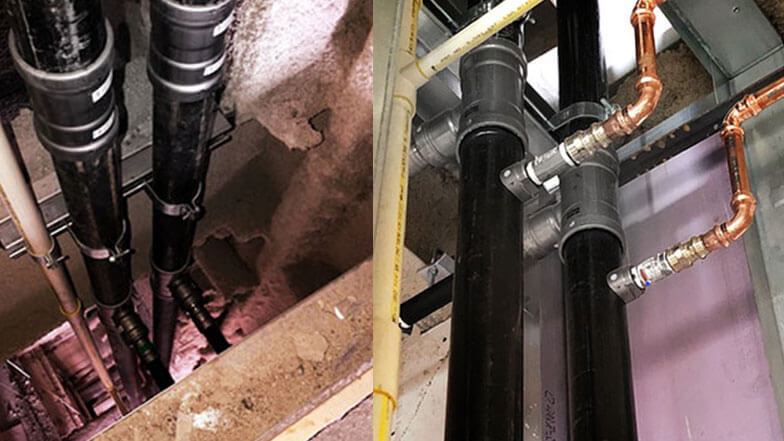 Pressing Proves Simpler than Welding
Guy's Mechanical Systems discovered that the Viega MegaPress Press-In Branch Connector saved them time by reducing the steps for installation in the process of remodeling a 20-story high-rise in downtown Pittsburgh. Renovating the aged building—constructed in 1902—into a hotel has been a complicated process, and Foreman Josh Mitchell said MegaPress has made it simpler. Viega is an MCAA benefactor sponsor.
"MegaPress has really sped up the project. Due to the fact that it's 20 stories, you have to catch the elevator to move your tools from floor to floor," Mitchell said. "Pressing is much simpler than welding. You can't hike 20 stories, especially carrying welding equipment."
Mitchell was also excited by the use of the branch connectors. The technology is an innovative way to create branches from main runs or to install instrumentation onto existing piping. When Mitchell discovered the product, he knew it could come in handy on this project.
Watch how quickly Viega's MegaPress Press-In Branch Connector can be installed.
"I really like them, and I think they could be used in a lot of different applications," said Mitchell. "They're super easy to install, and quick. It's much simpler than using a tee, less steps to installing it, and I feel like where we convert over to copper, it makes it much simpler."
In the hotel-to-be, carbon steel lines were run for a condenser water system to heat and cool the building. There are 16 pipe risers from the ground level to the 20th story, all using MegaPress Branch Connectors. The main lines are 2 1/2″ to 4″, and the branch connectors allow 3/4″ lines to run directly off the main line.
"With a tee, we went through a process of making a union and threading, and then a process to go from [carbon steel to copper]," Mitchell said. "With the branch connector, there are fewer steps, because you don't have to do all of that.
"Also, we ran 20 stories of pipe straight up and down, and when we went through and started drilling holes, if we missed one it was no big deal. We would have been cutting out a whole section of pipe to put in a tee, but instead we just drill a hole for the branch connector and go. The same goes for the mechanical room—if we decide we need a thermometer here or a sensor there, we're not taking apart whole sections of the boiler room."
Mitchell estimated that Guy's used around 50 branch connectors on the project and said that installing them was as simple as making other Viega presses. Renovation on the building started in September 2019 and was estimated to finish this summer.
For more information, visit http://www.viega.us. MCAA thanks Viega for being a benefactor sponsor.