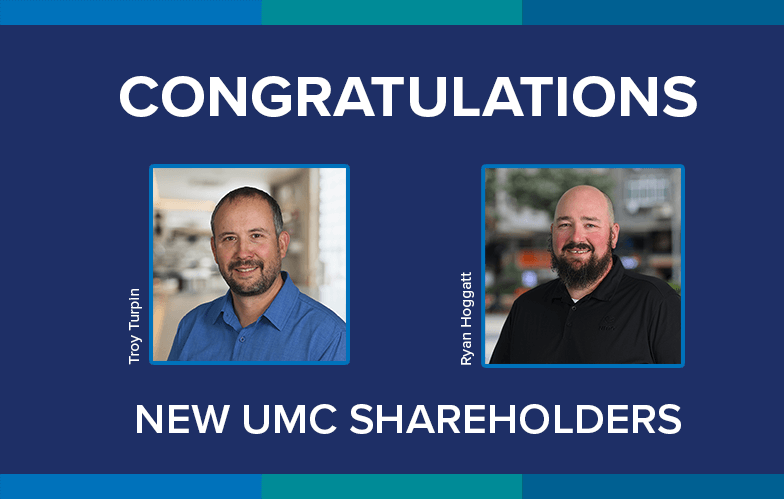 UMC, an MCAA member, has named Development Director Troy Turpin, CEM, and Manufacturing Director Ryan Hoggatt shareholders of the firm. Both Turpin and Hoggatt have been with UMC for many years and play critical roles in the current operations and future growth of UMC.
Turpin has more than 23 years of experience working in mechanical design and construction for the building industry with various roles in energy consulting, project management, and business development. As a certified energy manager (CEM), he has been responsible for development and concept planning of large-scale projects with sustainability goals or requirements. He is UMC's director of development responsible for leading the project executive and business development teams, as well as overseeing the preconstruction team. He continues to support both external and internal clients.
"I couldn't be more thrilled to become a shareholder at UMC," said Turpin. "The business has made great strides since 2008 when I officially became a part of the UMC family. During that time, we have seen the strategic parts of the business grow in an ever-changing marketplace. We truly have the best employees and clients. I'm excited to make my contributions to the business as a shareholder, by helping to ensure that we continue to grow the business strategically and continue to offer a great place to work for our employees and offer the best solutions to our many great clients."
Hoggatt has been with UMC since 2008. He is the director of UMC's manufacturing division that consists of a system of standardized, streamlined processes that eliminate waste, improve productivity, increase efficiency, and ensure quality and safety. Using cutting-edge technology, Hoggatt is responsible for corporate manufacturing and virtual construction strategy, standards, and operation, as well as construction technology adoption and implementation. He has developed the company's robust prefabrication business that supports modular construction and drives efficiencies throughout the construction delivery process.
"Although much has changed since I joined UMC in 2008, the one constant has always been our amazing employees and tremendous clients," said Hoggatt. "I hope to contribute to the legacy of previous generations at UMC by maintaining our longstanding culture and traditions while continuing to pursue innovation that will ensure our competitiveness in the marketplace for the foreseeable future. It's an honor to become a shareholder at UMC and I am committed to our promise to provide a best-in-class workplace for our employees and experience for our clients."
"We couldn't be more excited to welcome Ryan and Troy to the ownership team at UMC," said Steve Brooks, president. "With a passion for building and devotion to our clients, their dedication will help to ensure the company's growth and prosperity. They both bring strong creative ideas on how to make UMC a better place to work and a better partner for our clients. The success of our business relies on new ideas and perspectives. Continuing to grow our ownership group helps us stay competitive and creative in our approach to the market."
MCAA congratulates Troy and Ryan on their shareholder status. We wish you and the rest of the UMC team continued success.
Related Articles