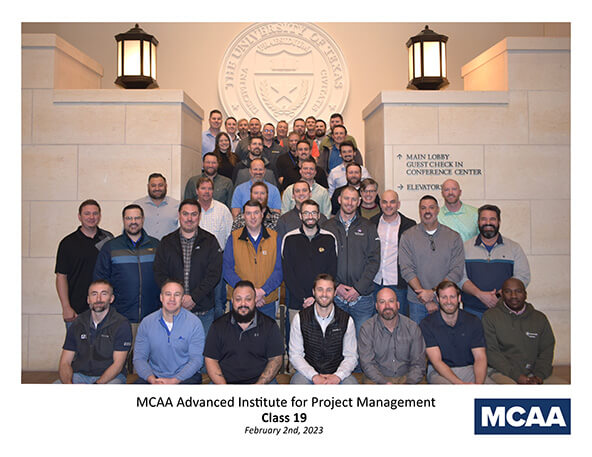 Congratulations to this year's graduates of the Advanced Institute for Project Management!
Last week, 42 Senior Project Managers, Project Executives, and Operations Managers traveled from member companies across the country to hone their skills under the guidance of leading claims consultant Paul Stynchcomb; legal experts Doug Patin and Chip Mitchell; former ASHRAE President Tim Wentz; and soon-to-be MCAA President Robert Beck (to name but a few!). Every member of the AIPM educational team was so impressed by the caliber of these students, who asked thoughtful questions, provided insightful commentary on industry issues, and – in the words of at least one instructor – 'really kept us on our toes!'
So, what did the students themselves have to say about their AIPM experience? To quote a few:
"MCAA is an incredible organization. To get to spend this week with the incredible panel of speakers is something I'm extremely grateful for."
"This was an absolute great week. I loved the open dialogue, advice, and understanding that we all have the problems and that we shared how we solve them."
"Absolutely amazing to have top leaders from our industry from all over take time for us to learn from them. Also great to meet so many great people and build new friendships."
"Worth it.
Worth the cost.
Worth the time away from work.
Worth the time away from family.
Worth it, and priceless."
We really couldn't ask for a better endorsement than that! From the entire AIPM team: a heartfelt thank you to our AIPM Class 19 graduates, for an incredible week of learning and community building.
Related Articles