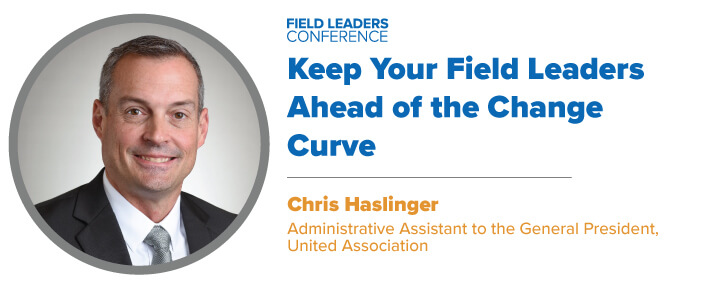 MCAA's Field Leaders Conference is where field leaders realize their importance and value as professionals and members of the management team. Have your field leaders join us in April, May, August or October to learn the skills they need to be business, and results, oriented managers focused on growing company profits and brand.
SESSION HIGHLIGHT
Keep Your Field Leaders Ahead of the Curve
with Chris Haslinger, Administrative Assistant to the General President, United Association
Our industry will change more in the next 5 years than it did in the last 50. Are your field leaders equipped to evolve along with it? Chris Haslinger served his apprenticeship with UA Local 50 and has held various roles throughout his career with the UA. With a career focused on education and training, Chris has seen the evolution of how jobs are performed first-hand. He has played a primary role in developing UA projects that embrace new technologies, including sustainable technology programs, energy audits and retrofits, CAD/BIM programs and technology in supervisory roles.
Christopher A. Haslinger was appointed to the position of Administrative Assistant to the General President on January 1, 2019. Chris handles various assignments such as Local Union Officer Educational Programs, UA Organizing Contribution Collections and other tasks as designated by UA General President Mark McManus. Prior to this appointment, he had served as the UA's Director of Education and Training. He served his apprenticeship as an HVACR technician with Local Union 50 in Toledo, Ohio. Chris has an Associate's degree in Industrial Training, a Bachelor of Arts degree in Labor Education and a Master's degree in Business Administration. He is also a graduate of the MCAA's Advanced Leadership Institute (ALI).
We have four conferences coming up in Scottsdale, AZ (April 3-5), Chicago, IL (May 17-19), San Francisco, CA (August 2-4) and Des Moines, IA (October 11-13). Register your field personnel today! This is a conference you can't afford them to miss.
Related Articles