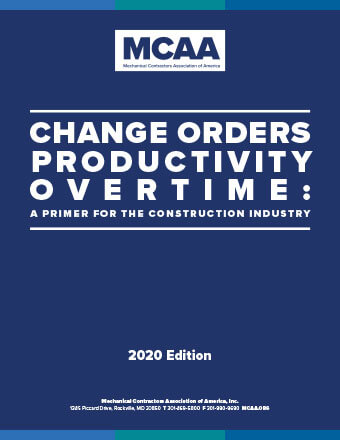 MCAA members can now download the 2020 edition of MCAA's Change Orders, Productivity, Overtime—A Primer for the Construction Industry. The revamped resource provides guidance to contractors that are looking to measure the impact that delays, PPE and manpower limitations have on the construction sites that they are working on. The guide helps contractors identify and quantify activities before and after the start of the pandemic in order to build change orders correctly.
As the guide's lead author, Paul L. Stynchcomb, CCM, PSP, CFCC of Vero Construction Consultants Corp. puts it, "One way that you are going to have to address this issue is measuring time impacts. So the starting point is to measure any schedule time impacts as of the commencement of the impacts of the pandemic on your project site. That means you need to identify any pre-existing delay conditions."
As an additional resource, Paul Stynchcomb was joined by Douglas Patin and William Ibbs from the Ibbs Consulting Group on April 15, 2020 to address the Construction Management Consequences of the Coronavirus and Legal Responses. MCAA members can review the webinar for free at any time.
New Chapter Highlights Benefits of Sharing Native CPM Schedule Files
As some of the most labor-intensive trades on any project, mechanical, plumbing, electrical and sheet metal contractors are intently interested in project planning, activity sequencing, timing of the work and efficient crew flows. In a new chapter for the 2020 edition of MCAA's Change Orders, Productivity, Overtime—A Primer for the Construction Industry, lead author Paul L. Stynchcomb, CCM, PSP, CFCC of Vero Construction Consultants Corp. discusses the essential concept of sharing the critical path method (CPM) schedule in its native form between all of the major trades on a construction project as a tool for enhancing cooperation, profitability and timeliness.
Only the prime or construction manager's CPM schedule for the entire project scope of work provides the full picture that will enable these contractors to deliver projects to the benefit of all parties, Stynchcomb posits. He notes that printouts, bar chart graphics and PDF files of the CPM schedule are a poor substitute since they provide only a snapshot of the plan at a specific point in time.
Shared access to the native CPM schedule files adds transparency to the construction management and scheduling process, which is key to effectiveness on today's complex and challenging construction projects. In most cases, projects that have a cooperative and interactive management style are more profitable and timely, and efficiently, completed. This means bottom line benefits for all involved.
Lawrence M. Prosen, Esquire of Kilpatrick Townsend & Stockton, LLP provided the case citations and some general commentary contained in some sections of the chapter.
Peer Reviewers Add Industry Expertise
This latest chapter, like the others in the publication, was peer reviewed by a panel of industry professionals. Peer review was performed by Robert Beck, President/CEO of John W. Danforth Company in Tonawanda, NY; Rick Freeman, Executive Vice President, Southern Insulation, Inc. in Hyattsville, MD; Brian Helm, President of The Helm Group in Freeport, IL; and Denis St. Pierre, Executive Vice President & COO of Alterman in Austin, TX.
Endorsing/Supporting Organizations
The publication's full contents have once again received the endorsements of the Sheet Metal and Air Conditioning Contractors' National Association (SMACNA) and the National Electrical Contractors Association (NECA).
The American Subcontractors Association (ASA) has also renewed its full support for the contents of this publication as applicable to their particular trades.
Other Topics Addressed
In addition to the new chapter, the publication assists labor intensive contractors and subcontractors in concepts of proactive project management such as CPM scheduling, labor planning and productivity tracking, change management and settlement negotiations, dispute resolution, claims avoidance and, if necessary, claims preparation and presentation.
The object of this publication is to sensitize construction professionals of all trades to enable the early identification of obstacles to a successful project, and to proactively manage such obstacles to mitigate or eliminate their impact to the bottom line, to the benefit of all of the project participants.
MCAA Members – Download Your Free Copy!
MCAA members can download the publication free as a benefit of membership. Printed books are also available for purchase at a discounted rate.
If you have questions about the book, contact Adrienne Breedlove.
Related Articles