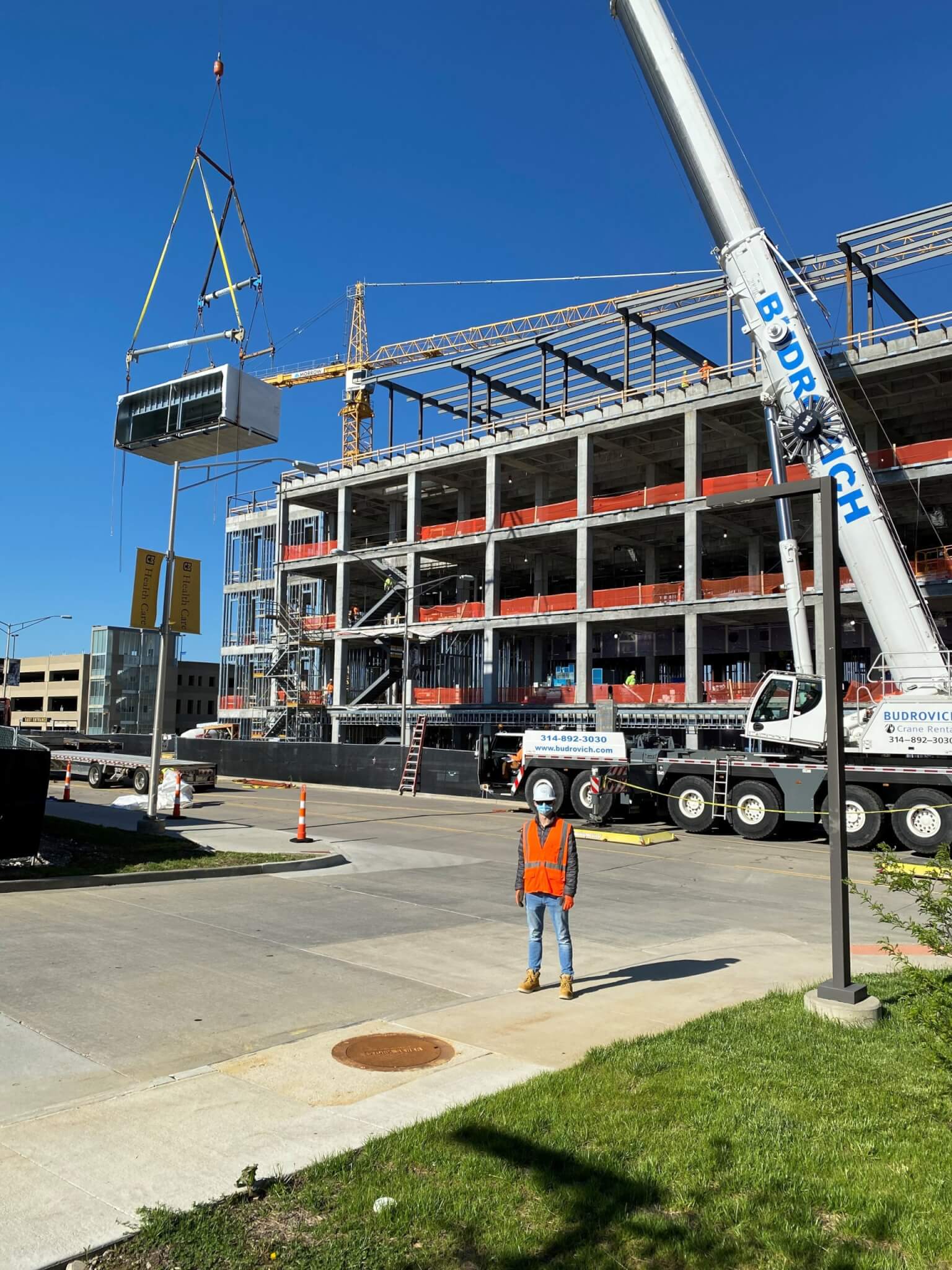 Murphy Company interns Jacob Reed and Morgan Hanley have been onsite project engineering interns for the University of Missouri-Columbia's NextGen Precision Health Institute. The opportunity has given them a first-hand look at what it takes to build a job on their college campus.
About the Project
The company continues its work on the facility which supports a systemwide precision health initiative aimed at harnessing and supporting the research activities of its four universities and health system. The building will include lab space for current and new faculty, graduate students, clinicians and have collaborative spaces for work with industry partners.
The facility is the largest single project that the University of Missouri has ever undertaken. The project consists of a new 265,000 sq. ft. six story facility.
The Murphy Company team, in collaboration with their general contractor and trade partners, was hired on in a design-assist capacity completed the following extensive BIM and fabrication on this past year:
Identified and corrected 1,134 BIM clashes prior to installation
Fabricated 121,000 lbs. of ductwork and 65,000 lbs. of mechanical piping and racks
Installed the following:

7,600 Linear Feet (LF) of underground piping

22,500 MEP Trimble points based on BIM

41,700 LF of above ground plumbing and piping

3,4000 of LF of reverse osmosis (RO) piping

21,640 LF of copper process piping
Construction on the institute is expected to be completed in October 2021.
Both Jacob Reed and Morgan Hanley began their internships in Murphy Company's St. Louis office this past spring semester.
About Jacob
Jacob is entering his senior year at the University of Missouri-Columbia, studying Mechanical Engineering. In the spring working 20-hour week, Jacob was able to see the project manager role in action by attending coordination meetings, daily site walks and reviewing construction drawings making him more familiar with the project layout. Since the spring Jacob has transition to a full-time intern this summer.
"Since I have transitioned to full-time for the summer, I feel that I am gaining valuable real-world experience without too much of an internship feel. My responsibilities now include reviewing submittals, tracking productivity, and the commissioning process of equipment. I have been able to soak in as much information as possible, ask plenty of questions about topics I did not fully understand, and have real responsibilities that add value to the work being completed here. I believe it is the perfect balance that is allowing me to apply my skills and develop new ones."
Jacob looks forward to the rest of his summer internship and continue to learn from Murphy employees the importance of coordination, communication, and critical problem solving.
"I have now seen multiple times how project managers are able to take a problem in stride, communicate with co-workers to create a solution, and implement that solution in a timely manner. I am also looking forward to watching further completion of the NextGen Precision Health Institute. I find it very exciting that I get to see firsthand the construction of a multi-million-dollar research institute at my college."
About Morgan
Morgan Hanley is a Junior at the University of Missouri-Columbia studying chemical engineering. In the spring Morgan was on-site at the NextGen facility and this summer is currently working in Murphy Company's engineering department.
"I've really enjoyed my time so far with Murphy as it has allowed me to apply what I have learned in my coursework to practical, real-world scenarios. I have enjoyed being able to see two pieces of a bigger puzzle at work. Being on site of NextGen and then coming to the Engineering department has been really interesting because it has closed the loop between the drawings and plans I worked with at Mizzou to how those intricate details, sizings, and selections are determined during the design phase. It has been fascinating to observe the complementary aspects of both locations, and I am excited to learn even more during the rest of the summer."
Start Your Search for Top Talent Today
Find student chapter members like Derrick by visiting MCAAGreatFutures.org, where members have access to student profiles and resumes. The profiles are searchable by university, desired location, and even a specific skill set, like BIM or AutoCAD. A keyword filter allows users to zero in on students who fit the bill.
Related Articles