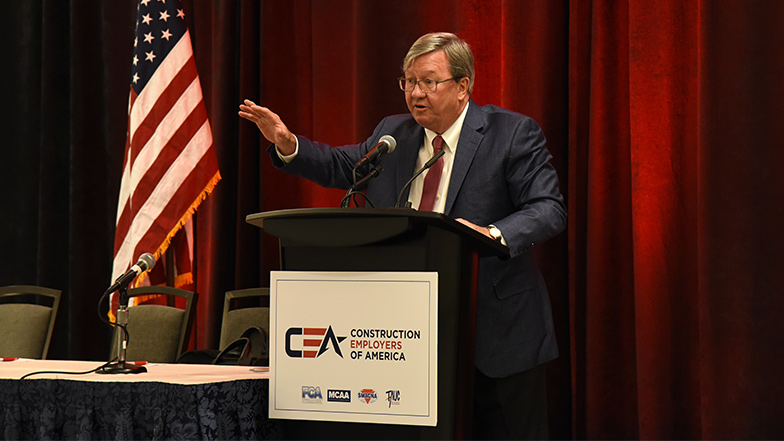 The MCAA/Construction Employers of America (CEA) Legislative Conference brought together a near record crowd of MCAA members and members of other CEA sponsoring groupsm SMACNA, FCA International and TAUC. The conference's education sessions and lobbying meetings focused on key MCAA/CEA legislative issues and provided an opportunity for members to share their views with Senators, Representatives and key staff.
Lobbying Meetings Press Coalition's Top Issues
Member company principals had some 160 Hill lobbying meetings with Senators, Representatives and key staff, pressing for the MCAA/CEA coalition's top issues:
Prompt and long-overdue enactment of multiemployer pension plan reform, including composite plan designs as an option for plan trustees to consider;
Implementation of a broad new infrastructure investment measure, with protections for prevailing wage standards and consideration of project labor agreements for those projects;
Enactment of energy efficiency tax incentives for building retrofits and waste heat recovery industrial projects; and
Tax reform measures that spur private capital facility projects and use worker misclassification reform as a budgetary pay-for measure to fund corporate and Subchapter S tax cuts.
Proposed Changes to Pension, Health and Welfare and Apprenticeship Programs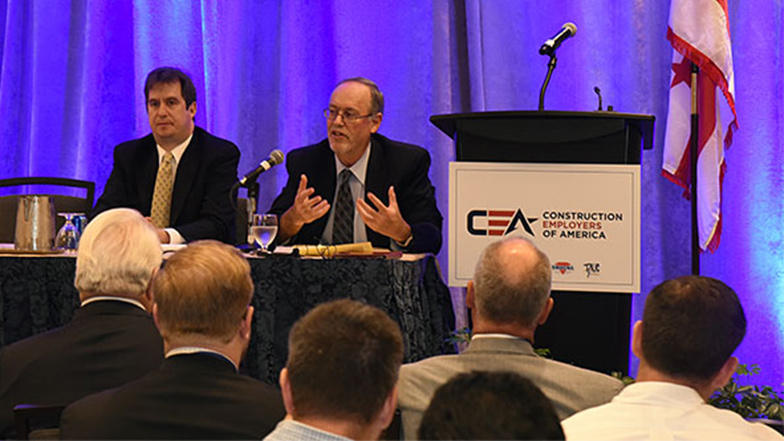 The conference kicked off on Tuesday, May 10 with a regulatory policy program covering proposed changes to pension, health and welfare and apprenticeship programs. Josh Shapiro from Groom Law Group and Cary Franklin from Horizon Actuarial Services discussed pension reform and alternate plan de-risking measures available under current legal requirements.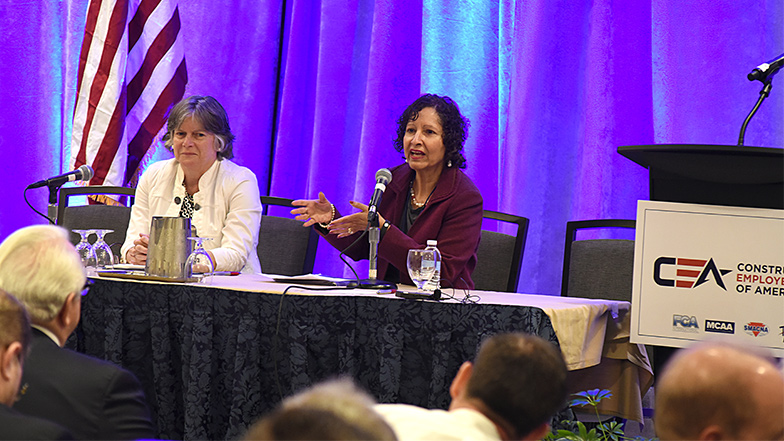 They were followed by Aruna Vohra (right) from Horizon and Carolyn Smith from Alston & Bird law firm, who discussed the myriad of health care plan changes pending on Capitol Hill.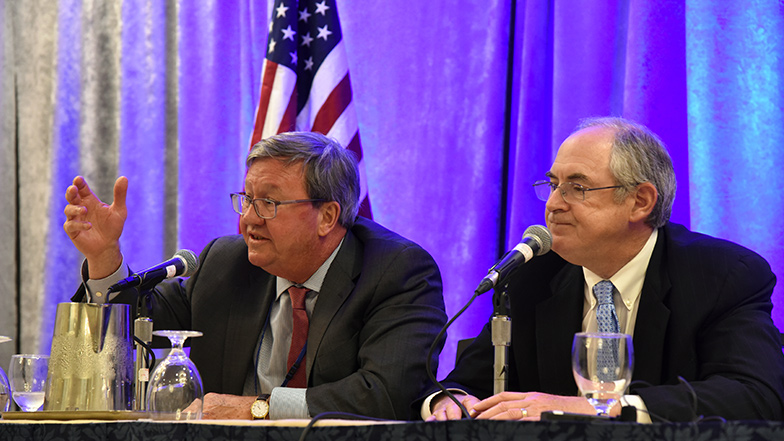 After that, Lou Malone (right) from the O'Donoghue law firm and MCAA General Counsel John McNerney discussed the non-discrimination and written affirmative action requirements pending under the new Administration.
Lawmaker Presentations Mark Start of Second Day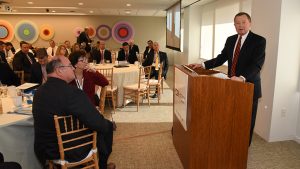 The next day, participants ventured to the offices of Hogan Lovells in downtown D.C. Former Congressman Earl Pomeroy of Alston & Bird, a consultant to the National Coordinating Committee for Multiemployer Plans (NCCMP), moderated a series of presentations from lawmakers, including Senator Pat Roberts (R-KS), Senator Joe Manchin (D-WV), Representative Chris Collins (R-NY-27), and Representative Brian Fitzpatrick (R-PA-8).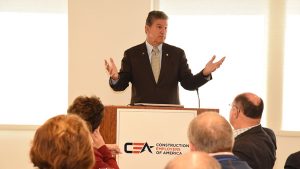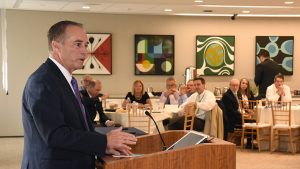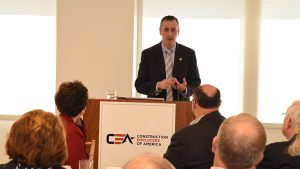 Union Representatives and Employers Discuss Pension Reform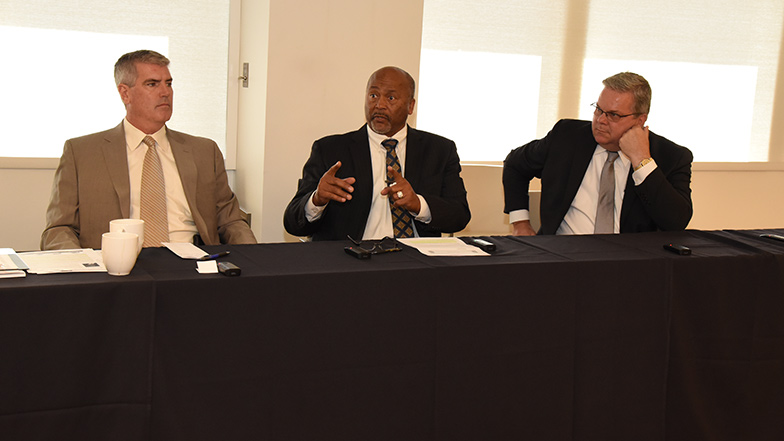 Congressman Pomeroy also moderated a panel discussion among union representatives and employers on the key issue of pension reform. The union representatives included: Sheet Metal Air Rail and Transportation Workers General President Joe Sellers, Painters and Allied Trades General President Ken Rigmaiden, Iron Workers General President Eric Dean, and United Association Assistant to the General President Brad Karbowsky, along with Jeff Green, CEO of Harris Rebar Construction and an NCCMP board member.
The panelists allied in strong support of the necessity for enactment of the composite plan design option for trustees to consider for their plans, and the need to avert a Pension Benefit Guaranty Corp insolvency or premium increases that would imperil the sustainability of multiemployer plans.
Lobbying Meetings Deliver Key Messages to Lawmakers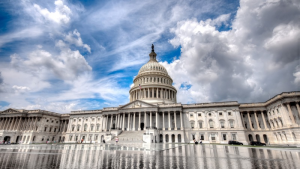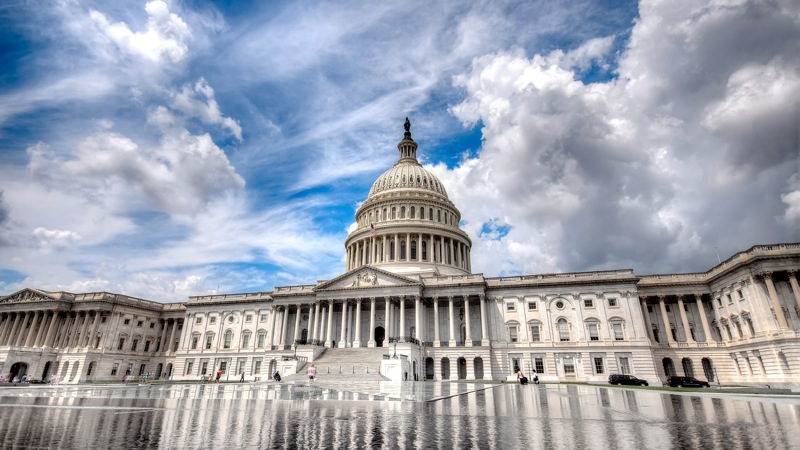 That afternoon, conference participants set out for the Senate and House lobbying meetings, delivering direct messages from member company principals to key offices from the lawmakers' home districts. At the debriefing session the following morning, consensus reports were that home district constituents did a good job delivering the coalition's messages directly to their representatives.
Tax Reform Discussion Closes Out the Conference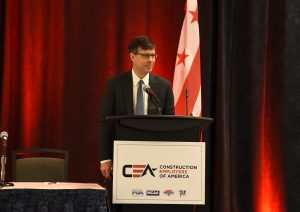 The conference wrapped up with a comprehensive discussion of tax reform by Hogan Lovells tax expert Jamie Wickett. He discussed proposals affecting CEA member companies as taxpayers and businesses, and the impact of corporate tax reforms on corporate capital budgets and projects as market expansion incentives for CEA member companies.
Join Us Next Year!
Mark your calendar and plan to join us for the next conference, which is scheduled for May 8-10, 2018 in Washington, D.C.
Related Articles