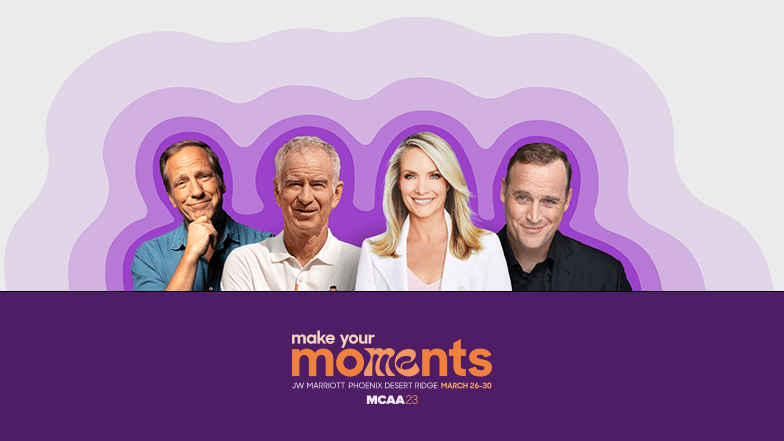 MCAA's Convention provides so many important moments and we are determined to make each attendee's experience great. Over the course of the week there will be opportunities to hear from inspiring speakers on the topics that matter.
Opening General Session with the Dirtiest Man on TV Mike Rowe
Mike Rowe is a writer, narrator, producer, recording artist, Emmy-Award winning TV Host, New York Times Best Selling author and the CEO of the mikeroweWORKS Foundation. As the creator and host of Dirty Jobs, Mike is best-known as "the dirtiest man on TV."
In his role as a perpetual apprentice, Mike has highlighted hundreds of workers in dozens of essential industries. His foundation has awarded over six million dollars in work ethic scholarships to nearly 1,500 men and women, and his commitment to reinvigorate the skilled trades is unrivaled.
Brunch with Former White House Press Secretary Dana Perino
Former White House Press Secretary, political commentator, podcaster and New York Times bestselling author Dana Perino is a revered voice on current events, politics and foreign policy. Perino served as White House Press Secretary, the second woman to hold that position and the first to do so in a Republican administration. She is a mainstay of Fox News programming, previously anchoring The Daily Briefing with Dana Perino, now co-hosting The Five as well as co-anchoring America's Newsroom with Bill Hemmer & Dana Perino, is a featured panelist for election coverage and is known by fans as "The Voice of Reason."
Perino, who was born in Wyoming where her family still ranches, offers unique insights from her time in the White House and as a journalist about message management during times of crisis, cultivating the qualities of powerful leadership and the key issues facing companies and organizations in today's political climate, and skillfully moderates thoughtful conversations that get to the heart of the matter.
Awards of Excellence Breakfast with Tennis Legend John McEnroe
On and off the court, John McEnroe has proven himself to be one of the most intriguing and controversial public figures of his time. Throughout his playing years, his bold and irreverent style made him, for many, a symbol for a generation of "rock n' roll" athletes. He won his first Grand Slam singles title in 1979 when he captured the first of four U.S. Open Championships. In 1981, he took the first of his three Wimbledon singles titles, becoming the youngest #1 ranked male in the history of professional tennis. Since leaving the court, his unique commentary and style in the broadcast booth have garnered him national Sports Emmy nominations. He has written two bestsellers, all based on his trademark retort to the chair umpire: You Cannot Be Serious and But, Seriously. McEnroe is the Founder and Director of The Johnny Mac Tennis Project (JMTP), which changes young lives by removing the racial, economic and social barriers to success through tennis, and the John McEnroe Tennis Academy (JMTA).
Closing General Session with American Ninja Warrior Host Matt Iseman
Life is short, do what makes you happy." That's the advice that Matt got from his dad, a world renowned physician, when Matt quit medicine to pursue standup comedy. And those words still guide Matt today. A regular on multiple TV programs, Matt shared his medical expertise and unique lifestyle tips on Hallmark's Home & Family; won an Emmy Award for his hosting on Style's Clean House and combined his lifelong passions of sports and comedy to host Sports Soup on Versus (now NBC Sports Network).
Matt's ongoing battle with Rheumatoid Arthritis transformed him into a strong supporter of the Arthritis Foundation. His battle with Renal Cell Carcinoma has also made him a spokesperson for the American Cancer Society. Matt combines his winning sense of humor and unique experiences and perspective as a doctor turned comic, who also hosts a smash hit show. His dynamic remarks can cover everything from battling cancer, to overcoming obstacles, to the paramount importance of following your dreams.
See you soon in Phoenix!
Related Articles