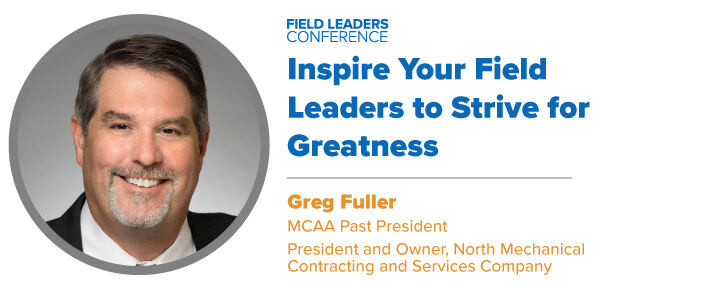 MCAA's Field Leaders Conference is where field leaders realize their importance and value as professionals and members of the management team. Have your field leaders join us in April, May, August, and October to learn the skills they need to be business, and results, oriented managers focused on growing company profits and brand.
SESSION HIGHLIGHT
Inspire Your Field Leaders to Strive for Greatness
with Greg Fuller, MCAA Past President & President and Owner, North Mechanical Contracting and Services Company
Your foremen didn't get where they are by coasting. They're good at what they do, and they can get even better by cultivating the attributes of great foremen. Greg Fuller, whose career spans from apprentice to company president and MCAA President, will lead a discussion of the top 10 attributes of great foremen. He will inspire your field leaders with new ideas and energy, to look at their role differently through an important professional lens, so they come back highly motivated to strive for greatness.
Greg Fuller is the President and Owner of Indianapolis-based North Mechanical Contracting and Services Company. Greg began learning about the craft at age five when he'd meet his father on jobsites. His journey continued into his teen years when he stocked shelves in his father's small plumbing service company while gaining new insights into the business. After completing his apprenticeship, he joined North Mechanical and moved up to Project Manager when the position opened with the departure of the owner's son.
We have four conferences coming up in Scottsdale, AZ (April 3-5), Chicago, IL (May 17-19), San Francisco, CA (August 2-4) and Des Moines, IA (October 11-13). Register your field personnel today! This is a conference you can't afford them to miss.
Related Articles