About our WebBook Library
MCAA and MSCA members can now access all of our HVACR workbooks on our new WebBook platform. You will be able to read Management Methods Bulletins and other resources, take notes, print sections, and share with colleagues. And most importantly, when we have updated content, unlike a downloaded pdf, our WebBooks can be instantly updated behind the scenes while your notes are preserved securely on your computer. All of the new training videos are also available!
MSCA Bookshelf: HVACR 101 and Plumbing Service 101 Modules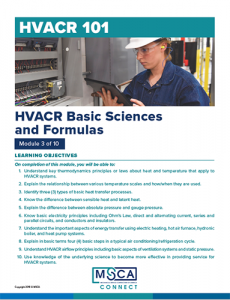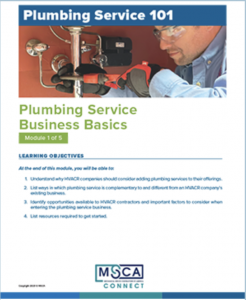 Of specific interest to MSCA members are the extremely popular HVACR 101 modules, which have been converted into WebBooks. This new platform helps individuals maximize their learning experience. Each WebBook and complimentary overview training video contains the relevant course material and quiz at the end.
Plumbing Service 101 curriculum gives HVACR companies a better understanding of the value of adding plumbing services to their existing HVACR business. Both the benefits to you and your customers of offering plumbing services will be addressed as well as resources and investment challenges to consider before taking the leap of adding this additional service.
Please be sure to visit BIG BUTTON BELOW to check out the current WebBooks and videos.
Other Available Management Resources
In addition these Management Methods bulletins are currently available in this format:
2017 Tax Reform: Considerations for Mechanical Contractors
The Next Generation of Data Security
Concurrent Delay
Recovery of Material Escalation Costs Arising From Steel and Aluminum Tariffs
Alternative Retirement Plan Designs
To go to the WebBook Library and get started, click the BIG BUTTON BELOW!