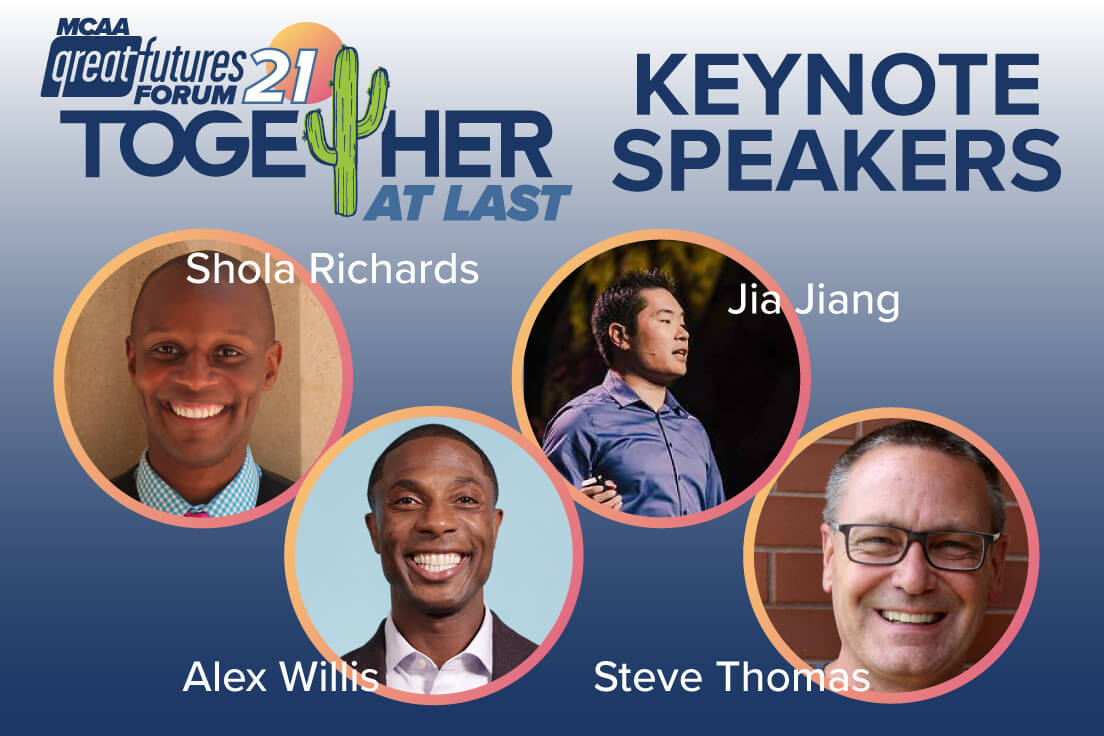 The 2021 GreatFutures Forum is right around the corner! Join us October 17th-19th at the JW Marriott Scottsdale Camelback Inn Resort & Spa in Scottsdale, AZ. Here's a sneak-peak at our keynote speakers and what they will be talking about!
Shola Richards is the Founder & CEO of Go Together Global and Author of Go Together. Through extensive personal experience and study, he helps organizations build compassion, competence, and accountability in the workplace.
Steve Thomas will challenge you to look at things with a new perspective and help you understand why being intentional in what you say and do, especially in your team, will bring higher productivity and an all around better environment. Steve consistently ranks as MSCA highest rated speaker and is a popular speaker throughout the industry.
Jia Jiang has one of the most viewed TED Talks and is the 2019 winner of Toastmasters International Golden Gavel award. Jiang is famous for doing 100 Days of Rejection, which became the basis of his Amazon bestselling book Rejection Proof: How I Beat Fear and Became Invincible Through 100 Days of Rejection. Jiang provides inspiration and knowledge for people and organizations to become fearless through rejection training.
Alex Wilis is the CEO of Leadership Surge, a company that helps coach and support companies and employees throughout the construction sector including the trade industries, sub-contractors and Fortune 500 construction firms. His programs help leaders at every level with career imperatives such as stress management, critical thinking, performance coaching, work-life balance, time management and self-reliance.
To hear these amazing speakers and more click the "Register Now" button. For more information about the GreatFutures Forum 2021 in Scottsdale, AZ click the "Event Website" button. For any other questions please email us at eventregistration@mcaa.org.
Related Articles