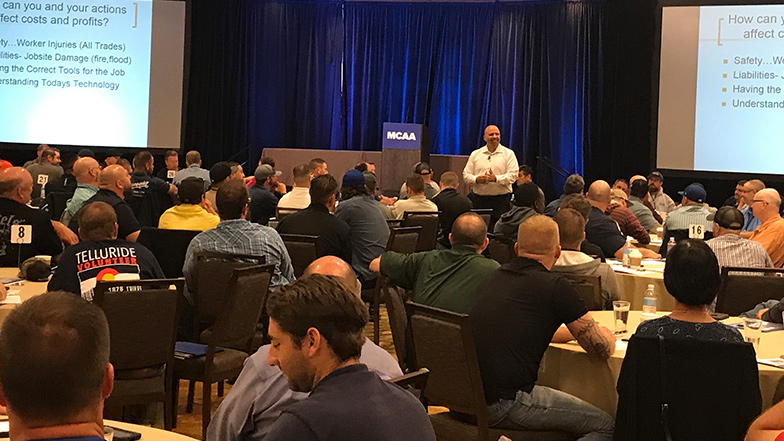 MCAA's sold-out Field Leaders Conference in Denver May 10-12, 2017 provided 200 foremen and superintendents with the management and leadership skills they need to effectively manage jobsite labor, other personnel and operations to keep projects on time, on budget and profitable.
The event began with John Koontz, MCAA president Greg Fuller, Mike Shinn and Mark Rogers leading a Discussion on What Keeps You Up at Night. Afterward, attendees had time to get acquainted and share information about their companies, projects and challenges during a networking reception and dinner.
The next day began bright and early with a session on The Foreman's Impact on Profitability. Mark Rogers discussed how attendees impact their company's profitability, the importance of accurate costing and strategies for managing actual hours to budget.
Greg Fuller then examined the top 10 attributes of a great foreman, providing attendees with a contractor's perspective on how to make themselves even more valuable to the company.
After a break for lunch, UA Training Director Chris Haslinger discussed the latest in new equipment and technology that's changing the way projects at the jobsite are managed and performed.
Kevin Dougherty's session on Building Relationships: Communication on the Jobsite provided attendees with tricks and tactics to help them improve communication with their crew, other subs, their management and owners.
Attendees had an opportunity to explore the latest tools and construction resources during a reception complete with product demonstrations.
The following morning began with John Koontz on The Impact of Planning – Greatest Challenges to Planning. The session provided attendees with a better understanding of how planning impacts every aspect of a project and the entire company. In addition to exploring "tried and true" methods for planning projects, attendees discussed why planning is so difficult in today's construction environment.
During his session on Legacy Leadership, Mark Breslin focused on the compelling reasons to promote positive change and the most effective means of achieving it. Attendees learned:
The necessity of seeing field leadership as a professional position, not a blue-collar occupation;
The difference between building projects and building people;
The three most effective ways to motivate people on the jobsite;
How to use influence instead of authority and how that impacts the project
Mentoring, coaching and the difference between them; and
How to empower and engage through solicitation of field input and shared decision making.
The session provided new ideas, strategies and tools that will help attendees create a professional self-identity and enhance crew performance.
Wrapping up the conference, John Koontz facilitated a discussion of the best practices and takeaways attendees learned during the conference. He also assisted as attendees put the finishing touches on their personal Action Item Lists.
Reserve Your Spaces for Next Time Now, While Spots Are Still Available
If you missed registering your team for the May conference, you're in luck! MCAA will be offering the conference again October 11, 2017 – October 13, 2017 in Philadelphia.