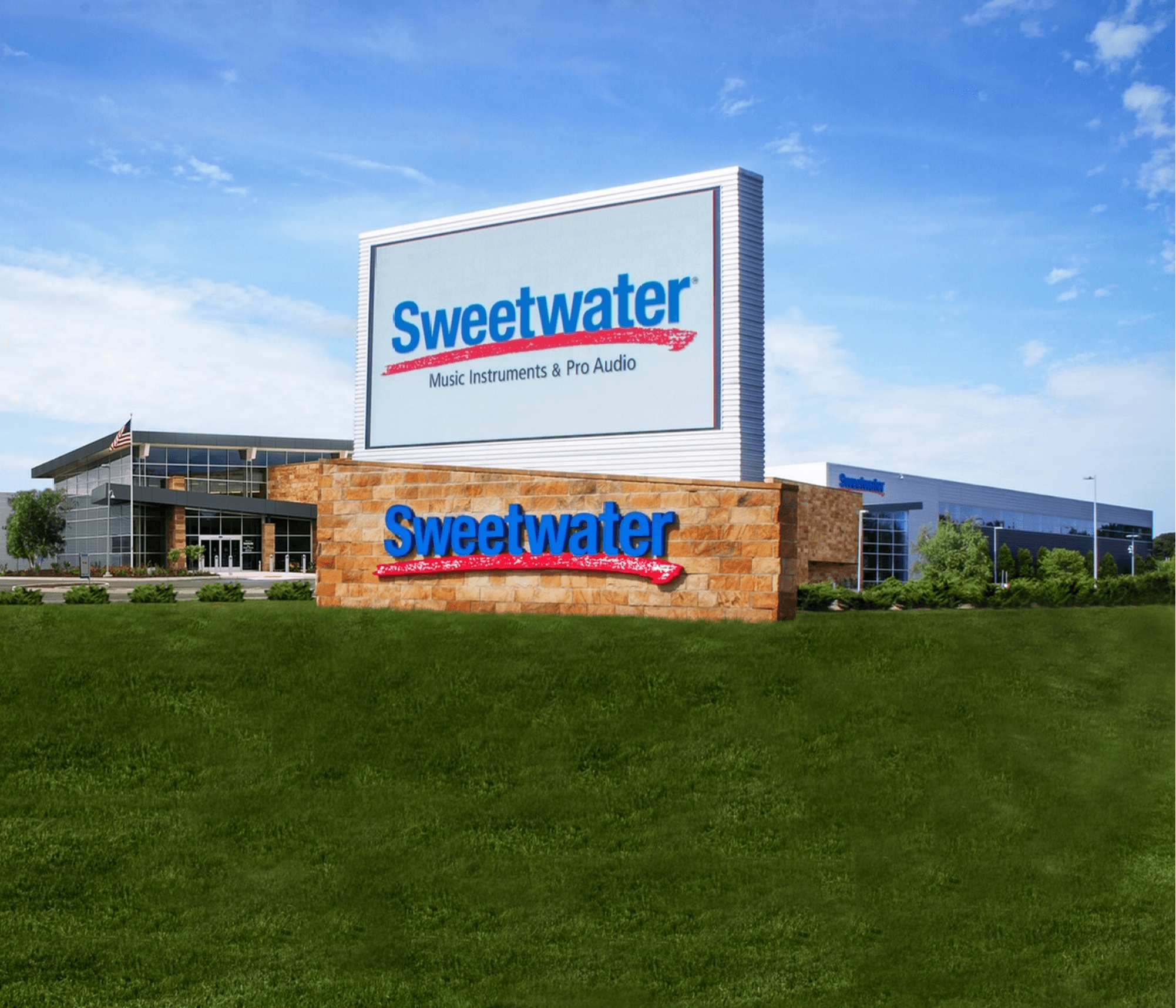 Victaulic Products and Expertise Help Current Overcome Labor Shortage to Meet Tight Timeline

 
For a demanding new warehouse project with a nine-month timeline, Current Mechanical counted on Victaulic's experienced virtual design and construction (VDC) team, fabrication services, and grooved mechanical couplings to save installation time even as its workforce was stretched thin. "With the labor shortage, I am not sure we would have been able to complete this project without using Victaulic's fabrication services," said Steve Lewis, project manager at Current Mechanical.  
Lewis continued, "Victaulic was able to model the room, create 3D installation drawings, and assist with spatial challenges when they arose with other trades as the project progressed. The biggest advantage to using Victaulic's fabrication services was that we were able to reduce manpower and save critical time by allowing the construction crew to spend its time focusing exclusively on installing the piping system." 
Scaling Up With Control
In 2019, Sweetwater Sound, Inc. planned to expand its Fort Wayne, IN, campus by building a new 500,000-square-foot warehouse. Sweetwater began in 1979 as a recording studio in a Volkswagen bus and has since become the largest online retailer of musical instruments and professional audio equipment in the United States.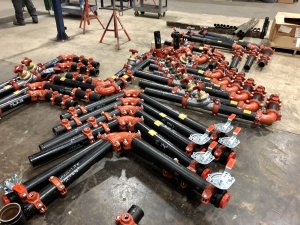 Storing musical instruments requires a climate-controlled environment, so maintaining appropriate conditions within the warehouse was critical. High humidity and fluctuating temperatures increase the risk of cracks, corrosion, and broken strings, so precise control is vital to preserving the integrity of the instruments in storage.  
The project also had to be completed in just nine months, which was a challenge because of its large scope of work, including six air handling units (AHUs) with humidification; two chillers; a two-cell cooling tower; three boilers; heating, chilled, and condenser water pumps; an air piping system for conveyor systems; a domestic water system; and a reverse osmosis system for humidification.
The system installed also had to be scalable to accommodate future warehouse expansion. The initial concept was to build a giant central plant that answered the immediate needs of the facility but that was constructed so it could be expanded to meet the higher loads required to adequately control humidity and temperature in a larger space as more demand was made on the system. 
Making Music Together
The contract was awarded to Current Mechanical, a Fort Wayne-based contractor that specializes in refrigeration, plumbing, HVAC, process piping, medical gas piping, and fire protection services. Current Mechanical had a solid track record with Sweetwater, having previously completed work for two other warehouse facilities, as well as its corporate office in Fort Wayne.
Although Current Mechanical had worked with Sweetwater before, the company had not installed the type of humidification system that was required for this new-build warehouse. Additionally, they were also undertaking this project at a time when their workforce was stretched thin. Current Mechanical needed a partner that could expedite and simplify installation to relieve some of the pressure on its limited crew and provide fabrication to facilitate site work.  
Current Mechanical's successful partnership over the past 15 years with Victaulic, the leading producer of mechanical pipe joining solutions, made the decision to reach out for support an easy one. By joining forces, Current Mechanical would not only have access to Victaulic's experienced and knowledgeable VDC team, they also would benefit from the company's fabrication services. And by using grooved mechanical couplings, which are 10 times faster to install than welded joints, Current Mechanical could streamline installation with its limited workforce, which was an enormous benefit on a project that was understaffed from the outset.  
Managing Last-Minute Changes
Victaulic's VDC team proved its value throughout the project, identifying potential issues, working rapidly to address them, and responding quickly to engineering design changes.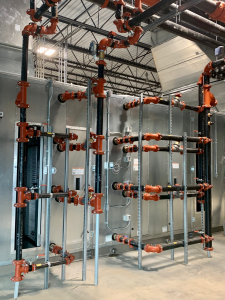 "One of the last steps before issuing fabrication spools is to issue preliminary drawings for review and signoff," said Brandon Horton, territory sales manager at Victaulic. On this project, "we received guidance from the mechanical engineer that required last-minute changes. Our VDC group was able to adapt and make the applicable adjustments needed." 
Once the revised preliminary drawings were approved, Victaulic's VDC team began the fabrication process, which included spooling, fabrication maps, cutting lists, truck loading logs, and material procurement. 
"Making changes, especially during fabrication, can be a challenge, but it's incredibly important to make sure everything will meet layout and design intent," said Josh MacMurray, piping coordinator at Victaulic. 
Pulling all the pieces together for seamless execution requires a true team effort. "It's quite a collaborative ecosystem," said MacMurray. "There are modelers on one end developing quantities, then they pass it on to customer care to allocate and prepare for production. We also work with the fabrication team to make sure the right quantities will be at the right place at the right time."
Victaulic provided on-site support and allocated all of the materials ahead of time, which was particularly valuable for the large-diameter pipe, which was not stored by the contractor and not available from local distributors. This approach meant materials could be released as needed for each phase of construction, and the necessary materials were onsite to permit construction to continue according to plan. 
Innovative Solutions
Because of the size of the warehouse and its eventual expansion plans that would necessitate scaling up temperature and humidity control, this project incorporated four large AHUs, all of which required triconnection coils. Problem-solvers at Victaulic addressed this requirement by using a series of single-coil AHU drops. "This was an example that really showed the flexibility of our product lines," said MacMurray. 
As critical as this solution was, of equal significance was the product's ease of installation. Although the contractor feared the workaround would be labor- and time-intensive, because of the simple design of the Victaulic catalog item, workers were able to complete the AHU drops in only four days.  
Another "first" on this project was the installation of Victaulic's QuickVic™ SD Installation-Ready™ System for small-diameter pipe. Used on the compressed air system that moves the conveyors that transport instruments through the warehouse, these products featured a thermally diffused zinc coating for improved corrosion resistance. 
Additionally, Victaulic's globe-style balancing valve was a key advantage for this project. Globe-style valves are preferred over ball-style valves because they provide much more accurate flow control of the heating and chilled water through the AHUs, humidifiers, and dehumidifiers.  
Local newscast provides a look inside Sweetwater's new warehouse: https://wpta21.com/2020/02/17/take-a-look-inside-sweetwaters-new-52-5-million-warehouse/  
The Grand Finale
Working together, Current Mechanical and Victaulic were able to successfully deliver the project on schedule. Even more important, the groundwork has been laid for Sweetwater to continue to grow for future encore performances.
For more information, visit www.victaulic.com. MCAA thanks Victaulic for being an MCAA sponsor.