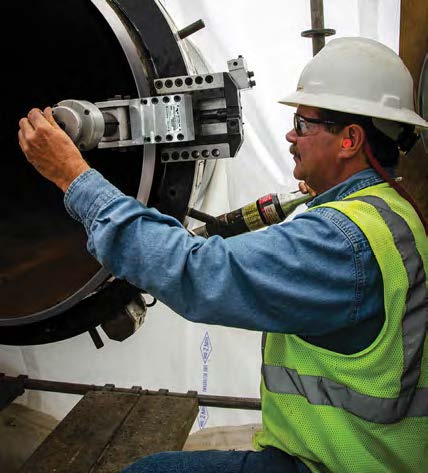 Sauer Group wanted to ensure high-quality welds while reducing time and costs on a natural gas processing station project, so they used Tri Tool Inc.'s AdaptARC® system, configured for flux core arc welding (FCAW) deposition, which increased productivity 300 percent over traditional stick welding. Brian Stahovec, project superintendent for Sauer Group, said, "The welding process we're using was developed by Tri Tool in conjunction with Sauer especially for this project. Utilizing that method, we've been able to not only cut costs but also make sure the schedule's been maintained."
The project involved a cryogenic natural gas processing and compressor station for the Marcellus and Utica Shales where oil and gas were separated and the final product was delivered directly from the active well using horizontal drilling and hydraulic fracturing. The Sauer Group's work on the project for Mark West Energy Partners was the largest undertaking of its kind in its 100-plus-year history.
The project scope called for outdoor installation of 1,920 linear feet of 36"–42" outside-diameter X 1" wall finger-type slug catchers fabricated from seam-welded High Grade API 5L X70 pressure piping using ER70S-2 high-tensile-strength filler material. Tasks identified in initial planning included restoring shop-fabricated spool ends to specification, precision-machining a total of 54 weld joints to ensure proper fit-up, and performing 100-percent X-ray welds at accelerated deposition rates.
To achieve their goals, Sauer Group decided to work with an onsite field services subcontractor who was also an original equipment manufacturer (OEM) of welding and portable machine tools. Prior experience with Tri Tool's field machining services led Sauer Group to consult Tri Tool for a comprehensive field machining and welding solution.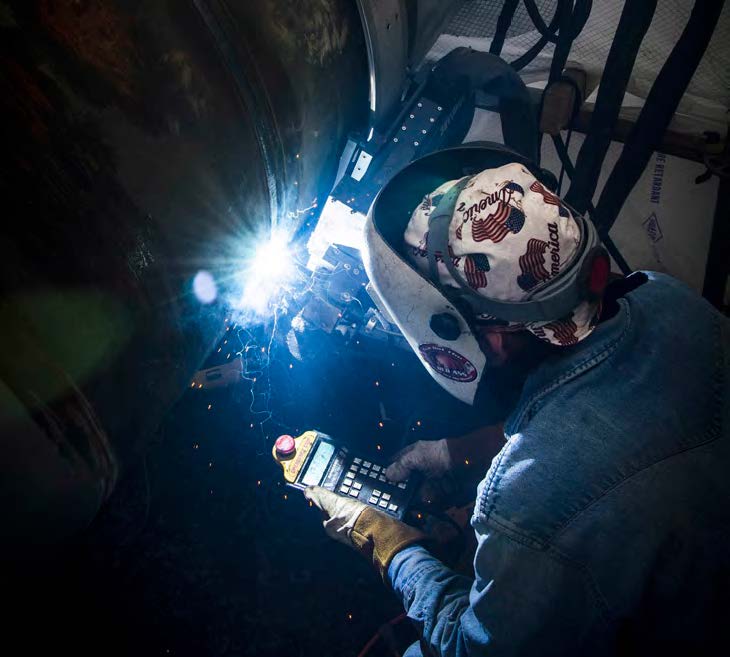 Working with Sauer Group and Mark West Energy Partners, Tri Tool Field Services developed, tested, and validated weld procedures per ASME B31.8 and deployed certified project managers, machinists, and welders using patented Tri Tool portable machine tools and AdaptARC multiprocess welding systems. To meet schedule constraints, two sets of two weld heads, each operating in tandem and loaded with 1/16″ wire, were run simultaneously, laying a total of 160–240 lb. of filler material per day. The AdaptARC system saved the contractor two to three shifts of welding time.
"Whether it's safety, whether it's quality, whether it's just implementing their systems and bringing personnel on board, [the partnership with Tri Tool has] been an added plus to the entire project, and I highly recommend them," said Stahovec.
Emergent needs presented challenges to both quality and schedule. Out-of-round pipe identified onsite required inside-diameter (I.D.) weld overlay and counterboring to achieve fit-up while maintaining minimum wall thickness. Working outdoors subjected critical equipment to severe conditions, but the rugged construction of the AdaptARC plus the initial assessment and qualifications of the FCAW processes resulted in a remarkably low weld rejection rate. The welding system is so easy to use that Tri Tool has trained and certified two additional local welders who are now contributing on this project.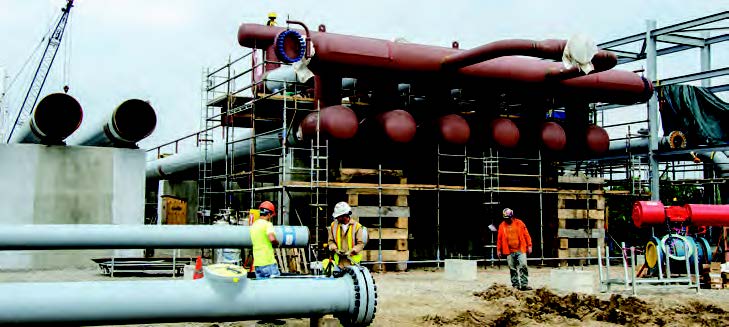 "Our continued diligence and focus on quality in conjunction with the use of the AdaptARC system has further reduced our rejection rate to below .5 percent, an industry 'top tier' performance indicator for this type of work," said Pat Flippen, vice president of Tri Tool Field Services.
Tri Tool is the only service provider deploying both precision field machining and mechanized welding systems of its own patented design and manufacture, making it the only true sole source for both specialty field machining and welding solutions. This unique set of experience, capabilities, manufacturing capacity, and inventory enabled Tri Tool to redesign a torch head to perform the large-bore eccentric I.D. weld overlay, counterbore, weld prep, and finished weld in under 36 hours from identification to weld-out.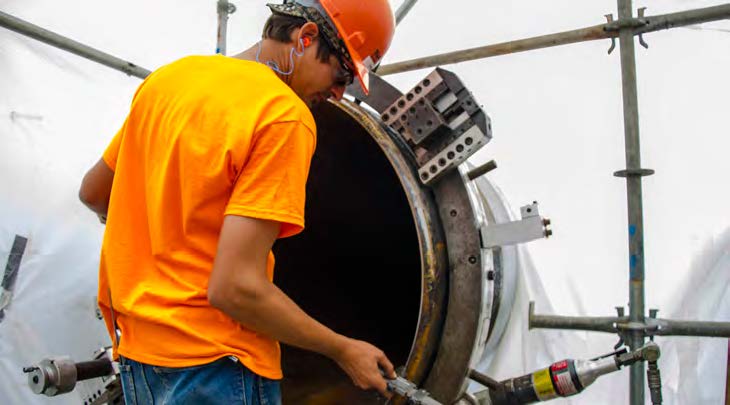 Tri Tool's expertise lies in applications engineering and execution of industry-specific field machining and welding solutions. Tri Tool Inc. is committed to the safe and successful completion of its clients' projects, on schedule and within budget.
"We found a nice partner with Tri Tool," said Dave Kretin, project manager for Sauer Group. "Due to the quality of people they had that developed the welding procedure, we were basically doing about 7″ per minute with both welders running and putting down about 3/16″ thickness [per pass]. That is outstanding—we're getting 6 hours a weld! A few of the QA/QC guys and the nondestructive testing companies said that they've never seen a film that looked so good after we shot the weld. They're all 100% X-rays. Tri Tool's done an outstanding job, and I really enjoyed working with them."
For more information, visit www.tritool.com.