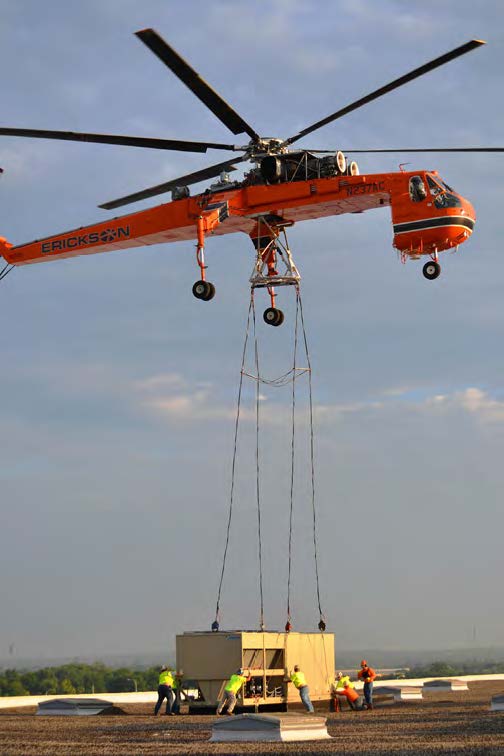 Toyota Motor Manufacturing Plant's Rooftop Units Placed in Less Than an Hour
Thomas J. Dyer placed six air handling units and a condenser on a plant roof in less than one hour by relying on innovative aerial service provider Erickson Incorporated. Thomas J. Dyer commissioned Erickson to lift and place the HVAC components onto curb installations on top of the Toyota Motor Manufacturing plant in Georgetown, KY. After the air handling units and condenser were placed on the single-story building by helicopter, Thomas J. Dyer crews completed the installation.
On July 12, 2014, Erickson's Aircrane helicopter and crew arrived on the jobsite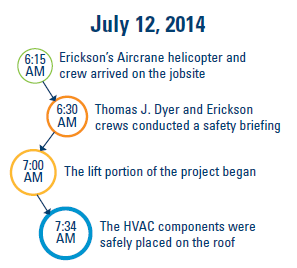 at 6:15 a.m., and Thomas J. Dyer and Erickson crews conducted a safety briefing at 6:30 a.m. The lift portion of the project began at 7:00 a.m., and the HVAC components were safely placed on the roof by 7:34 a.m. With a total of seven lifts and a flight time of just 34 minutes, Erickson proved instrumental in accomplishing Thomas J. Dyer's goals in a short time while exceeding safety expectations. Although the lift was quickly completed, it was no small undertaking. All seven placements were flown with steel cable rigging as 4-point lifts, and package weights ranged from 3,950 pounds to 12,800 pounds.
Thomas J. Dyer's collaboration with Erickson represents an effective, efficient, and modern approach to infrastructure installation and construction. Erickson's placement lifts not only saved time on the ground, but also saved labor costs because they were much more efficient than standard ground-based methods. In addition, the project was approved by the Owner Controlled Insurance Program (OCIP) in which Toyota is enrolled.
This kind of project is not new to Erickson. The company prides itself on the delivery and installation of heavyweight ventilation and air conditioning units onto a variety of challenging rooftops and structures. Erickson's Aircrane is uniquely designed, piloted, and crewed to perform specialized lifts. Erickson has successfully and safely placed over 40,000 HVAC units onto multistoried buildings, automobile plants, and aviation hangers across North America and Europe.
For more information, visit ericksonaviation.com.