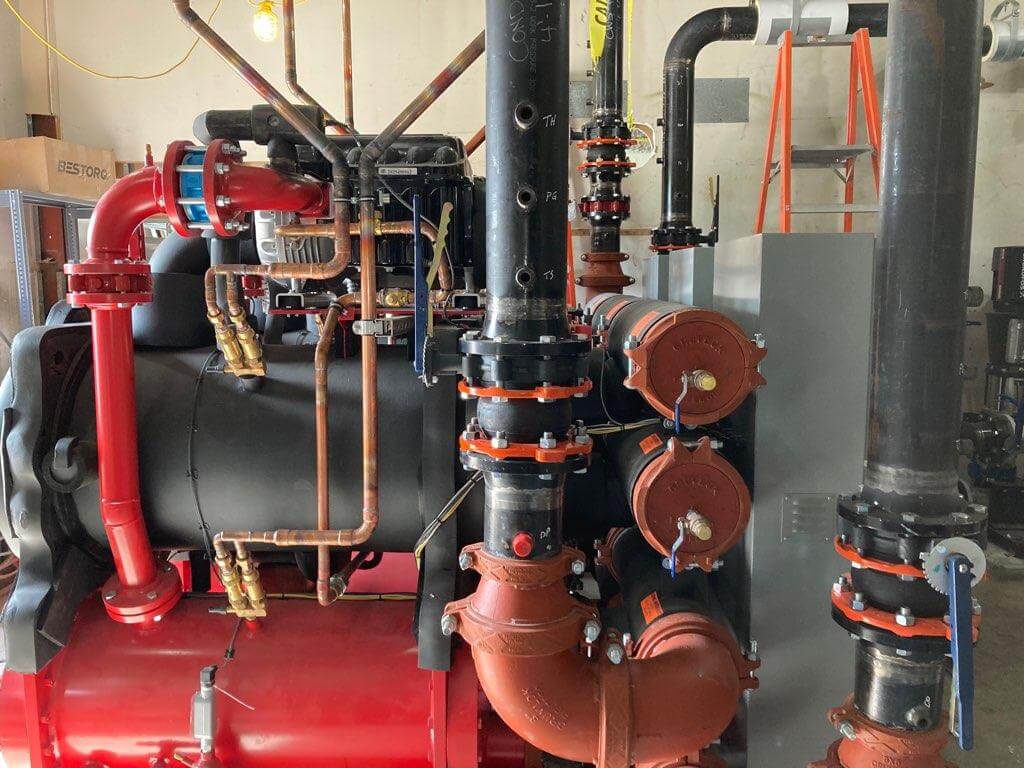 Renovating an active hospital is challenging in the best of times; to complete a transplant hospital's new unit in the midst of a global pandemic, Rand Construction needed products that could be delivered on time and installed quickly and safely. Gruvlok® grooved couplings and fittings from ASC Engineered Solutions were the perfect fit. ASC is a major sponsor of MCAA22. 
In November 2020, Midwest Transplant Network's headquarters in Westwood, KS, began major mechanical renovations and minor additions to create a new Donor Care and Surgical Recovery Unit. The Midwest Transplant Network is a nonprofit organization that provides services for organ donation and procurement in Kansas and parts of Missouri. By providing an onsite recovery facility for organ and tissue donors, the Midwest Transplant Network reduces the reliance on local hospital resources and ensures that donors receive highly specialized care. 
Rand Construction worked closely with distributor MKS Pipe and Valve, which recommended Gruvlok ductile iron couplings and cast fittings and carbon steel schedule-40 fabricated fittings for the project. "Some of the major equipment, such as the chiller, was already manufactured and shipped with grooved connections. That made it an obvious choice to utilize Gruvlok," said Fred Thorpe, vice president of Rand Construction. "Gruvlok products were also very helpful in some of the more restricted areas and/or where welding was not an option or permitted," Thorpe added. 
MKS Sales Manager Kevin Aylward noted, "What really makes [ASC] stand out is the large breadth of their product offering, great customer service, and quality products with dependable deliveries." MKS made sure that the Gruvlok products for the transplant center met the required specifications for mechanical couplings, achieved savings compared with competitive brands, and were available on the requested delivery timeline. 
The complete Gruvlok order was delivered on time, in one shipment, boxed and tagged to indicate what materials were enclosed. Thorpe pointed out, "By utilizing Gruvlok products, we were also able to install products made right here, at home in the USA." Because ASC has domestic manufacturing locations, Gruvlok products were less affected by the prevalent delays in production and shipping that happened throughout 2020 and 2021. 
Another key selection criteria that helped secure Gruvlok as the build choice was ASC's extensive building information modeling (BIM) catalog. All Gruvlok products can be used in digital design projects; ASC provides Gruvlok BIM content in multiple file formats and design program compatibility, including Revit®. 
"We were confident the products would work when we incorporated them into our preliminary planning, layout, design, and fabrication," said Thorpe. "All of the data needed to make an educated decision was readily and promptly available, so that's clearly why we chose Gruvlok." 
Thorpe added, "MKS and ASC Engineered Solutions were excellent strategic partners on the Midwest Transplant Network project," citing their cooperation with Rand as a key factor in this project's success. The Midwest Transplant Network Donor Care and Surgical Recovery Unit is expected to begin taking patients in late spring or early summer of 2022. 
For more information, visit www.asc-es.com. MCAA thanks ASC Engineered Solutions for being a major sponsor of MCAA22.